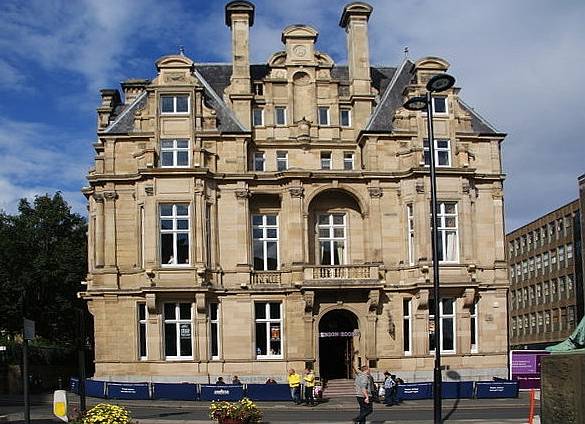 The Union Club (now known as the Union Rooms), Westgate Road, Newcastle. Architect: M. P. Manning. 1877. Photograph © Bill Boaden. From the Geograph Project, and licensed for reuse under the Creative Commons licence. (Perspective very slightly corrected.) Many thanks. Caption, commentary and formatting by Jacqueline Banerjee. [Click on the image to produce a larger picture.]
A "splendid French chateau" (Grundy et al. 491), with the main rooms at the front behind "an attractive jumble of bay windows," and "tall chimneys, pedimented dormers and columns and pilasters, all concentrated above a fairly plain ground floor, making the building a little top heavy. The supporting rooms are in a plain wing to the rear" ("The Union Club"). Happily, after lying empty for many years, the building was renovated in the late nineties and is now in use by a public house chain.
Many thanks also to P. Brown who worked on the Union Club in the 1960s when it was still a club, and wrote in to identify the building correctly.
Sources
Grundy, John, et al. The Buildings of England: Northumbria. London: Penguin, 1992. Print
"The Union Club, Westgate Road." www.northumbria.info. Web. 8 October 2012.
---
Last modified 8 October 2012