Photographs and text Jacqueline Banerjee. You may use these images without prior permission for any scholarly or educational purpose as long as you (1) credit the photographer and (2) link your document to this URL or cite the Victorian Web in a print document. [Click on the images for larger pictures.]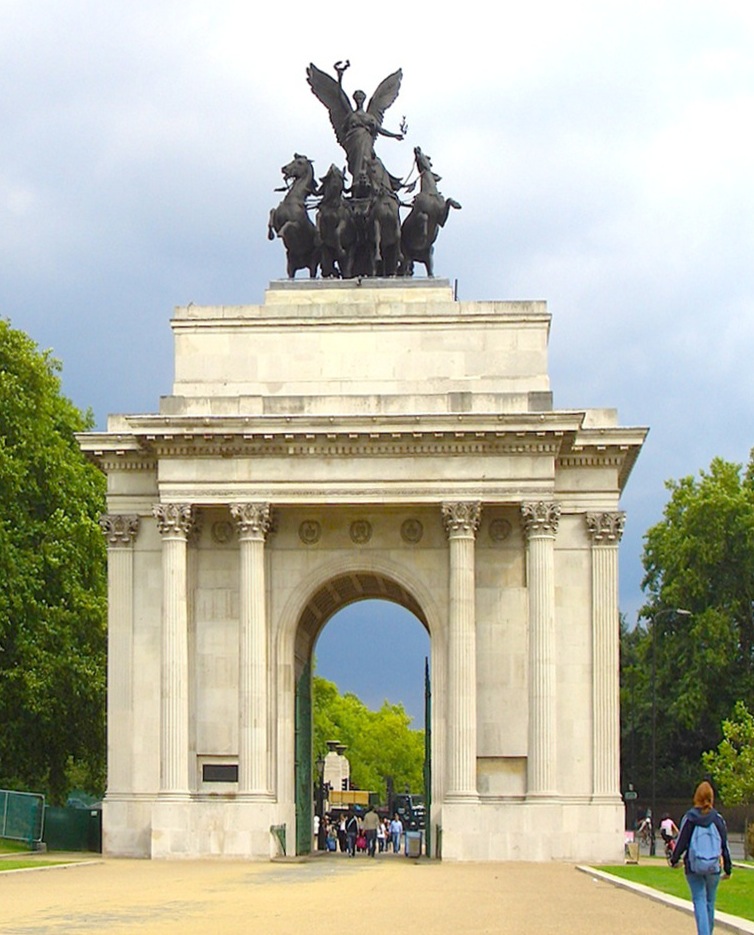 Slightly three-quarter and front views of the Wellington or Constitution Arch.
The Wellington or Constitution Arch by Decimus Burton, built 1825-27 near Apsley House, the home of the Duke of Wellington (now the Wellington Museum), and originally facing the Hyde Park Screen at the end of Piccadilly. Rebuilt in the 1880s, when moved from that position to allow the road to be widened. Building materials: London stock brick faced with Portland stone, and cast-iron for the beams strengthening the entablature. It is now on the Hyde Park Roundabout, London SW1.
Even after repositioning, the arch did not take on its present appearance for several decades. When it was being relocated, the huge controversial equestrian statue of the Duke of Wellington, erected on top of it in 1846, was removed and re-erected in Aldershot in 1883 (see Weinreb et al. 996). Sir Edgar Joseph Boehm's equestrian statue of the Duke, of 1888, replaced it as a tribute to the Duke at Hyde Park Corner. Subsequently nothing crowned the arch from 1883 until the present allegorical one, "Peace descending on the Quadringa of war," was put in place in 1911-12. This is, in fact, more in keeping with Burton's own second design for the arch, approved in May 1826, which showed the arch crowned by "a gilded quadriga (a chariot drawn by four horses)" (Brindle).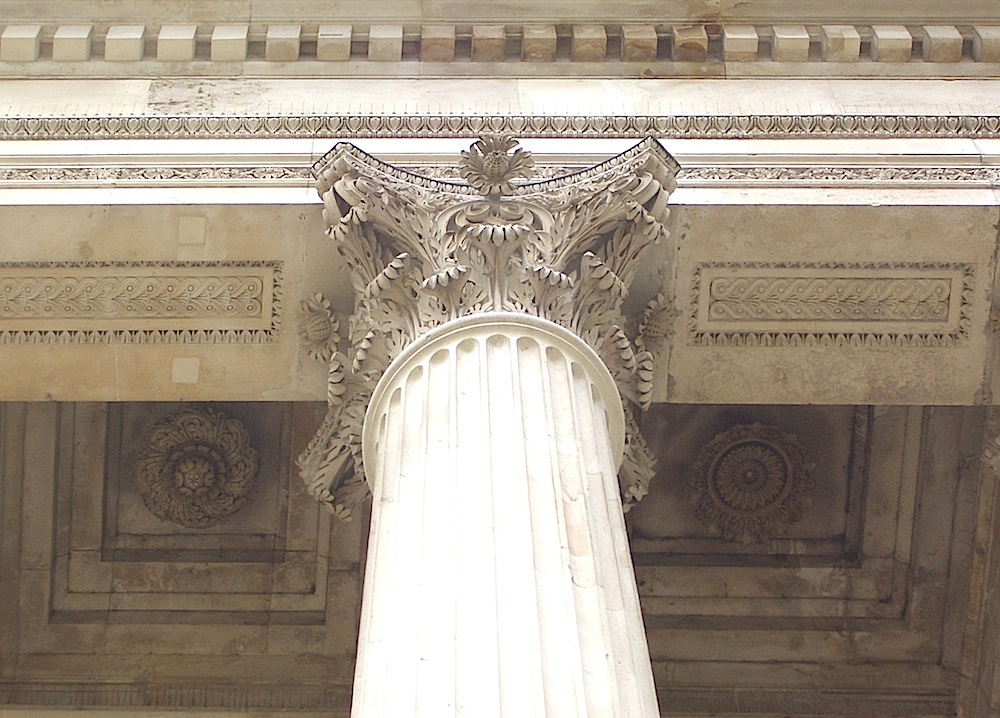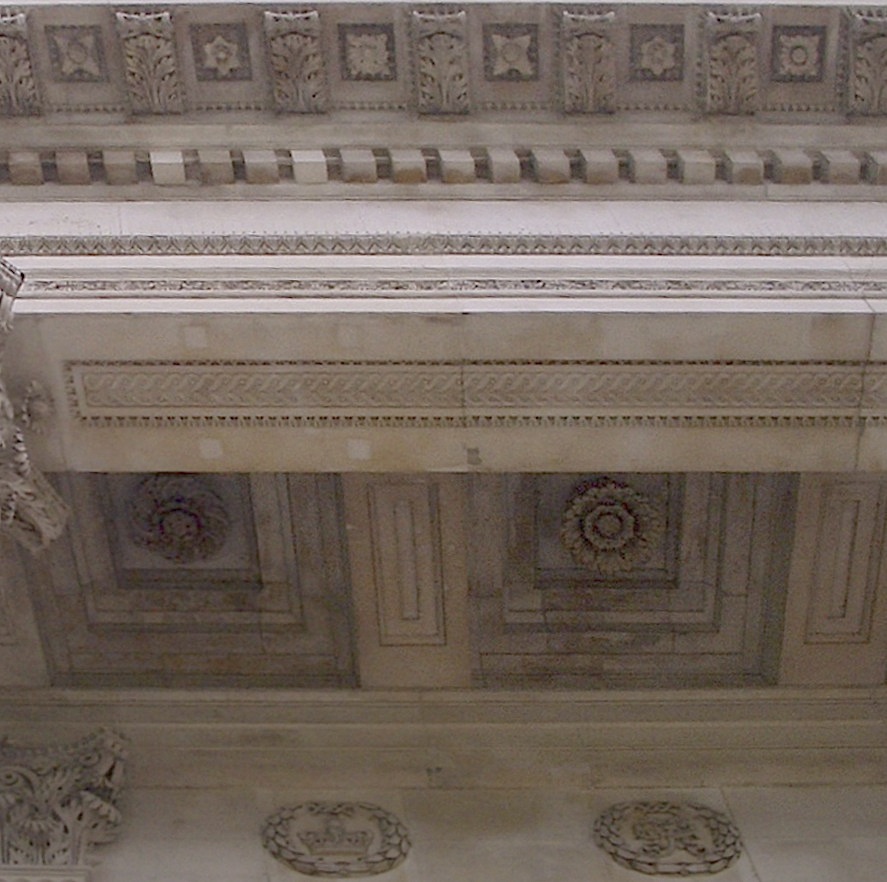 Left: Corinthian capital. Right: Detailing beneath the entablature: a carved crwon can be seen below, and flowers and leaves above.
As this suggests, the arch was at first planned as a victory arch: it was to commemorate Wellington's defeat of Napoleon. It was then seen as a grand entry for the approach to Buckingham Palace. English Heritage's description of it explains that the "the elaborate cast-iron gates and the quadriga provide richness of detail as well as variety of colour," and adds that "[t]he massive gates, designed by Burton and a masterpiece of early 19th-century iron founding, are covered with dense garland ornament, framing great circular panels which carry the royal arms." Also added in a footnote is the information that the gates were produced in the foundry of Joseph Bramah & Sons in Pimlico.
One of the enormous cast-iron gates designed by architect Decimus Burton himself.
A neo-classical Grade I listed structure with Corinthian columns and pilasters, and that heavy Corinthian entablature with its supporting cast-iron beams, the arch is further described by English Heritage as "a deliberate variation of neoclassical architecture for aesthetic effect using 19th-century technology." The arch was restored by English Heritage in 1999-2000.
The arch was not simply ornamental: it has usable space inside. After it was placed in its present position, the Wellington Arch, like Marble Arch, was pressed into service as a small strategically-placed police station. This was on the north side; the other side was used as a park-keeper's lodge.
Related Material
References
Brindle, Steven. "History of Wellington Arch." English Heritage. Web. 29 September 2015.
"Description of Wellington Arch." English Heritage. Web. 29 September 2015.
Weinreb, Ben, et al., ed. The London Encyclopaedia. 3rd ed. London: Macmillan, 2008.
---
Last modified 29 September 2015