The Tay Railway Bridge, crossing the Firth of Tay from Dundee to Wormit, Fife, in Scotland, replaced the one designed by Sir Thomas Bouch, which had collapsed in a storm in December 1878. This second one was designed by William Henry Barlow (1812-1902), who had sat on the board of Enquiry for the disaster, together with his son Crawford Barlow. Built by Tancred and Arrol of Glasgow from 1882-87 to carry the North British Railway, it is a little upstream from its ill-fated predecessor, and carries two tracks instead of one. With 84 spans and a length of 3.26 km, it is still the longest railway bridge in Britain (see Gifford 146). [Click on this and the following images for larger pictures.]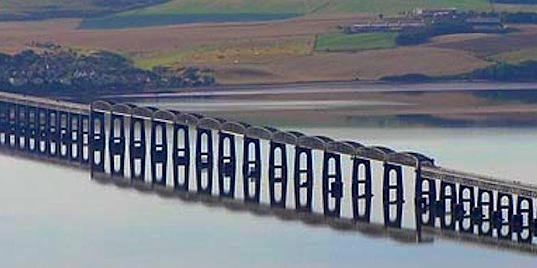 "At the navigation spans [the piers] support hog-back shaped lattice girders through which the tracks are threaded" (Gifford 146-47).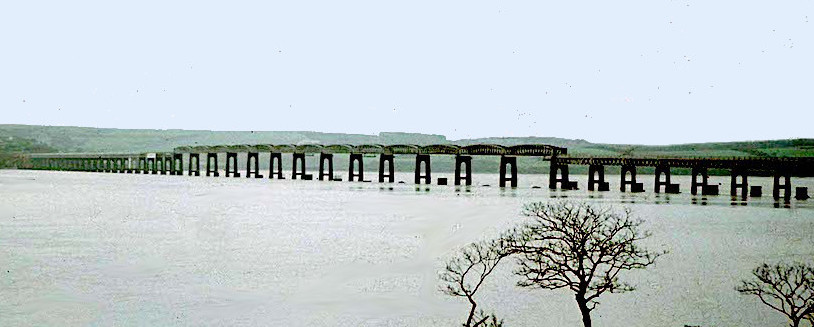 This photograph clearly shows the bases of the old piers just beyond the newer ones.
The primary objectives, as always but especially in this case, must have been strength and safety. According to Grace's Guide, the Barlows
used massive monocoque piers to support a double railway track, ... made from wrought iron and steel. The old brick and masonry piers from the first bridge built by Thomas Bouch were retained as breakwaters for the new piers upstream. They can still be seen today as a forlorn reminder of the tragedy of 1879.
John Gifford calls the bridge "unexciting" (146), but there are several other points of interest. For example, the spans are the same as those on Bouch's bridge, allowing some of its iron girders to be reused; the wrought-iron latticework accommodates service pipes; and although "[s]tructural steelwork was then a technology at this time and it was used in the decking and for some internal frameworks within the piers" ("Tay Rail Bridge"), the structure is still mainly of wrought iron, making it "the last of the great wrought iron railway bridges" ("Dundee: Tay Bridge"). The bridge was opened to coincide with Queen Victoria's Golden Jubilee, on 20 June 1887.
First two images cropped from one photograph © Martin Bremner, who originally posted it here on the Geograph website, where it was kindly made available for reuse under creativecommons.org/licenses/by-sa/2.0. Last photograph by Colin Price. This has also been cropped, and the colour has been modified. Commentary and formatting by Jacqueline Banerjee. [You may use these images without prior permission for any scholarly or educational purpose as long as you (1) credit the photographer and (2) link or cite thmm appropriately in your document.]
Related Material
Sources
"Dundee, Tay Bridge." Canmore (The online catalogue to Scotland's archaeology, buildings, industrial and maritime heritage). Web. 22 March 2016.
Gifford, John. Dundee and Angus. The Buildings of Scotland series. New Haven and London: Yale University Press, 2012.
"Tay Bridge." Grace's Guide to British Industrial History. Web. 22 March 2016.
"Tay Rail Bridge." engineeringtimelines. Web. 22 March 2016.
---
Created 22 March 2016