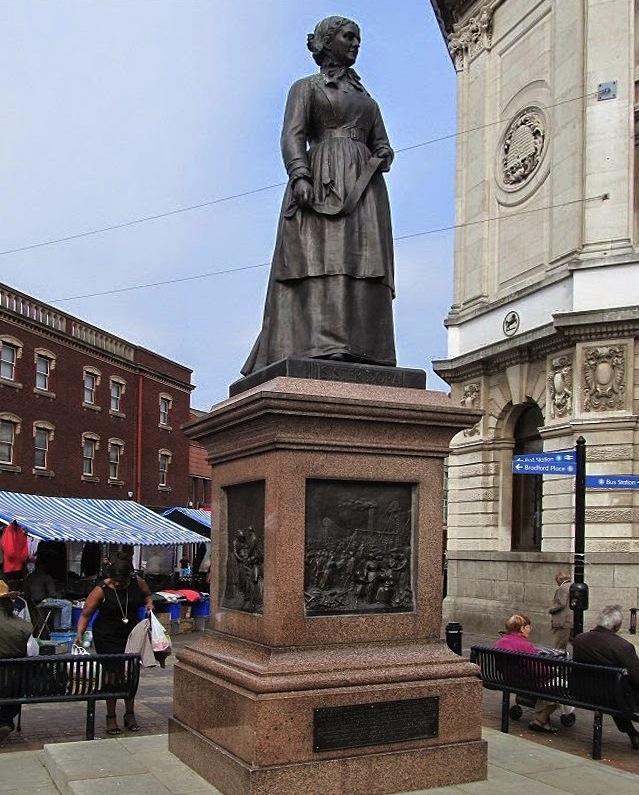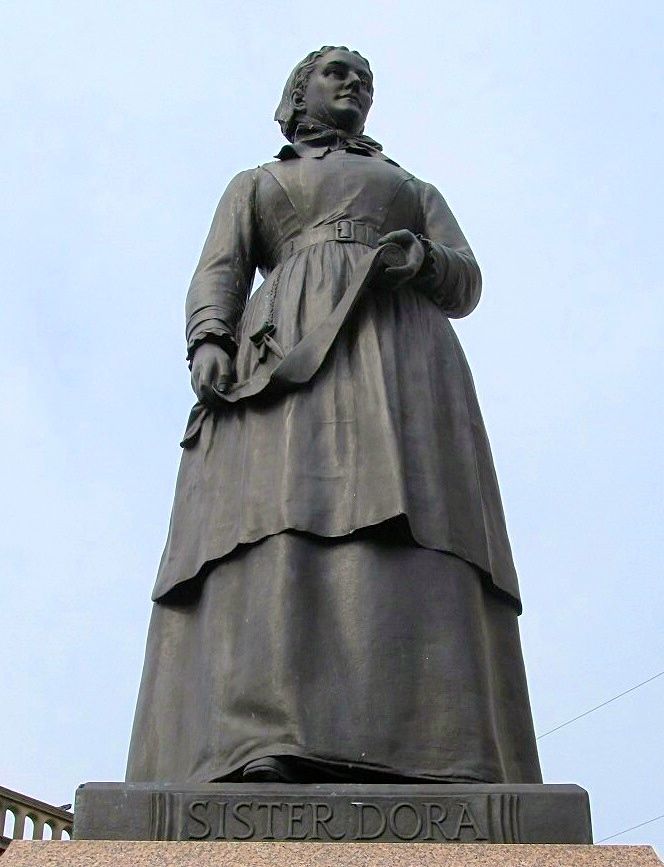 Memorial to Sister Dora (Dorothy Pattison, 1832-1878) by Francis John Williamson (1833-1920), with a close-up of the figure, shown in her nurse's cap (christened the "Sister Dora cap") and uniform and holding a bandage partly unwound, ready for use. 1886. A bronze plaque on the pedestal [shown here] explains that the statue was originally marble, but "deteriorated due to weathering over a period of years" and was re-cast in bronze in 1956 (like that of Williamson's Joseph Priestly in Birmingham) with funds raised from public subscription.
The Four Bronze Reliefs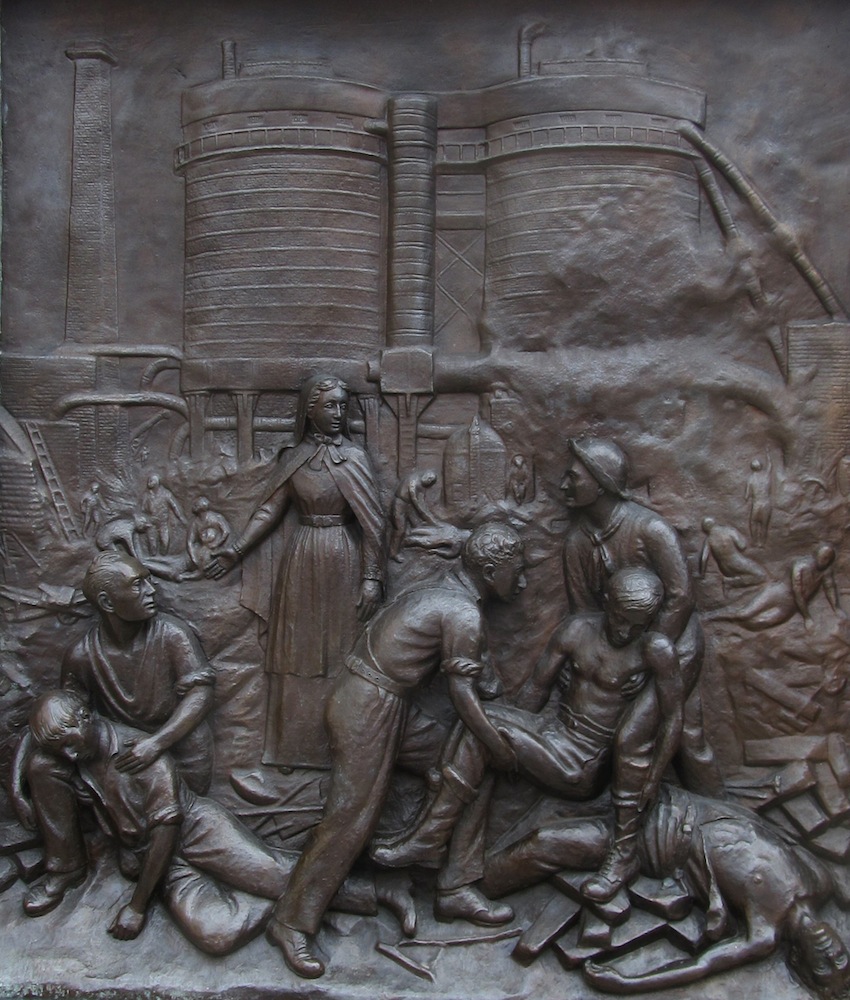 In the large reliefs on each side of the pedestal, Sister Dora is shown in her various nursing roles. In particular, two famous episodes are depicted. Walsall, near Birmingham and Wolverhampton in the Black Country, was then a busy industrial area, and these two reliefs tell of the dangers experienced by the workman. On the left (the relief on the front of the pedestal), she is present at a quarrying accident. This would be the Pelsall colliery disaster of 1872, when twenty-two men were trapped by flooding, and drowned. Against a background of great mining machinery and evident catastrophe, she is trying to comfort a distraught woman who bends, grieving, over her infant. She also stretches out a hand to the older child who grasps her apron. Nearby, the bodies of the victims are being carried out of the quarry on stretchers. In the other relief, again wearing her cap, cape and uniform, Sister Dora is directing operations after another terrible works accident, this time when a furnace exploded at the Foundry of Jones & Sons in 1875. The men are looking to her for guidance as the dead and injured are pulled out. In these contexts, she is depicted as a tower of strength.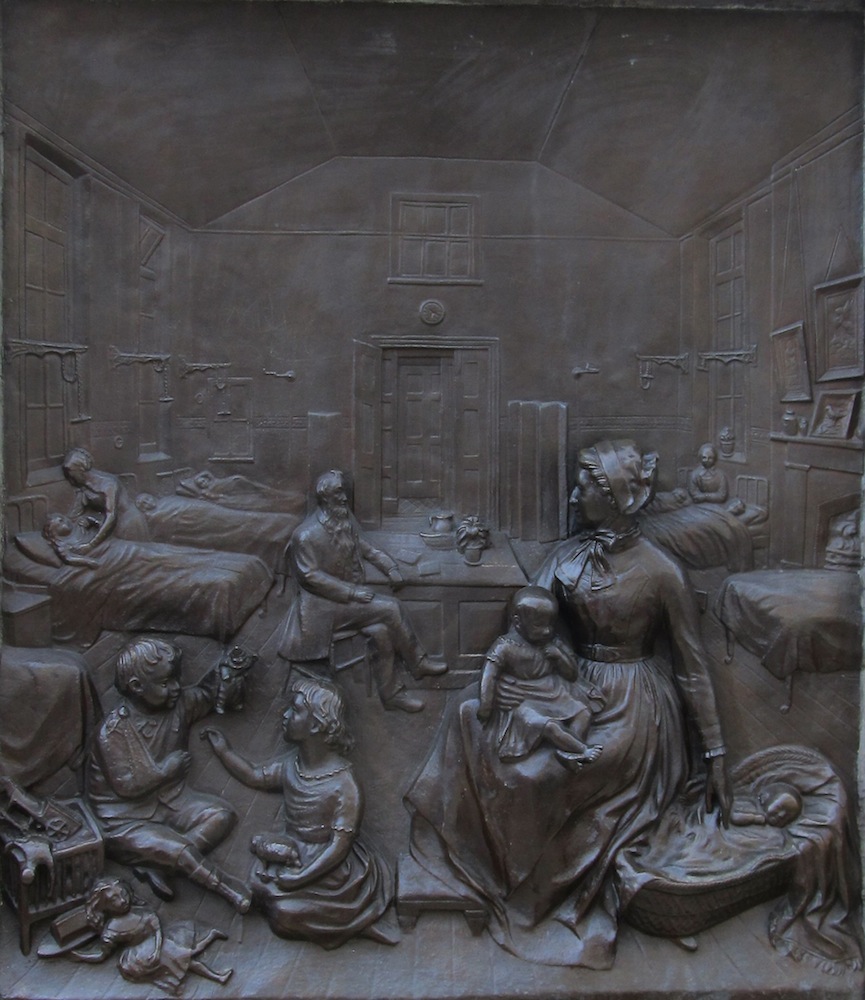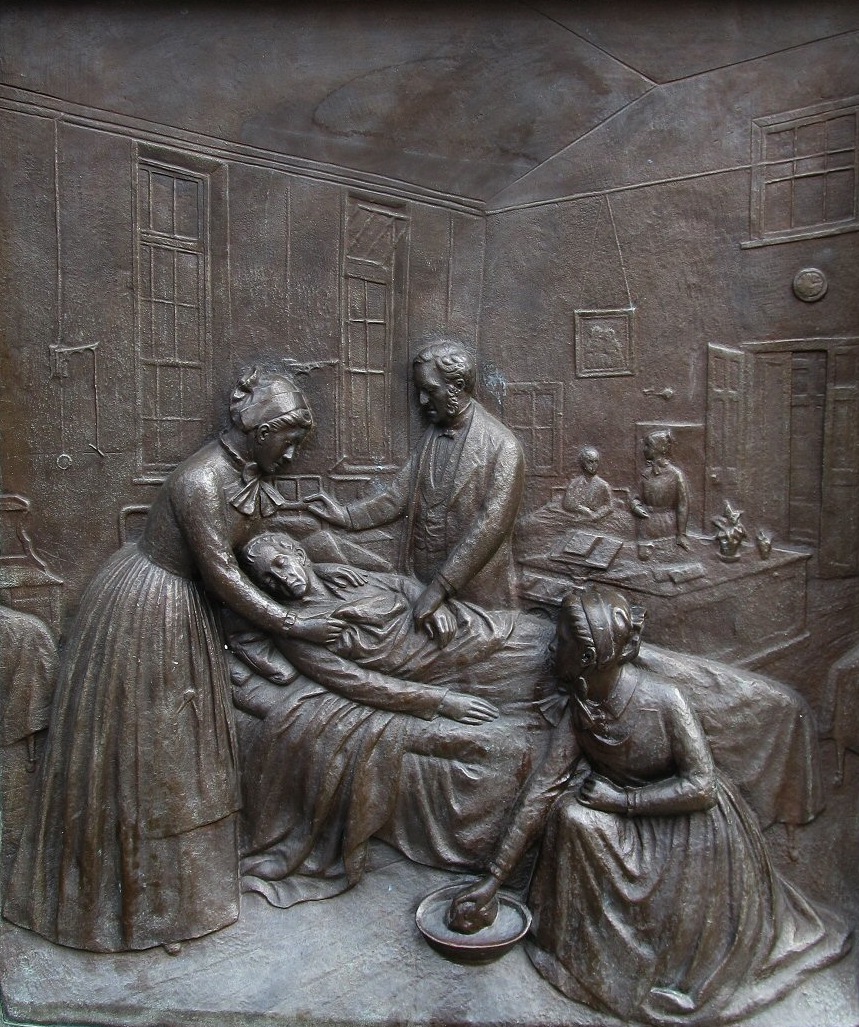 In the other two reliefs, Sister Dora is seen in a gentler hospital context, no longer wearing her cape. In the one on the left, she is in the children's ward, apparently taking to the doctor who is sitting behind her. Some children are playing, and seem better already, although she has her hand protectively on the baby in the cot next to her. In the other relief, she and the doctor bend over an adult patient who is perhaps suffering from a high fever (another nurse has been washing or cooling him). Probably this alludes to the smallpox epidemic of 1875 that Sister Dora dealt with both self-sacrificingly and successfully: she was seen as instrumental in limiting its spread.
According to another plaque [shown here, Sister Dora "came to Walsall in 1865 and for the following thirteen years worked ceaselessly to establish a professional medical service in the town. Her great devotion to the working people of Walsall earned her widespread respect." This is how she came to be "first woman, other than a member of the royal family, to be commemmorated by a statue." The unveiling of the statue in unveiled in 1886 was the occasion of the striking of a commemorative medal. It was an important commission for Williamson and he did well, especially with the challenging subject of industrial accidents.
Photographs very kindly contributed by the blogger of "Musings of a Curious Individual," whose page for Walsall is available offsite here. Please ask permission if you wish to reproduce these pictures (contact details can be reached from the site). Captions, commentary and formatting by Jacqueline Banerjee. [Click on the images for larger pictures.]
Related Material
Sources
Manton, Jo. Sister Dora: The Life of Dorothy Pattison. London: Methuen, 1971.
McGann, Susan. "Pattison, Dorothy Wyndlow [known as Sister Dora] (1832–1878), Anglican nun and nurse." Oxford Dictionary of National Biography. Online ed. Web. 6 December 2015.
---
Created 6 December 2015