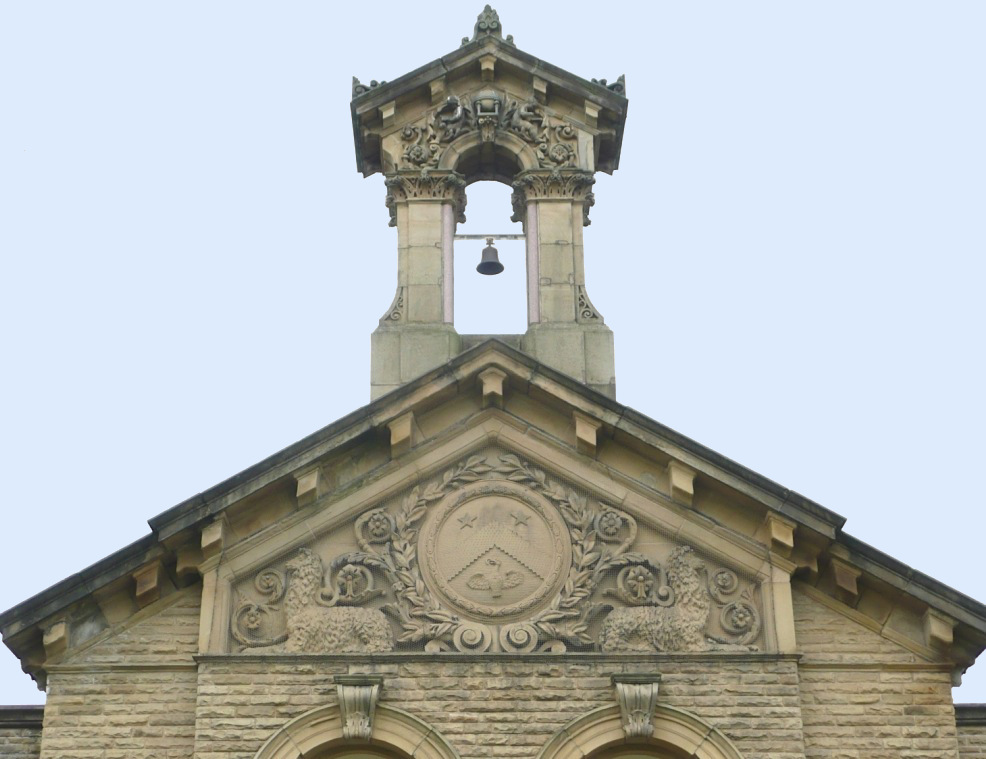 Right: Sir Titus Salt's coat-of-arms and festoons on an almshouse gable, Saltaire. Left: Relief of alpaca amid native vegetation, on a rusticated wall in Saltaire. Thomas Milnes. 1860s Terracota and stone. Sir Titus Salt's model mill-town, near Bradford. Text by Jacqueline Banerjee, and images by kind permission of Chris Brown of the East Riding Media Library, slightly modified by the present author. [Click on the photographs for larger images.]
Milnes had started his career as a stone-mason, and seems to have retained a love of this kind of stone-carving. These works are typical of the architectural sculpture of Saltaire, that on the tympanum of Victoria Hall being specifically identified as Milnes's in Saltaire: Conservation Area Assessment (29) and by Peter Leach and Nikolaus Pevsner (682). They demonstrate Salt's wish to make the buildings aesthetically pleasing for those who lived and worked in Saltaire, but they are more than adornments. They stamp his proprietorship on the town, and indicate both the source of his wealth and the purpose of the enterprise — to produce more of his famous worsted from fine alpaca fleece.
Related Material
References
Leach, Peter, and Nikolaus Pevsner. Yorkshire West Riding, Leeds, Bradford and the North. The Buildings of England series. New Haven & London: Yale University Press, 2009.
Saltaire: Conservation Area Assessment, March 2004. Bradford Metropolitan District Council. Web. 29 September 2011.
---
Last modified 29 September 2011