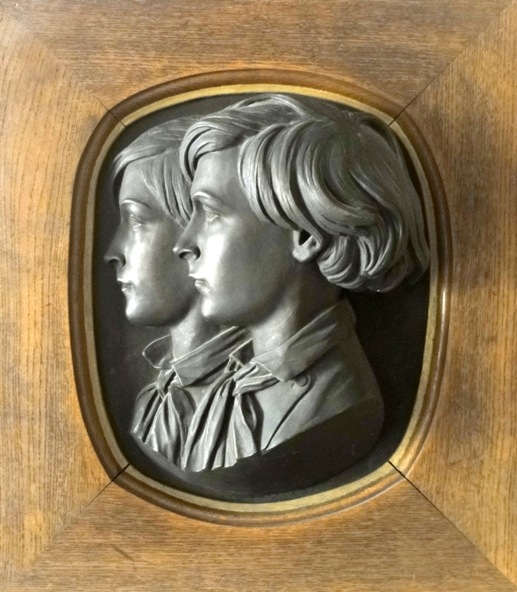 Maurizio and Filiberto Marochetti
Baron Marochetti (1805-1867)
1849
Bronze
45 x 37 x 12 cm.
Private Collection
Photograph © copyright Caroline Hedengren-Dillon, reproduced here with her kind permission.
Caption and some additional information provided by Hedengren-Dillon. Commentary and formatting by Jacqueline Banerjee. [Click on the image for a larger picture, and mouse over the text for links.]
The younger son, Philibert, became an officer in the Italian fleet (see Garric), and settled in the Loiret area of France (see Hedengren-Dillon, "La statue disparue"). Maurizio became a diplomat as well as a sculptor like his father, with reports in the Times tracing his rise from Italian Minister to Denmark to Italian Ambassador at St Petersburg ("Russia and Italy," 17 December 1887: 7), and announcing the Czar's pleasure in accepting the appointment ("Russia and the German Powers," 19 December 1887: 5). His death notice in the Times of 9 December 1916, from the newspaper's Paris correspondent, described him as "a personal friend of Queen Victoria and King Edward," and as having had "a wide circle of friends in London, where for some years he was Councillor of Embassy" (7).
Maurizio in turn had two sons. The elder, Carlo Jr, inherited both the baronetcy and the family castle, which he bequeathed to his sister's eldest daughter. George, the younger one, also called Gio, joined the British army in France, then became a fixture in the English social scene. His book, Rich in Range, pictures his life from the beginning of World War I to 1939.
The post-war career of "Captain Baron George Marochetti" (as he is called in the Times Court Circular of 28 April 1920: 19) was indeed an interesting one. He carried on the family tradition in style. As his own obituary in the Times of 22 August 1952 would say, he "touched life at many points." Having inherited some of his grandfather's "artistic sensibility" and his father's "diplomatic finesse," the obituarist explained, he had became a British subject before joining up, and after the war had led a varied life which included being Military Attaché in Vienna, Inspector of Shipping in Madagascar, a journalist on the London staff of the New York Times in the early 30s, an insurance broker, a liaison officer in Northern Command in World War II, Commandant of the British Red Cross in Italy from 1943-45, and an adviser to wine importers (6). A few days after this obituary appeared, a certain Lady Graham-Little wrote to Times to pay her own tribute to him, describing him as a "talented and engaging" man, who seemed "born and bred to follow a diplomatic career," and was popular, sympathetic and modest (28 August 1952: 6). It is heartening to learn that Carlo Marochetti's descendant maintained his family line with distinction and humanity, and that the connection with Britain blossomed in this way.
Related Material
Sources
Garric, Alain. "Essai de Généalogie." Web. 10 May 2014.
Hedengren-Dillon, Caroline. "Portrait de Famille: Le Repas chez Simon de Carlo Marochettti dans l'Église de la Madeleine." La Tribune de l'Art. Web. 10 May 2014.
_____. "La statue disparue du tombeau de Bellini au Père Lachaise: un dessin de Carlo Marochetti retrouvé?" La Tribune de l'Art. Web. 10 May 2014.
Marochetti, Captain George. Rich in Range. London: Hutchinson &amp. Co., 1941.
Times Digital Archive. Web. 10 May 2014.
Ward-Jackson, Philip. "(Pietro) Carlo Giovanni Battista Marochetti." Oxford Dictionary of National Biography. Online ed. 10 May 2014.
---

Victorian
Web

Visual
Arts

Sculpture

Baron
Carlo
Marochetti

Next
Last modified 10 May 2014