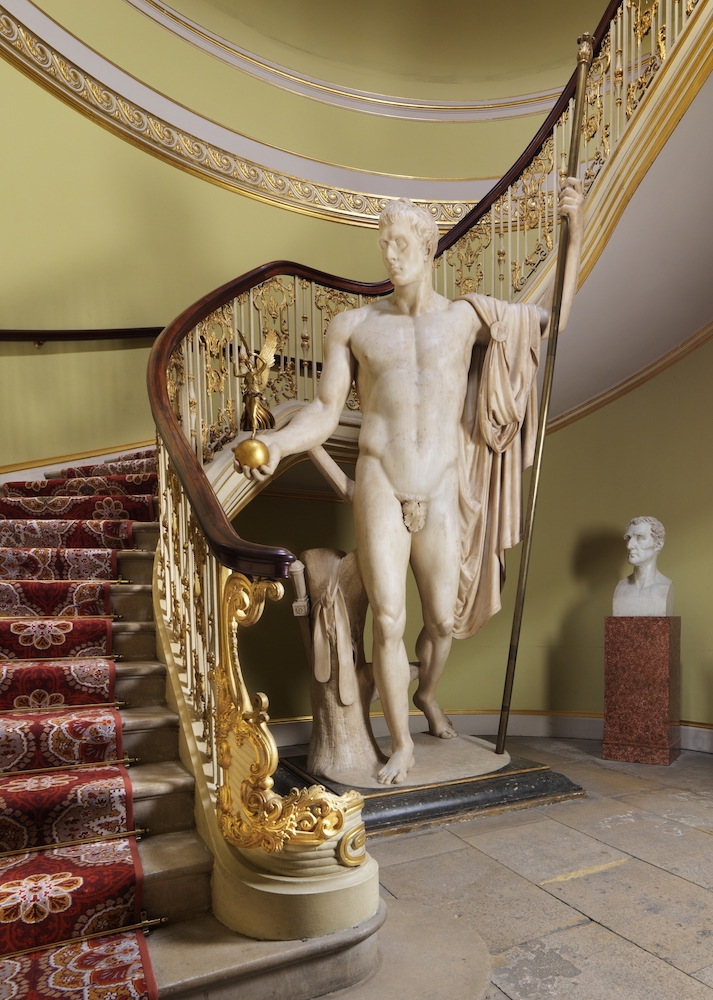 Napoleon as Mars the Peacemaker
Antonio Canova (1757-1822)
1806
Marble
3.45 metres
Apsley House, Hyde Park Corner, London
By courtesy of English Heritage Apsley House, for purposes of the review in the link above. Text and formatting by Jacqueline Banerjee.
[Click on the image to enlarge it and mouse over the text for links.]
Napoleon had been an admirer of Canova's work, as indeed was Wellington. But apparently Napoleon was embarrassed by the discrepancy between the statue and his own less "athletic" figure (again, see "Napoleon as Mars the Peacekeeper"). He would prefer to have been depicted in uniform. He may also have sensed the ambiguity which a later art critic, Albert Boime, finds in the statue. Canova, says Boime, had admired Napoleon for unifying his country, Italy; but he had also, naturally enough, resented his conquest of it, and his transference of Italian artworks to France. Boine continues,
His feelings emerge from the colossal nude statue of the emperor that he completed in 1806, showing him as a victorious but unarmed ... Canova stressed Napoleon's propagandized self-image of 1802-1803 (when it was first conceived) as a primarily peace-giving statesman. Peace with Austria and England and peace with the pope through the Concordat had given Bonaparte overwhelming prestige throughout Europe. The larger-than-life-sized figure of the emperor holds in his right hand a globe of the world surmounted by a statue of Victory, but he has removed his breastplate and sword and set them against a stump of a tree while raising the scepter of rule. The figure walks frontally in the direction of the beholder, but his head is turned to the right, thus giving the work an air of indecisiveness. All the trappings of heroic statuary are present, but the swaying pose and flaccid gestures undermine the traditional projection of heroism. [640]
Not inconsistent with such a reading is Christopher Johns' suggestion that the statue ended up being "claustrophobically 'imprisoned'" in its corner by the balustrade in Apsley House (106). Yet the Duke of Wellington is said to have displayed the statue in his London home not from any kind of triumphalist feeling, but because he admired both Canova and Napoleon himself:
When asked to name the greatest general of the age Wellington replied "In this age, in past ages, in any age, Napoleon." The care he took to display Canova's statue, and the collection he formed to accompany it, surely confirms that he expected it to command respect and reflection, rather than be seen simply as a war trophy, as a humbled captive caged by banisters. [Bryant]
Similarly, the bust of Napoleon that Canova made from his model of the statue was bought by a friend of the 6th Duke of Devonshire. It is still on display in the centre of the Sculpture Gallery at Chatsworth, opposite a bust of Alexander the Great. In both contexts, Canova's work seems to be presented as unequivocally heroic (see "Colossal head of Napoleon Bonaparte").
Other work by Antonio Canova on this site
Bibliography
Boine, Albert. A Social History of Modern Art, Vol. II: Art in an Age of Bonapartism, 1800-1815. Paperback ed. Chicago and London: University of Chicago Press, 1993.
Bryant, Jules. "How Canova and Wellington honoured Napoleon...." Apollo Magazine (2005). The Free Library. Web. 9 June 2019.
"Collossal head of Napoleon Bonaparte." Chatsworth: Devonshire Collection. Web. 9 June 2019.
Johns, Christopher M. S. Antonio Canova and the Politics of Patronage in Revolutionary and Napoleonic Europe. Berkeley: University of California Press, 1998.
"Napoleon as Mars the Peacekeeper." Wellington Collection. Web. 9 June 2019.
---

Victorian
Web

Visual
Arts

Sculpture

Italy
Created 9 June 2019