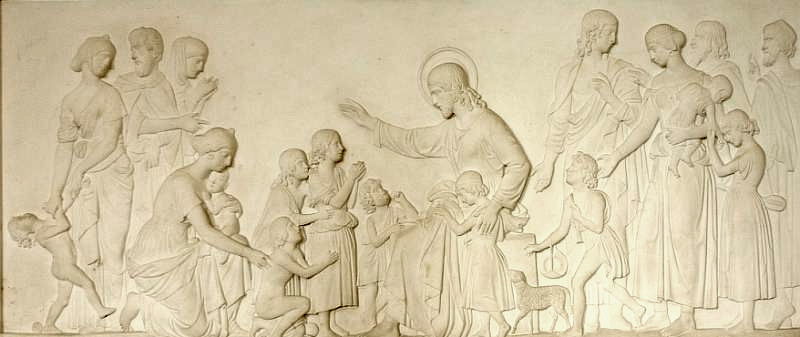 Suffer Little Children to Come to Me by John Gibson (sometimes entitled, "Christ Blessing the Little Children"). Marble. 978 x 2178 mm. 1862-4. Walker Art Gallery, Liverpool. Photograph by the author. [Detail]
Martin Greenwood describes the neo-classicist John Gibson's sculpture as "carefully executed and technically refined, notable for its clarity of form and composition, subtle modelling, and delicate sentiment," and all this is evident in this beautifully composed bas-relief. Also notable in this large composition are the elegance in the drape of the clothes, especially in the group behind the seated Jesus, and a vivacity which comes mainly from the different postures of the children, especially the one on the furthest left. Gibson depicted himself, a striking, grave-looking presence, as the figure at the end on the extreme right (see detail), while the other bearded figure on the far left is said to be Henry Sandbach, a rich and influential Liverpool merchant, and an important collector of nineteenth-century sculpture. The work was undertaken for Sandbach's wife Margaret. According to the information in the Walker's sculpture gallery, it was Gibson's "last completed work and one of his most ambitious."
Born in Wales and brought up in Liverpool, where he was patronised" by the Liverpool banker and art-collector William Roscoe, Gibson spent much of his adult life in Rome. He was one of the first young sculptors to find his way out there after the Napoleonic wars, and was helpful to others who came after him. He was very highly thought of: "Who in Italy will compare with Gibson — ?" asked one critic in the Art Journal (qtd. in Read 13). In later life he was close to the royal family, personally measuring Queen Victoria's features for a sculpture which was placed in the prince's chamber in the House of Lords (see Read 52 and Greenwood).
Gibson left a large bequest, including his casts, models, replicas and so on, "the labour of forty-six years of study and practice under the instruction for five years of Canova, and, after his death, of Thorwaldsen," to the Royal Academy, along with the "chief part of [his] fortune" (letter to Sir Charles Eastlake, qtd. in Read 32). As a result, there is a plaster relief (image offsite) of this work, "his only religious narrative subject" (Greenwood), in their collection. Among the information in the RA's catalogue is a touching record of Gibson's feelings when working on the composition: "When I began to model the head of Christ, the fear of failing came over me. I had to express the Divine within, perceived through outward form — the form of man — elevated, beautiful, and benevolent."
Bibliography
"John Gibson, R. A.. 1790-1866." RA Collections. Viewed 14 Januray 2009.
Greenwood, Martin. "John Gibson (1790-1886)." The Oxford Dictionary of Biography. Online ed. Viewed 14 January 2009.
Read, Benedict. Victorian Sculpture. New Haven and London: Yale University Press, 1982.
---
Last modified 15 January 2009