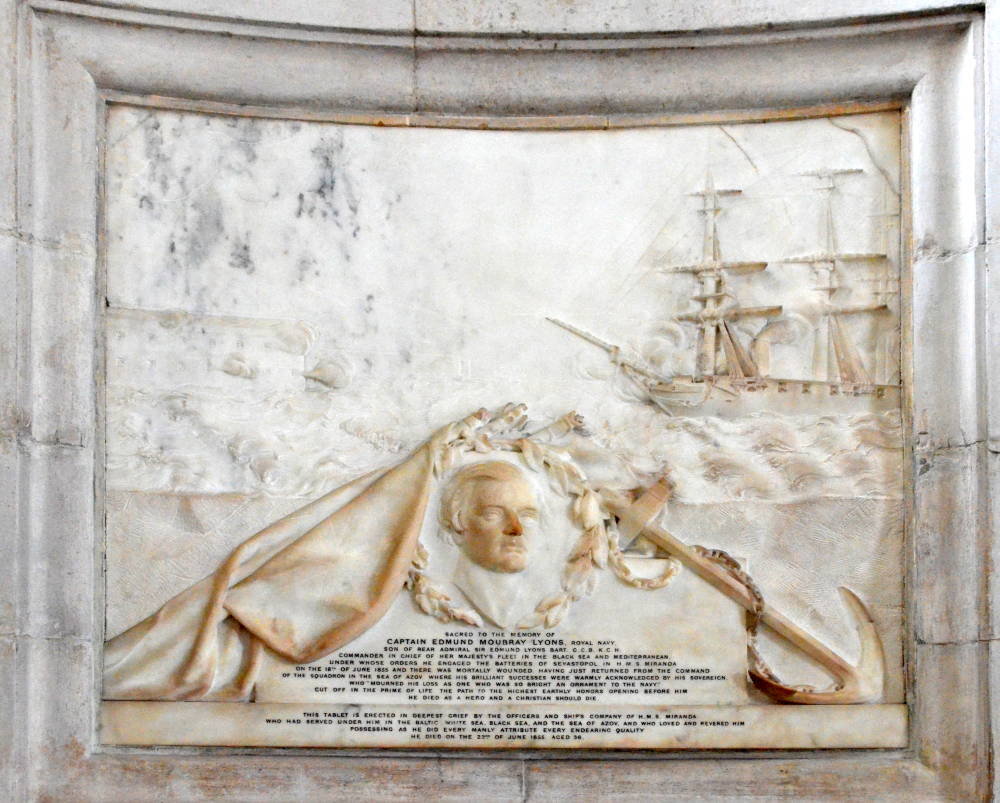 Memorial for Captain Edward Mowbray Lyons, Royal Navy.. William Calder Marshall. St.Paul's Cathedral. [Inscription [Click on image to enlarge it.] The inscription reads as follows:
Sacred to the Memory of Captain Edward Mowbray Lyons, Royal Navy
Son of Rear Admiral Sir Edmund Lyons Bart. C.C.B., K.C.M
Commander in chief of her Majesty's Forces in the Black Sea and Mediterranean, under whose orders he engaged the batteries of Sevastapol [sic] in his H M S Miranda on the 18th of June 1855 and there was mortally wounded having just returned fire from the command
of the squadron in the sea of Azov where his brilliant successes were warmly acknowledged by his sovereign
who "mourned his loss as one who was so bright an ornament to the navy"
cut off in the prime of life the path to earthly honours opening before him.
He died as a hero and a Christian should die.
This tablet is erected in depest grief by the officers and ship's company of H M S Miranda
who had served under him in the Sea of Azov and who loved and revered him
possessing as he did every manly attribute[,] every enduring quality.
He died on the 23rd of June 1855. Aged 36.
Photograph, formatting, and text by George P. Landow. With thanks to the Dean and Chapter of St Paul's Cathedral.
Related Material
---
Last modified 30 July 2014