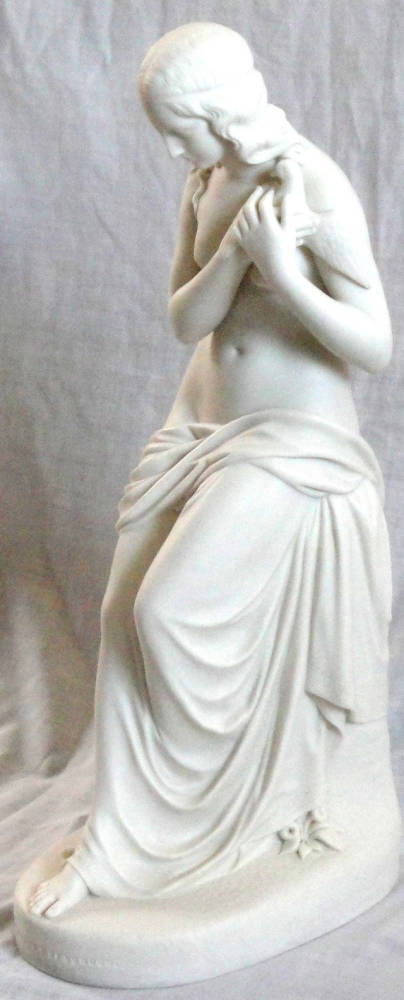 Innocence by John Henry Foley, R. A. (1818-1874). 1846. Parianware. 18 x 5 and 8 inches on self-base. Publisher: Art Union of London. Inscribed: "ART UNION OF LONDON" [front of self-base]. "J. H. FOLEY / LONDON / 1846. [on left below of figure]. Private collection. Click on images to enlarge them.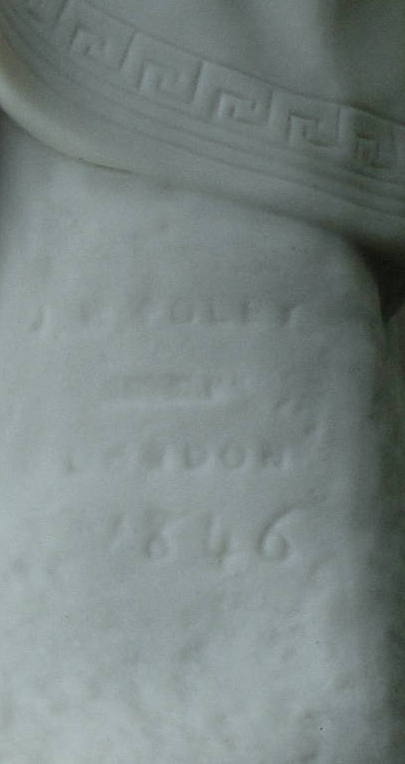 The 1851 Art Journal included an engraving of the life-size marble version of Innocence, which had been exhibited at the 1849 Royal Academy. The Art Union distributed small sculptures that were often reproductions of works already exhibited at the RA or ones commissioned for the organization, but here is a case of a well-known sculptor sending a life-size work to the annual exhibition after it had been distributed in a smaller version.
The writer in Art Journal, who praised Foley's representation of a popular subject, one that was almost a cliché, pointed out that
The subject of "Innocence" has long been a favourite one among modern sculptors, of other countries as well as of our own; we can, therefore, scarcely expect to see much novelty in any treatment of it in the present day, nor is it one which really admits of it. To render it generally acceptable it is necessary only that the grace — one of heaven's sweetest and best—should be exemplified in the "form and features" of its possessor; and this Mr. Foley's statue indubitably reveals. "Innocence" is always symbolised under the type of a young girl, (and we are not so ungallant as to question the propriety of the adjudication;) the sculptor here has placed a dove, the scriptural representative of the virtue, in her bosom, where she is fondly caressing the bird. The figure is semi-nude; it is effectively supported" by the drapery below in a manner to give elegance to the upper part of the person. The head and face are charmingly indicative of the sentiment intended to bo conveyed, while the limbs and body are admirably modelled. The work is one of simple elegance; it is of life-size, and was exhibited at the Royal Academy in 1848."
To give so much of interest to an every-day subject as will stand in the stead of novelty, requires in an artist no ordinary amount of talent and close study; the task is easier to the painter, with the various appliances of his Art at command, than to the sculptor with his lump of inanimate clay, or his block of marble. There is no beauty in these except what his mind and his hand con mould them into; no diversified natural effects, no change of seasons, nor transposition of colours and costumes, which the painter of landscape or of history may employ as he thinks fit to give originality to his work. The sculptor must rely solely on himself: but if his resources are few, the greater honour is due to him if he employs them successfully. To borrow a proverb often applied to the ordinary concerns of life, it is an easy matter to make a great display with ample means, but not so easy to make a respectable one where they are narrow and limited.
Bibliography
"Innocence." Art Journal (1851): 172. Hathi Trust Digital Library version of a copy in the University of Michigan Library. Web. August 1, 2013.
---
Last modified 14 November 2016