Biography
Perhaps the most striking thing in the career of Mr. Derwent Wood is the unusual rapidity with which he has made for himself a place of particular prominence among our younger sculptors. Within the short space of ten years he has advanced from the position of a brilliant and successful student in the Royal Academy schools to the rank of an even more brilliant and successful producing artist, whose works are in general request and whose capacities are widely recognised. . . . He is now only thirty-two, so that It can be plainly seen that he must have come before the public with definite confidence in his powers at an age when most artists are still feeling their way more or less tentatively towards the proper expression of their convictions — at an age, indeed, when many men have scarcely decided what are the convictions by which they propose to be guided in their practice.
He was born at Keswick in 1872; but while he was still a young child he was taken abroad, and when he was nine years old he commenced his education at Lausanne. At the age of fifteen he went to Karlsruhe, where he remained for two years; and then he returned to England. His first practical experience as an art worker was obtained in his uncle's potteries; but he worked there for only a brief period. In 1889 he gained a National Scholarship, and began a course of study of modelling under Professor Lanteri in the Royal College of Art at South Kensington; and that he made rapid progress under the supervision of this admirable teacher is proved by the fact that only two years later he was able to take a post as assistant to Professor Legros at the Slade School. This post he held until 1893, when he became a student in the schools of the Royal Academy.
His career at the Academy was comparatively short, but it was exceptionally distinguished, and culminated in 1895 with his success in securing the gold medal and travelling scholarship for sculpture with a group, half life size, of Dedalus and Icarus. During the period covered by his Academy studentship he was working in the day-time as an assistant to Mr. Brock, and at night in the schools, so that he was learning the practical side of his profession under the best possible guidance, and was laying an admirable foundation of knowledge upon which to build in after years. To such good use did he put the experience which he had so far accumulated, that he was able in 1897, soon after the expiration of the term of his travelling scholarship, to gain an award at the Paris Salon for a group. Charity, and so to rank himself, when barely five-and-twenty, among sculptors of established repute. By this time the preparatory stage of his professional life may fairly be said to have come to an end; he had acquired something like mastery over the details of his craft, and was well qualified to attempt independent undertakings of an important kind.
When he returned to London after his stay abroad, he rejoined Mr. Brock; bat not long afterwards he was offered, and accepted, an appointment at the Glasgow Art Schools. He began, too, to find that his services were in request, and that there were at his disposal many commissions for portrait busts, and for architectural sculpture. [A.R.A. 1910. R.A. 1920] — W. K. West, The Studio
Memorial Sculpture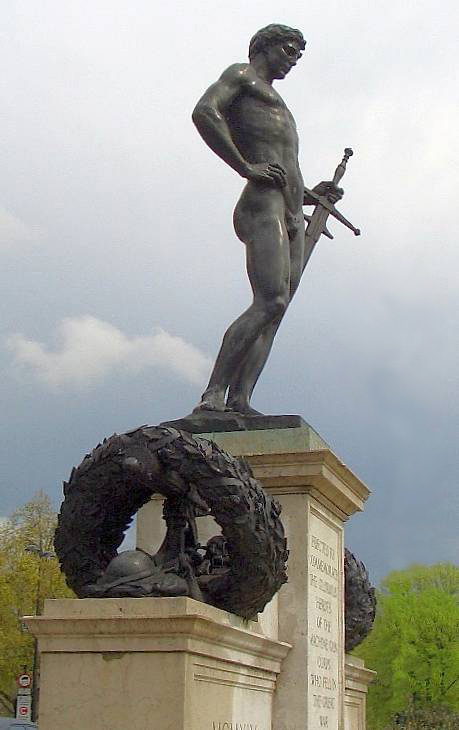 Fountains and Architectural Sculpture
Portrait Statues and Busts
Robert Brough

(6 views)

Queen Victoria

, for Patiala, India (no image on this site)

Rev. C. H. Spurgeon

, the Baptist House in Southampton Row (no image on this site)

Queen Victoria

, Cavalry Club (no image on this site)

Queen Alexandra

, Cavalry Club (no image

Sir Blundell Maple

, for University College Hospital (no image on this site)

Sir Joshua Reynolds

, Medallion portrait in low relief, Plympton parish church (no image on this site)
Literary and Religious Subjects
Nudes and Figure Studies
Diana

, Shipley Hall

Juno

, Shipley Hall (no image on this site)

Venus

, Shipley Hall

Ceres

, Shipley Hall (no image on this site)
Allegorical Sculpture
Miscellaneous
Vessels and Metalwork
Works not illustrated on this site
Dedalus & Icarus

illustrated in the 1896

Studio

)
Bibliography
Beattie, Susan. The New Sculpture. New Haven: Yale University Press, 1983.
British Sculpture 1850-1914. A loan exhibition of sculpture and medals sponsored by The Victorian Society. London: Fine Art Society, 1968.
Channel Packet: Paris-London, 1880 - I920. Exhibition catalogue, The Fine Art Society, 148 New Bond Street London Wl. March 24th - 25 th April 1969, plate 20.
Read, Benedict. Victorian Sculpture. New Haven: Yale University Press, 1982.
West, W. K. "The Work of F. Derwent Wood." The Studio (1905): 297-306. Internet Archive digitized from a copy in the University of Toronto Library.
---
Last modified 14 May 2018