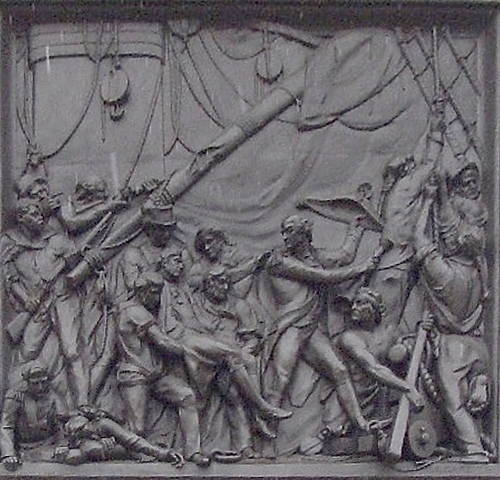 The Battle of Trafalgar, at the base of Nelson's Column. John Edward Carew (c.1782-1868). Bronze (from cannon). 1849. Photograph and text by Jacqueline Banerjee, 2009/11. [You may use this image without prior permission for any scholarly or educational purpose as long as you (1) credit the photographer and (2) link your document to this URL or cite it in a print one.]
The four bas-reliefs at the foot of Nelson's Column were cast from cannon captured in Nelson's famous battles, and commemorate his four great victories. This first and most famous panel, The Battle of Trafalgar (sometimes called The Death of Nelson), was put in place in December 1849. The others followed, between 1850 and 1852 (see Read 90).
The panel, Carew's most celebrated work, is packed with shipboard detail, and has great depth. It depicts a scene of frantic activity around the central figure, who is supported by the three men nearest to him:
Hardy, who was a few steps from him, turning round, saw three men raising him up. — "They have done for me at last, Hardy," said he. — "I hope not," cried Hardy. — "Yes!" he replied," my back-bone is shot through." Yet even now, not for a moment losing his presence of mind, he observed, as they were carrying him down the ladder, that the tiller ropes, which had been shot away, were not yet replaced, and ordered that new ones should be rove immediately. Then, that he might not be seen by the crew, he took out his handkerchief, and covered his face and his stars. Had he but concealed these badges of honour from the enemy, England, perhaps, would not have had cause to receive with sorrow the news of the battle of Trafalgar. The cockpit was crowded with wounded and dying men, over whose bodies he was with some difficulty conveyed, and laid upon a pallet in the midshipmen's berth. (Southey 299-300).
This is the account that Carew would most likely have read. Such is the heat of battle that Nelson himself is focussed on it, and some men are too busy even to turn and look at him. At the bottom of the panel is written, "ENGLAND EXPECTS EVERY MAN TO DO HIS DUTY."
Related Material
References
Southey, Robert. The Life of Nelson. New York: J & J Parker, 1835. Internet Archives. Web. 14 May 2011.
Read, Benedict. Victorian Sculpture. New Haven & London: Yale University Press, 1982.
---
Last modified 14 April 2011