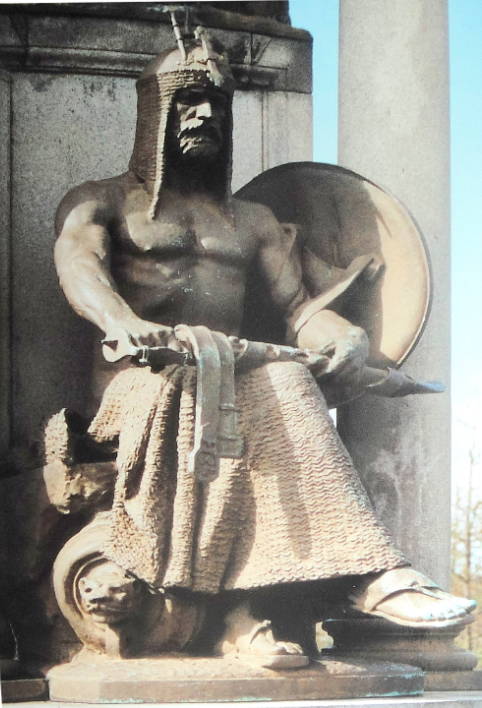 Lord Roberts Memorial by Harry Bates, A.R.A. Bronze and stone. Kelvingrove, Glasgow, cast in 1916 after the original in Calcutta. Height: 30 feet. Another cast" by Henry Poole (1924), though smaller is on Horse Guards Parade, London. The Kelvingrove memorial is the only one with all of the other attributes envisioned" by Bates. Left: the complete monument; right: warrior, which according to Beattie (220) is an allegory of war. Click on images to enlarge them.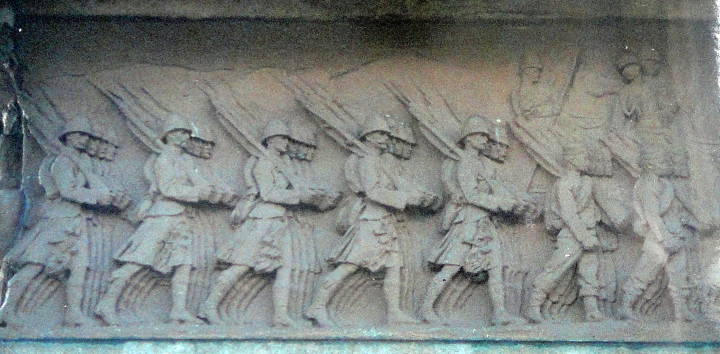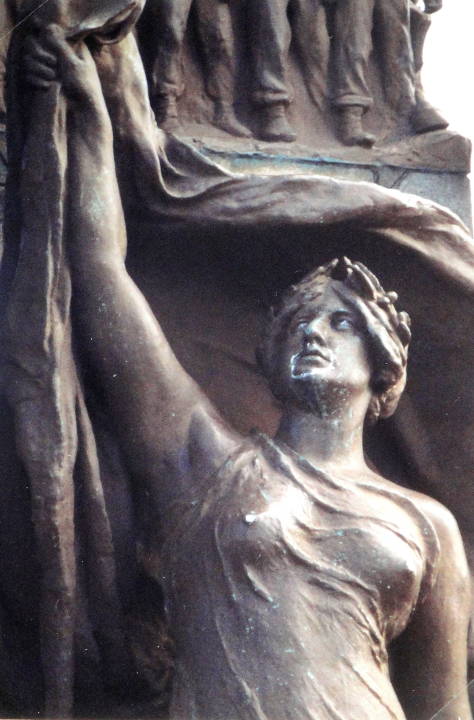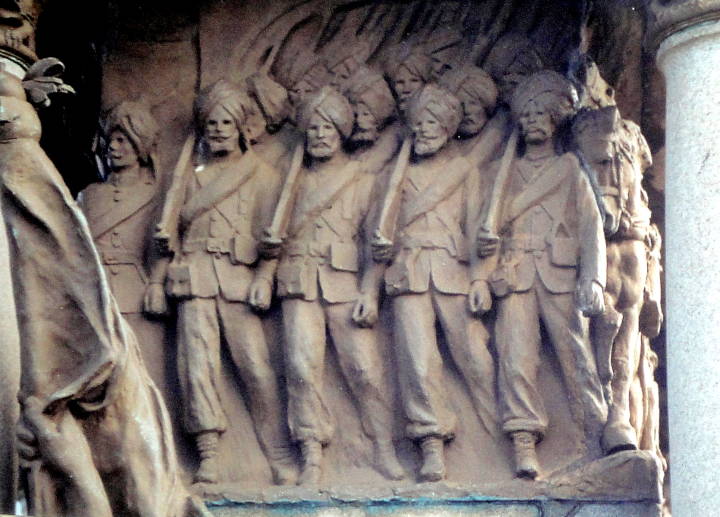 Kilted Scottish infantry marching information. Victory (seen from a different angle in photograph above left). Indian troops marching. This panel appears above and behind the figure of Victory.
The commission came from Calcutta, and "no equestrian memorial produced in England during the nineteenth century incurred such instant and widespread acclaim . . . . As a result of its enduring reputation two replicas of it were erected in Britain after Roberts's death in 1914" (Beattie 200). Bates was adamant that the mounted Roberts had to have the Victoria at the front and War, the other seated figure, at the back, plus all the side bronze panels as well. The Office of Works just as adamantly refused, so Bates offered to pay for them himself. He was in the process of doing so when he died, leaving his family essentially bankrupt. The widow never did get reimbursed fully from anyone, though she was "given a grant of £50 and placed on the pension list" (220). However, when the piece was commissioned as a replica for Kelvingrove, Henry Poole was able to assemble the entire piece as Bates had intended.
According to Beattie,
The Arab charger on which Roberts sits, calm and composed in his sun-helmet and Afghan jacket, is the climax of Bates's achievement as a sculptor of animals. Tense as a coiled spring, the beast is portrayed in an instant of suspended action, head thrust to one side and tail and mane swept forward in magnificent deference to the silent command of its rider.
Though paying tribute to the extraordinarily vitality of the equestrian portrait" by reproducing it at Horse Guards' Parade, the Office of Works ignored Bates's overriding intention in the Roberts Memorial: that the portrait should be seen, not, like Ford's Strathnairn, in lofty isolation, but as the culmination of an aesthetic experience which begins, in Bates's original design, at the base of the pedestal. [220]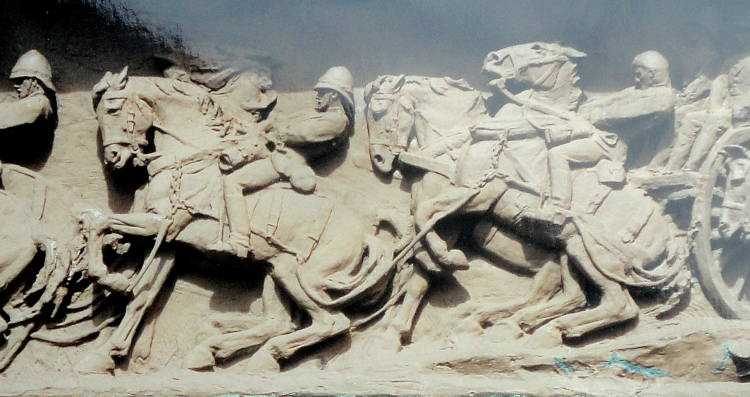 Mounted artillerymen straggling to rein in their horses.
Related material
Click on the images below for larger pictures. Photographs by Robert Freidus and text by Freidus and George P. Landow. [You may use this image without prior permission for any scholarly or educational purpose as long as you (1) credit the photographer and (2) link your document to this URL in a web document or cite it in a print one.]
Bibliography
Beattie, Susan. The New Sculpture. New Haven: Yale University Press, 1983.
---
Last modified 17 March 2015