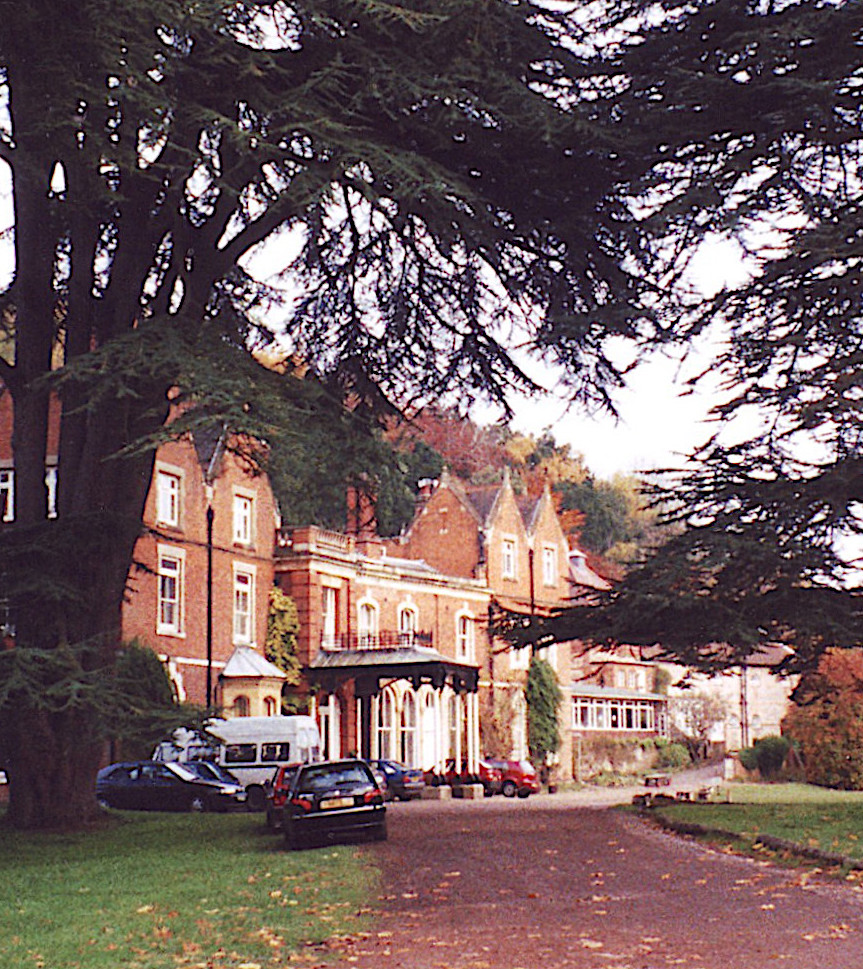 Juniper Hall, Headley Lane, Mickleham, Surrey. Left: Source: Hill, frontispiece. Right: Juniper Hall today. This is a Grade II listed building, mainly on account of its historic interest and its one remaining eighteenth-century room, called "The Sculptured Drawing Room." It stands at the edge of Norbury Park, less than a mile south of the village of Mickleham, on Headley Lane just off the London Road. [Click on all these images to enlarge them.]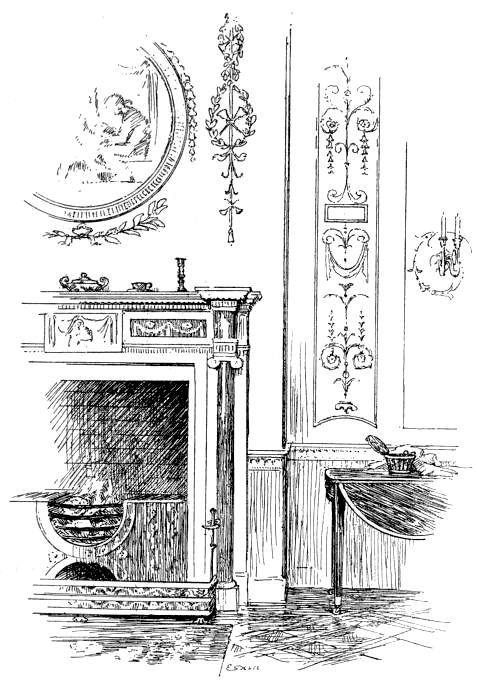 The Sculptured Drawing-room, by Ellen G. Hill. Source: Hill 57.
The original flat-roofed house of 1762 had already been extended to the south and altered drastically by the time Constance Hill was writing. She notes in her preface that the water-colour view engraved above "was taken many years before the house underwent any alteration" (vii). The Buildings of England series records the Hall as "[a]ll effectively c. 1870 from the outside, with an enormous porte-cochère like a fragment of Marylebone Station" (Nairn et al. 321), not to mention a whole range of gables added to the top storey. Such additions were typical of the kind made by the private owners of grand country properties in this High Victorian period.
The Hall's historic associations, however, were unique, and provide the link to Frances Burney, as Hill explains:
IN a beautiful part of Surrey there stands a house famous as the resort of some distinguished French emigres, who, during the Reign of Terror, had escaped from the guillotine.
This house, known as "Juniper Hall," is situated between the village of Mickleham and Burford- bridge [at the foot of Box Hill]. Within its walls there met together, a little more than a century ago, a group of singularly interesting persons, both French and English.
The French colony consisted of leading members of the Constitutional party, who had made great personal sacrifices in the cause of reform, and who had now suddenly fallen from power with the fall of their king; while among their English neighbours were the relatives of our authoress, Fanny Burney, and after a while Fanny Burney herself. [v]
In short, this is where fate brought Fanny Burney and her "Prince Charming," the exiled General d'Arblay, together.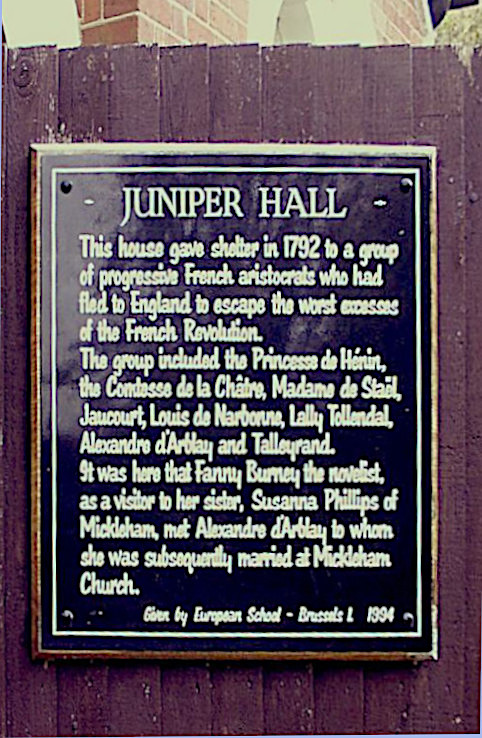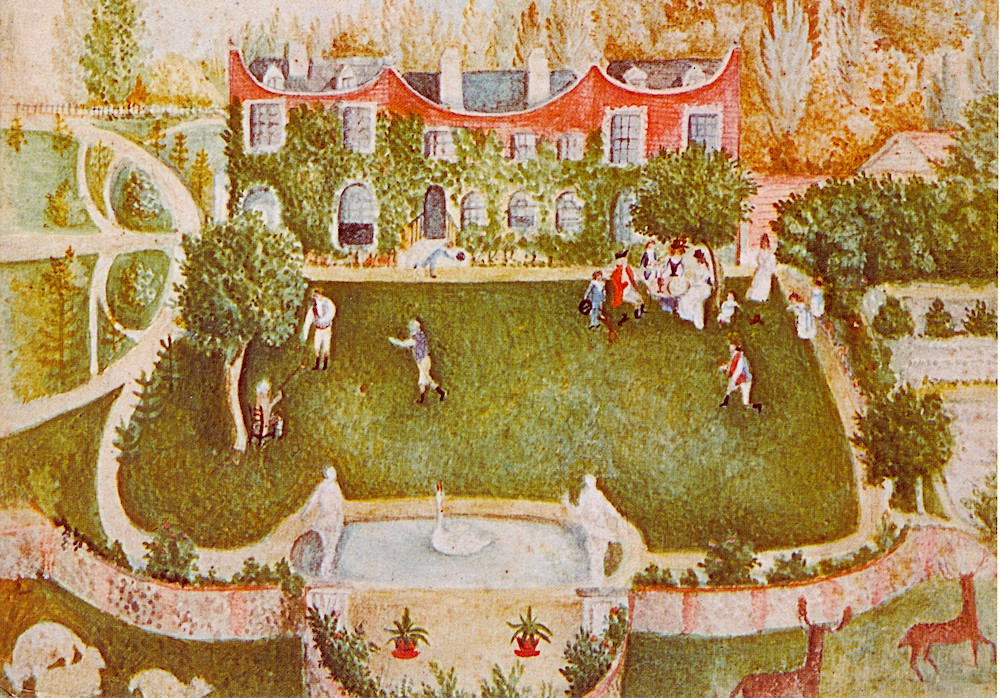 Left: Notice on the fence near the entrance. Right: Painting of the gardens displayed inside the building, possibly the work of General d'Arblay, and certainly speaking of courtlier times.
Juniper Hall is now a National Trust property, but it is leased as a Field Studies Centre and runs day and residential courses on insect photography, bat detection and so forth.
Image scan, colour photographs (including the one of the painting), text and formatting by Jacqueline Banerjee. You may use the images without prior permission for any scholarly or educational purpose as long as you (1) credit the source/photographer and (2) link your document to this URL or cite it in a text document.
Related Material
Bibliography
Banerjee, Jacqueline. Literary Surrey. Corrected ed. Headley Down, Hampshire: John Owen Smith, 2011.
Hill, Constance. Juniper Hall, A Rendezvous of Certain Illustrious Personages during the French Revolution, including Alexandre d'Arblay and Fanny Burney. Illustrations by Ellen G. Hill and reproductions of photogravure, etc. London: John Lane, The Bodley Head, 1904. Internet Archive. Contributed by Robarts Library, University of Toronto. Web. 1 August 2020.
Juniper Hall, London Road. Historic England. Web. 1 August 2020.
Nairn, Ian, and Nikolaus Pevsner, revised by Bridget Cherry. Surrey. Buildings of England. 2nd ed. London: Penguin, 1971.
---
Created 1 August 2020