Photographs by Bob Morgan; thank you as well to Eve Morgan, who provided a copy of the "Llandudno Hydropathic Establishment" leaflet. Historic image taken, also with thanks, from the Library of Congress Prints and Photographs Online Catalogue, reproduction number: LC-DIG-ppmsc-07444 (photomechanical print). Text by Jacqueline Banerjee. [You may use these images without prior permission for any scholarly or educational purpose as long as you (1) credit the photographer or source and (2) link your document to this URL. Click on the images to enlarge them.]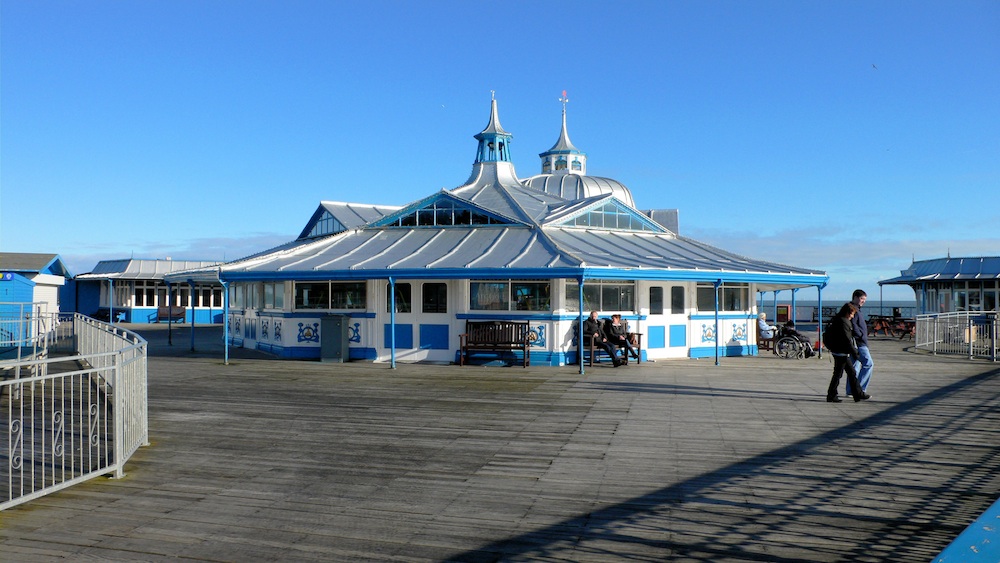 Central pier-end pavilion on Llandudno Pier, North Wales. The pier, a Grade II listed structure, was designed by architect Charles Henry Driver (1832-1900), with distinguished civil engineers James Brunlees (1816-1893; later knighted) in partnership with Alexander McKerrow (1837-1920), and built by John Dixon. 1876-77. There are four pairs of kiosks on the pier, and three at the head, of which this is the main one. Another elaborate pavilion of 1883-84, connected to it at the shore end and incorporating a theatre for shows, and (for a while) a huge indoor swimming pool, unfortunately burned down in 1994.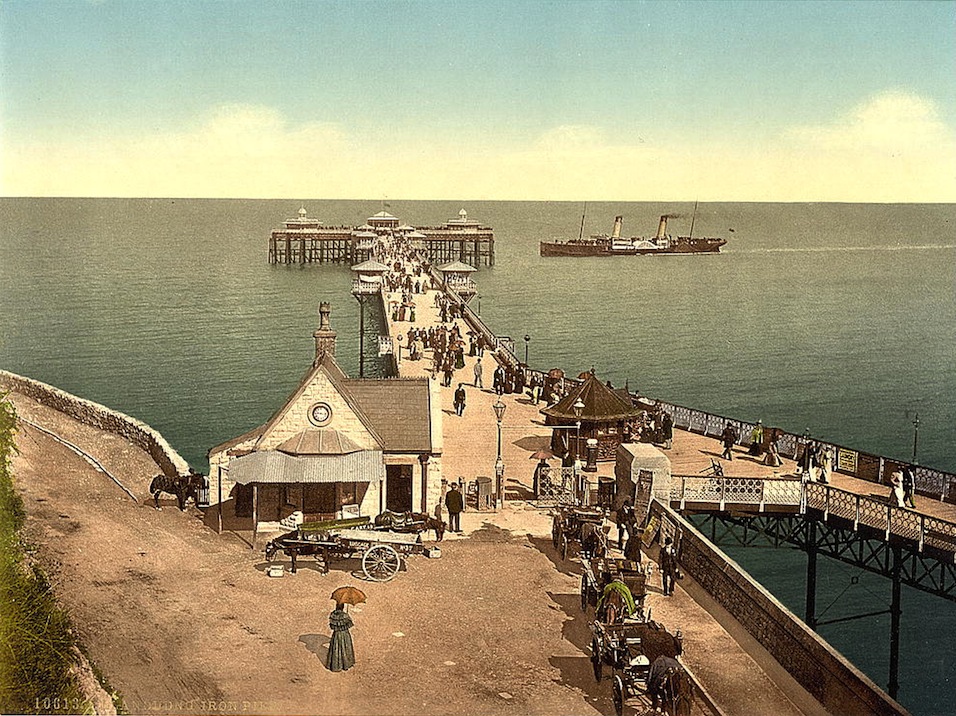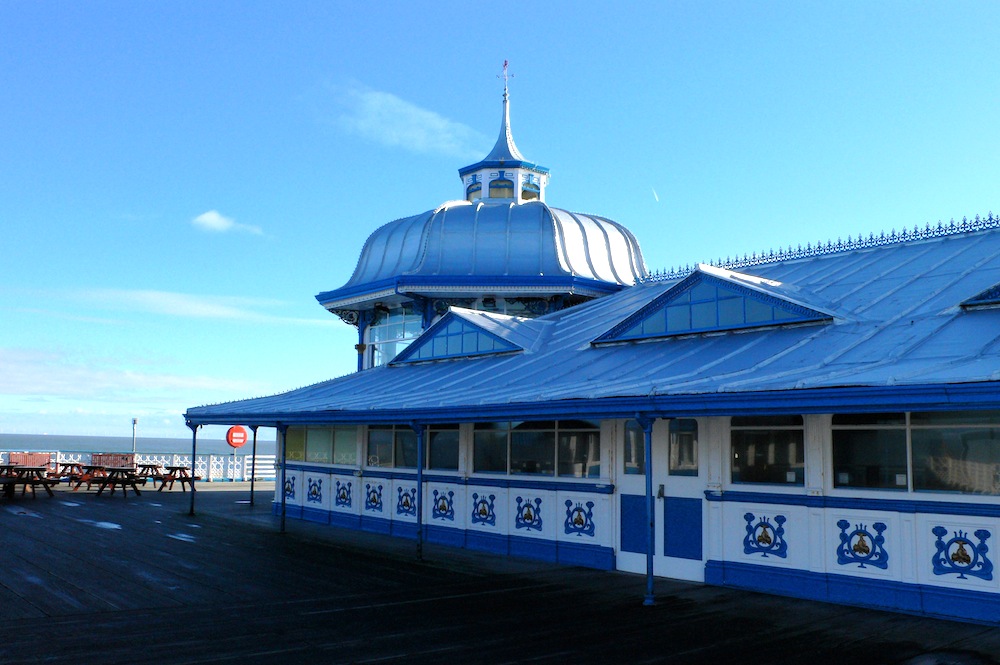 The longest pier in Wales, Llandudno's "iron pier" extends 1234' to a 60' wide T-shaped pierhead, and is supported by cast-iron columns and a "wrought-iron lattice-girder framework" (Cragg 26). Driver was well-known for his use of iron-work, notably at Crossness Pumping Station in London, where he collaborated with Joseph Bazalgette. Brunlees' most important work was in railways and docks, but he designed several piers, including those at New Brighton, Merseyside, and Southend — the latter reputed to be "the longest pleasure pier in the world" ("The History of Southend-on-Sea").
Llandudno grew exponentially after the arrival of the railway. As an early brochure for the Llandudno Hydropathic Establishment on the seafront Parade said: "It is favourably situated on the Welsh coast, sheltered by the two headlands — the Greater and Lesser Orme," and the air was (and hopefully still is) "clear, dry and invigorating." By the 1870s it already had, as the brochure claimed, "a most enviable celebrity" as a holiday resort and health spa. The kiosks at Llandudno, with their Indo-Gothic canopy roofs, especially this one at the pier-end with its additional ogee dome, still make a splendid seaside attraction in their nautical colours (see "Llandudno Pier").
Related Material
Sources
"1873: Llandudno Hydropathic Establishment and Winter Residence" (leaflet available at the present Hydro Hotel).
Cragg, R., ed. Wales and West Central England: Civil Engineering Heritage. 2nd ed. Ashbourne, Derbyshire: Landmark Publishers, 1997.
"The History of Southend Pier.". Southend-on-Sea Pier Museum. Web. 5 April 2014.
"Llandudno Pier, North Wales." The Heritage Trail. Web. 5 April 2014.
"Obituary. Sir James Brunlees, 1816-1892." ICE (Institution of Civil Engineers) Virtual Library. Web. 5 April 2014.
---
Last modified 6 April 2014