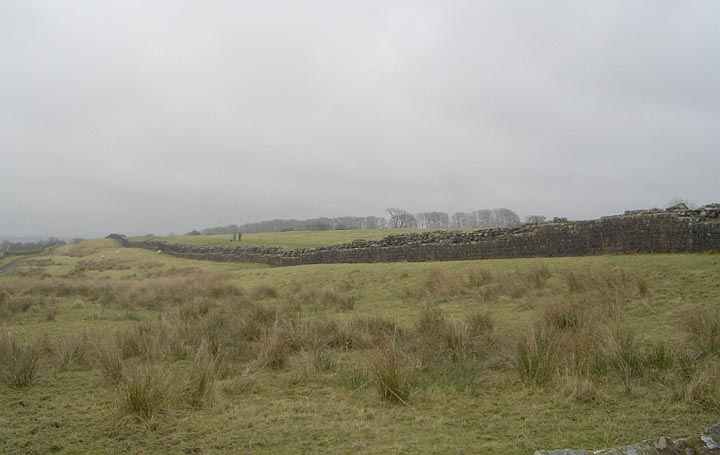 Hadrian's Wall near Birdoswald, Cumbria, in early spring. Photograph 2006 by Jacqueline Banerjee. [This image may be freely used without prior permission for any scholarly or educational purpose.]
This border fortification, begun by the Romans in 122 AD and finally abandoned in 383 AD, traverses England from the Solway Firth in the west to the River Tyne in the east, and is punctuated by "milecastles" and forts. This scene in the open countryside occurs in the Northumbrian part of the wall — about its midpoint — after it has already passed through Cumbria in the west.
Hadrian's Wall has a special relevance to Victorian studies because a Victorian, John Collingwood Bruce (1805-92), the proprietor of a school in a Newcastle and a keen antiquary, first drew the general public's attention to the importance of these remains by putting together the various findings about it in The Roman Wall (1851) and The Wallet Book of the Roman Wall (1861). Collingwood began the fashion for making pilgrimages to the wall, and walking or cycling the length of the wall are both popular pursuits now, for the countryside along it, not far south of the modern border with Scotland, is very beautiful.
Related Material
Sources
Bruce, John Collingwood. The Roman Wall: A Description of the Mural Barrier of the North of England. 3rd ed. London: Longmans, Green, Reader, and Dyer, 1867.
---
Last modified 6 August 2006