Photographs by the author. You may use these images without prior permission for any scholarly or educational purpose as long as you (1) credit the photographer and (2) link your document to this URL in a web document or cite the Victorian Web in a print one. [Click on the images to enlarge them.]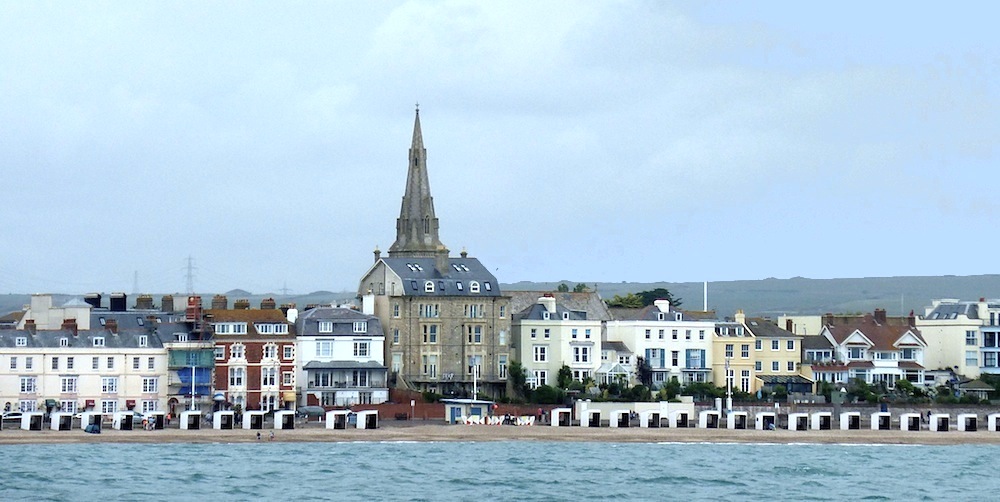 Seafront, Weymouth, Dorset. "Has any coast town a more spectacular seafront than Weymouth, the terraces continuous for half a mile, fronting the expanse of Weymouth Bay?" ask John Newman and Nikolaus Pevsner (453). At the back (at the north entrance to the resort) can be seen the Grade II* listed St John the Evangelist's Church, designed by Talbot Bury (1809-1877), who was associated with both A. W. N. Pugin and his father, to whom he had been articled. A similarity to Benjamin Ferrey's work has been noted in the landmark spire (see "List Entry"), something entirely natural since Ferrey too was a fellow-pupil with Pugin and was now Diocesan Architect for Dorset.
Weymouth in the Georgian and Victorian Periods
Left to right: (a) Terrace along the Esplanade. (b) St John's Church. (c) The Royal Hotel.
Newman and Pevsner describe Weymouth as "the Georgian resort par excellence" (450), explaining that the Duke of Gloucester first came for the winter of 1780, then had a house built here, and was followed by the king himself in 1789. George III received a terrific welcome, as recorded by Fanny Burney who was in attendance at the time (see Darton 225-26), and then came regularly, drawing many more visitors to it. His statue, colourfully but not vulgarly regal, stands prominently at the south end of the seafront, showing the townsfolks' gratitude to him, and serving as a reminder in itself of the glamour and prosperity which he bestowed on the town. No wonder there are lovely Georgian terraces here. Yet there is much here too to mark the resort's development throughout the Victorian period: St John's was built 1850-54, and consecrated in 1854, and the Royal Hotel, designed by C. Orlando Law, was built 1897-99, in the manner of so many grand hotels of those turn-of-the-century days. It is Grade II listed, and the listing text describes it as being "in a vigorous Northern Renaissance style with Flemish details."
Thomas Hardy in Weymouth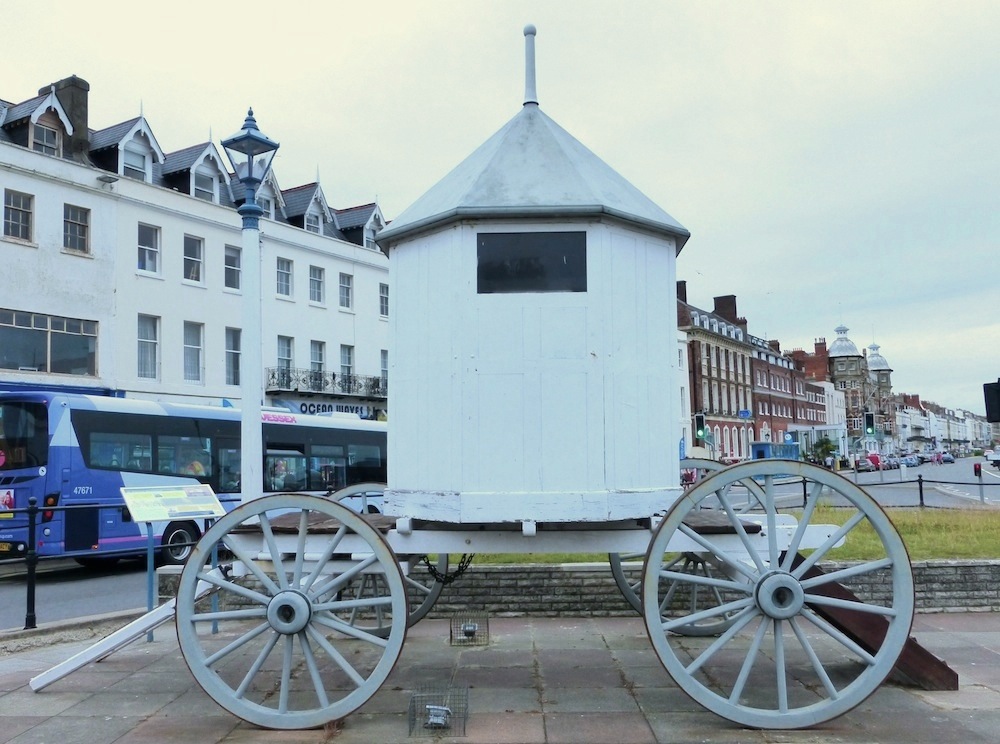 Left to right: (a) A replica of King George's bathing machine. (b) Jubilee Memorial Clock-Tower. (c) Inscription on the base of the clock tower.
Nothing could recapture the excitement of George III's first visit, when a band struck up from a neighbouring bathing-machine as soon as the royal head above the water (Darton 226). But here as in other coastal towns, the Victorian era was a boom period. As a resort, it had every advantage: "[e]ven in the hottest and closest weather Weymouth can never be stuffy, for it is built on a narrow neck of land almost surrounded by the sea, and for the most part faces eastwards. The boating and bathing are excellent, for Weymouth sands are famed even in this district of good beaches" (A Pictorial and Descriptive Guide, xii). When Thomas Hardy came here in the summer of 1869, as assistant to the architect George Crickmay at his main office, he took early morning dips in the sea, and went out rowing in the evening (Tomalin 93). The town was the scene too of his youthful dalliances, especially with his cousin Tryphena, and he would use it as the setting for much of The Trumpet-Major. In the theatre here too he would one day attend John Drinkwater's dramatisation of the novel, his reception on this occasion as rousing as any given to a royal personage (see Florence Hardy 248). George Simond's statue of Victoria outside St John's, and the clock tower on the Esplanade are both reminders of the glory days when Weymouth was one of the most fashionable resorts in the country: Newman and Pevsner describe the latter delightfully, as "frilly" and "just the thing to hang fairy lights on" (453).
Seaside Traditions in Weymouth
Left: Still appearing on the Weymouth sands.... Right: Mr Punch on display in the Dorset County Museum in Dorchester.
Seaside traditions such as Punch and Judy shows and donkey rides (see below right) cling to Weymouth like its past glory. According to Jill Sainsbury, the shows go back to at least the 1880s, and were only interrupted by the two world wars.
Related Material
Sources
"List Entry: Church of St John the Evangelist." Historic England. Web. 10 August 2015.
Darton, F. J. Harvey. The Soul of Dorset. Boston: Houghton Mifflin, 1922. Internet Archive. Contributed by Robarts Library, University of Toronto. Web. 10 August 2015.
Gittings, Robert. Young Thomas Hardy. London: Heinemann, 1975.
Hardy, Florence. The Later Years of Thomas Hardy, 1892—1928. London: Macmillan, 1930.
Newman, John, and Nikolaus Pevsner. Dorset. London: Penguin, 1972.
A Pictorial and Descriptive Guide to Weymouth, Portland, Dorchester, Lulworth, Swanage, Sherborne, etc. 6th ed., revised. Ward, Lock and Company, Ltd, 1921. Internet Archive. Contributed by University of California Libraries. Web. 10 August 2015.
"Royal Hotel and Queen's Ballroom, Weymouth." British Listed Buildings. Web. 10 August 2015.
Sainsbury, Jill. "Mr Punch — Weymouth's oldest resident." Dorset. Web. 10 August 2015.
Tomalin, Claire. Thomas Hardy. New York: Penguin, 2007.
---
Last modified 10 August 2015