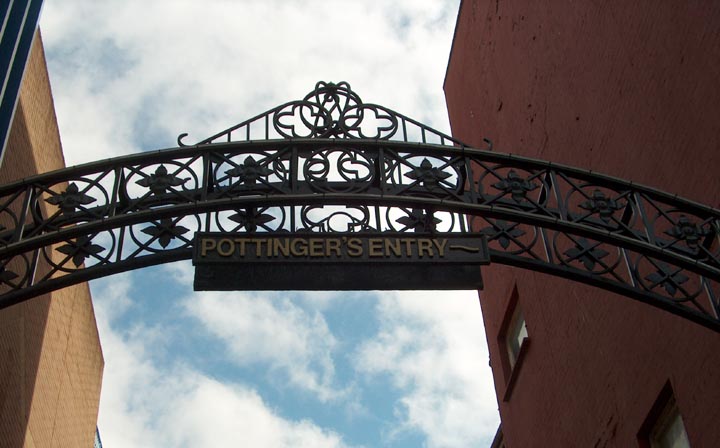 The Pottinger Entry, Belfast. Photograph and text by 2006 by Philip V. Allingham . [This image may be used without prior permission for any scholarly or educational purpose.]
"The Entries — The close-knit passageways where Belfast was born and bred."
The Entries run from what was once the town's waterfront streets, between warehouse blocks, and down to the quayside that was destroyed by an intense German aerial assault in the Second World War. Along these passageways are found some of Belfast's old Victorian public houses, notably The Morningstar (Pottinger's Entry). The Pottinger Entry is named after a prominent local family, one of whose number, Sir Henry Pottinger joined the British East India Company when just a lad, and rose to the rank of first colonial Governor of Hong Kong after successfully negotiating a treaty to end the Anglo-Chinese Opium War. In fact, he exceeded Whitehall's directives in forcing the Chinese Imperial government to yield the island, but was rewarded for his initiative. He died in retirement on the island of Malta.
Related Material
---
Last modified 6 September 2006