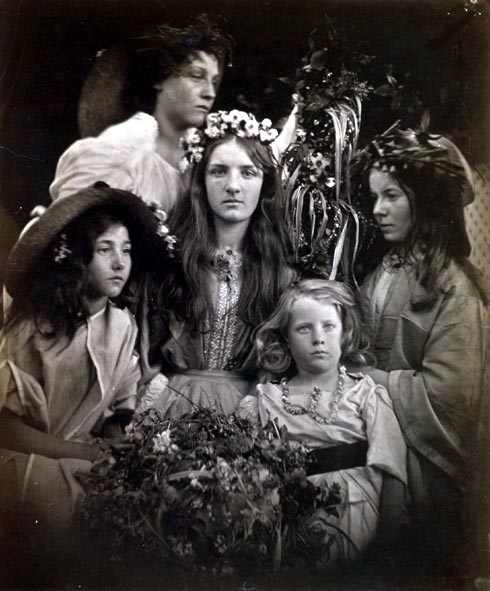 May Day
Julia Margaret Cameron
1866
Victoria & Albert Museum, London
V&A Images/Courtesy of the Victoria & Albert Museum
[For commentary, see below. Mouse over the text for links.]
The photograph shows the old tradition of crowning a May Queen on the first day of that month; but, despite the happy occasion, the flowers and the costumes, this is a solemn tableau. It is, in one respect, just the sort of posed ensemble that the Victorians enjoyed putting on as a spectacle for an audience, endowing the occasion with a sense of solemn ritual. Yet there is pathos here as well, because it serves to illustrate Tennyson's well-known poem "The May Queen" (1832), with its plaintive undertones and sense of doom. In the first part of this poem, the girl who is to be crowned May Queen tells her mother the night before, "I sleep so sound all night, mother, that I shall never wake, / If you do not call me loud when the day begins to break" (127). The next part of the poem, entitled "New-Year's Eve," and its conclusion, added later, confirm that although she is indeed crowned on the following day, it is the last May Day in which she ever participates. She is bound for that place where "the wicked cease from troubling, and the weary are at rest" (139). The photograph captures well the atmosphere of Tennyson's poem, as a moment stilled in the all-too-swift passage of time.
According to the V&A website, "Cameron's maid Mary Ryan plays the title character of Tennyson's poem...." Around her are (left to right): a local child, Kate Keown; her parlour-maid Mary Hillier; another local child, Freddy Gould; and another, unidentified, child model (see Cox and Ford 450). Cameron would take up the theme again later, when illustrating Tennyson's Idylls of the King (1875; see the penultimate image of "The May Queen"). — Jacqueline Banerjee
Related Material
Sources
Cox, Julian, and Colin Ford, eds. Julia Margaret Cameron: the Complete Photographs. With contributions by Joanne Lukitsh and Philippa Wright. Los Angeles: Getty Publications / London: Christopher Hudson, 2003.
"May Day." V&A. Web. 1 May 2016.
Tennyson, Alfred. "The May Queen." Idylls of the King. British Library. Web. 1 May 2016.
_____. Poems. London: E. Moxon, 1848. Internet Archive. Contributed by Robarts Library, University of Toronto. Web. 1 May 2016. See pp. 127-139
---

Victorian
Web

Visual
Arts

Photo-
graphy

Julia
Cameron

Next
Last modified 1 May 2016