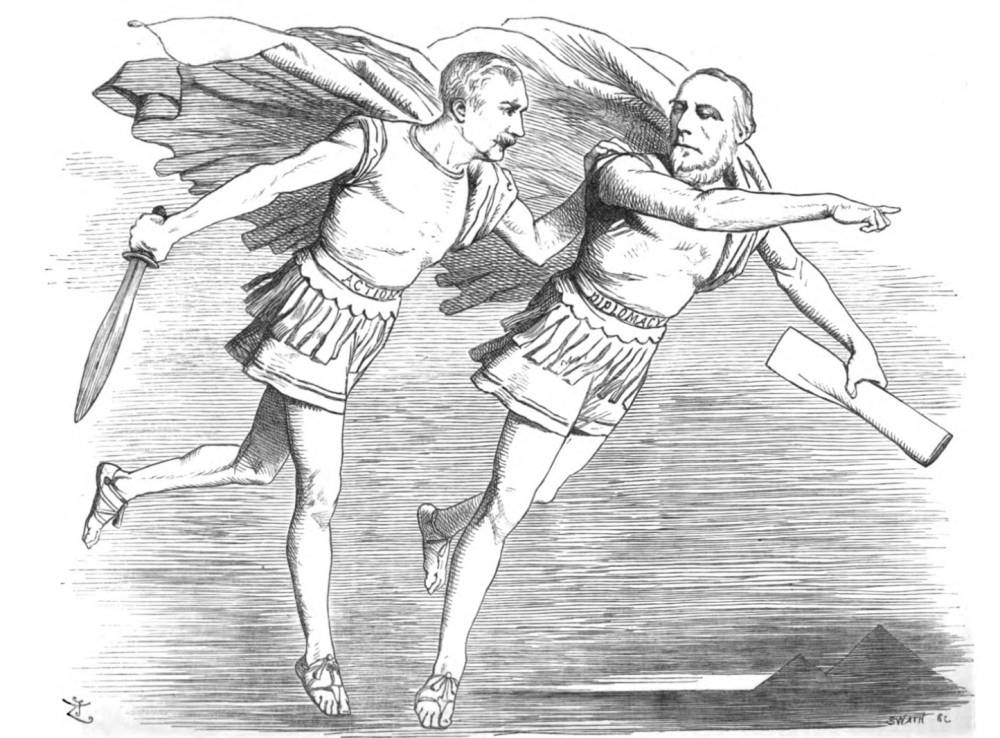 The Dioscuri in Egypt. John Tenniel, artist, and Swain, engraver. Punch (6 September 1884). Mr. Punch recommends a policy combining diplomacy and force to achieve Great Britain's goals in Egypt: create a just, efficiently run government, improve the lot of the average Egyptian, have the country pay its debts, and, above all, ensure the safety of the Suez Canal. The British government fairly quickly recognized that first two goals proved impossible to achieve, and the problem of debt seemed almost as difficult, but it achieved the most important goal — but only by betraying its beliefs in the self-determination of other countries and peoples. Click on image to enlarge it
The ancient Great Twin Brethren,
Castor and Pollux Hight,
Were held to bring the ship to shore,
And help the Chief in Fight.
Our Modern Disocuri
Are, in their way,
"Helpers of Mortals" named of old —
May they bring help to-day!
Related material Including Other Editorial Cartoons from
Punch
[This image may be used without prior permission for any scholarly or educational purpose without prior permission as long as you credit (a) the Hathi Digital Library Trust and the University of California Library and (b) Link to this page in a web document or cite it in a print one. — George P. Landow]
---
Last modified 11 August 2020