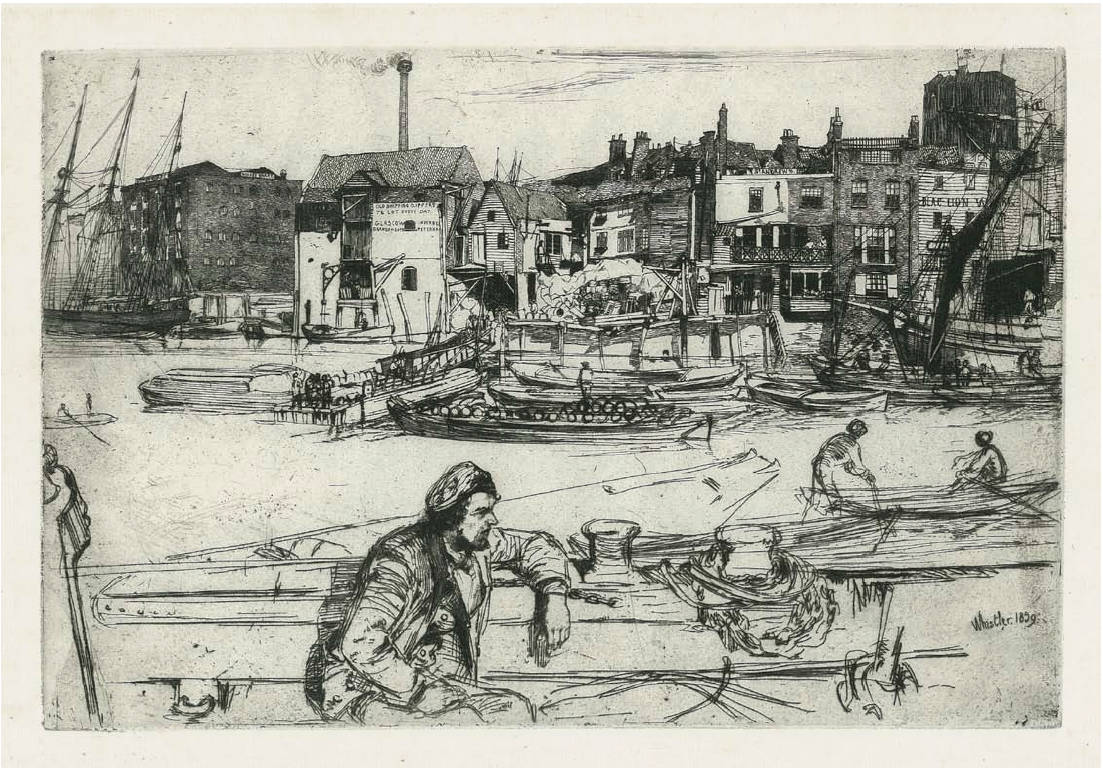 Black Lion Wharf by James Abbot McNeill Whistler (1834–1903). 1859. Etching and drypoint, printed in black ink on thin laid paper, 6 x 9 inches (15 x 22.6 cm); sheet 8 x 10 3/4 inches (20.7 x 28.5 cm). This is a impression in the third state (of four) aside from the edition published in A Series of Sixteen Etchings of Scenes on the Thames and Other Subjects, (the Thames Set) published by Ellis & Green in 1871. Source: Whistler on the Thames. [Click on image to enlarge it.]
Commentary by Gordon Cooke
An impression of Black Lion Wharf was exhibited at the Royal Academy of Arts in 1860 (902), and it is thus one of the first of the Thames etchings to be shown in public. Its importance to the artist may be suggested by its inclusion, framed on the wall, in his painting Arrangement in Grey and Black: Portrait of the Painter's Mother, 1871, now in the Musée d'Orsay, Paris, and perhaps Whistler's best known work.
Black Lion Wharf was on the north bank of the Thames near St Katharine's Dock, just below the Tower of London. Katharine Lochnan has suggested that it was drawn from the Horsleydown New Stairs on the South Bank, and that, uniquely among the Thames subjects, it was drawn in reverse so that the view appears the right way round in the etching.
It was exhibited in in The Works of James Whistler – Etchings and Dry Points at E. Thomas's print shop, 39 Old Bond Street in 1861, and then at the Société Nationale des Beaux-Arts, Paris, 1862. Black Lion Wharf was published in A Series of Sixteen Etchings of Scenes on the Thames and Other Subjects, (the Thames Set) as 'Wapping Wharf' (no. 1). The plate was sold by F. Keppel & Co. to Charles Lang Freer in 1896 and is now in the collection of the Freer Gallery of Art.
The Fine Art Society, London, has most generously given its permission to use information, images, and text from its catalogues in the Victorian Web. This generosity has led to the creation of hundreds and hundreds of the site's most valuable documents on painting, drawing, sculpture, furniture, textiles, ceramics, glass, metalwork, and the people who created them. The copyright on text and images from their catalogues remains, of course, with the Fine Art Society. [GPL]
Bibliography
Kennedy, Edward G. The Etched Work of Whistler. New York: 1910. No. 43.
MacDonald, Margaret F. Grischka Petri, Meg Hausberg, and Joanna Meacock. James McNeill Whistler: The Etchings, a catalogue raisonné. No. 54. University of Glasgow, 2011. Web.
Whistler on the Thames. London: The Fine Art Society, 2013. No. 7, pp. 28-29.
---
Last modified 22 May 2014