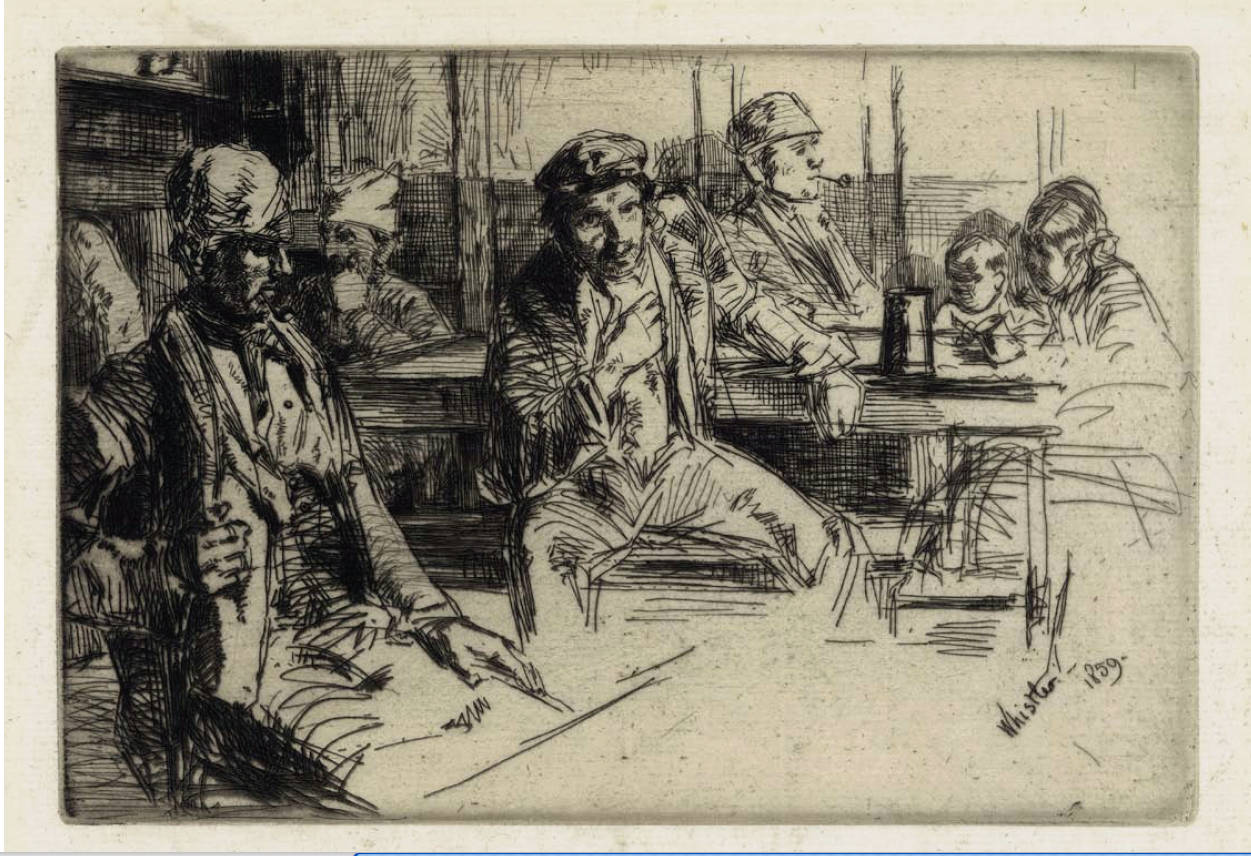 Longshore Men by James Abbot McNeill Whistler (1834–1903). 1859. Etching and drypoint, printed in black ink on thin laid paper, in the fourth (final) state, 6 x 8 3/4 inches (15.1 x 22.2 cm) sheet 8 1/8 x 11 1/4 inches (20.7 x 28.5 cm). [Click on image to enlarge it.]
Commentary by Gordon Cooke
This interior probably depicts an inn or pub in Wapping or Rotherhithe and belongs to the period when Whistler had lodgings there. Longshore men were in the news in the autumn of 1859 at the time of the election of the new Lord Mayor of London, because they expected to be rewarded for supporting the favoured candidate at the Guildhall. In September 1859 The Times wrote that 'Long-shore men' were considered or considered themselves to some extent 'above the law', and defined them as:
'a number of very dilapidated citizens who may be seen wandering along the banks of the river at low water, and pursuing their researches among the debris of dead dogs, bottles, bones, oystershells, and bits of coal which form the margin of our Father Thames'. [quoted Glasgow Catalogue raisonné]
Longshore Men was never published, but it is not uncommon. Some impressions were printed in the 1890s or after the artist's death, possibly for the New York print dealer Frederick Keppel. It was first shown in Whistler's own one-man exhibition in 1874 at the Flemish Gallery, Pall Mall, London. The plate is now in the Library of Congress, Washington, D. C.
The Fine Art Society, London, has most generously given its permission to use information, images, and text from its catalogues in the Victorian Web. This generosity has led to the creation of hundreds and hundreds of the site's most valuable documents on painting, drawing, sculpture, furniture, textiles, ceramics, glass, metalwork, and the people who created them. The copyright on text and images from their catalogues remains, of course, with the Fine Art Society. [GPL]
Bibliography
Kennedy, Edward G. The Etched Work of Whistler. New York: 1910. No. 45.
MacDonald, Margaret F. Grischka Petri, Meg Hausberg, and Joanna Meacock. James McNeill Whistler: The Etchings, a catalogue raisonné. No. 52. University of Glasgow, 2011. Web.
Whistler on the Thames. London: The Fine Art Society, 2013. No. 5, pp. 24-25.
---
Last modified 22 May 2014