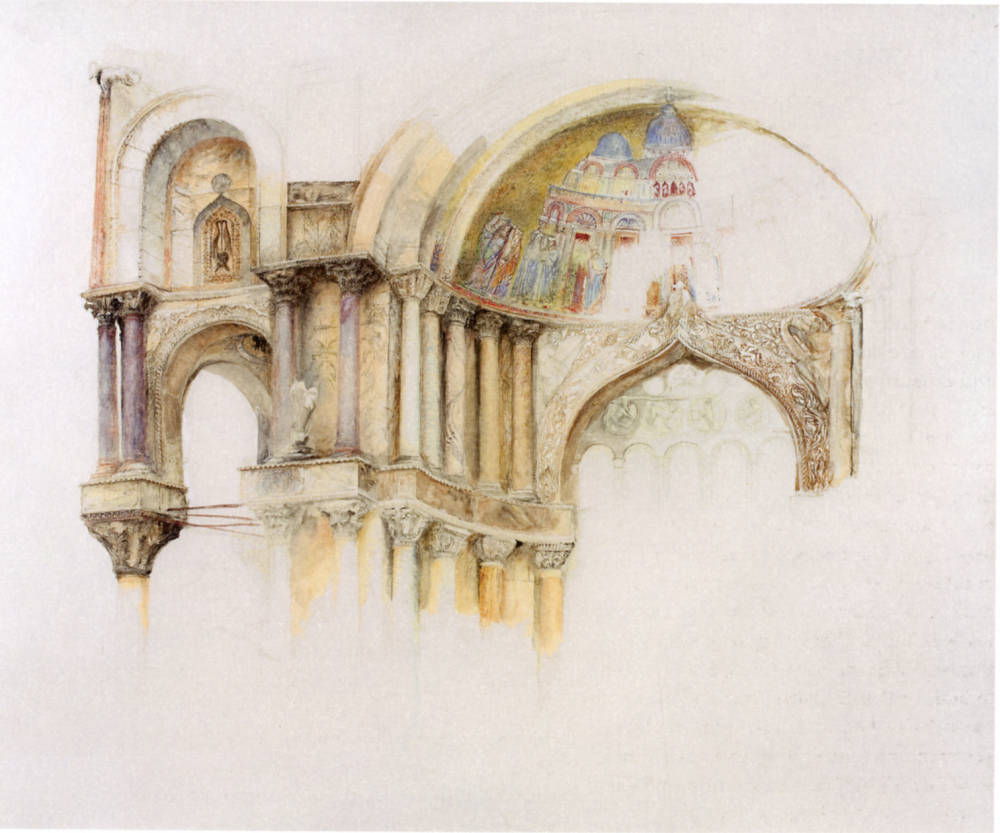 Northwest Porch of St. Mark's by John Ruskin. 1877. Graphite, watercolour. and bodycolour on white paper, 64.8 x 77 cm. Collection: Ruskin Foundation (RF 1633), Ruskin Library, Lancaster University. ©Ruskin Foundation. [Click on image to enlarge it.]
Christopher Newall, who points out that Ruskin began work on this watercolor after long vacillating among different projects, explains that his
perspective in this drawing is upward, so as to focus on the ranks of Byzantine capitals of the first and second tiers of columns both of the northwest portico and the most northerly of the basilica's five western portals. On the left, supporting a heavy abacus from which rise porphyry columns, is one of the church's four "lily" capitals. Above, within the west-facing blind arch of the portico, is the sculpted relief of peacocks eating from a date palm and drinking at a fountain. In the half-vault of the portal is the St. Alypius mosaic, made in the i26os and showing the body of St. Mark being brought to the church (and especially valuable as a record of the building following the incorporation of materials from Constantinople in 1204). [36]
References
Newall, Christopher (with contributions by Christopher Baker, Conal Shields, and Ian Jeffrey. John Ruskin Artist and Observer. Ottawa: National Gallery of Canada; London Paul Holberton Publishing, 2014. No. 53. [Review in the Victorian Web]
Ruskin, John. Works, "The Library Edition." eds. E. T. Cook and Alexander Wedderburn. 39 vols. London: George Allen, 1903-1912.
---
Last modified 28 February 2014