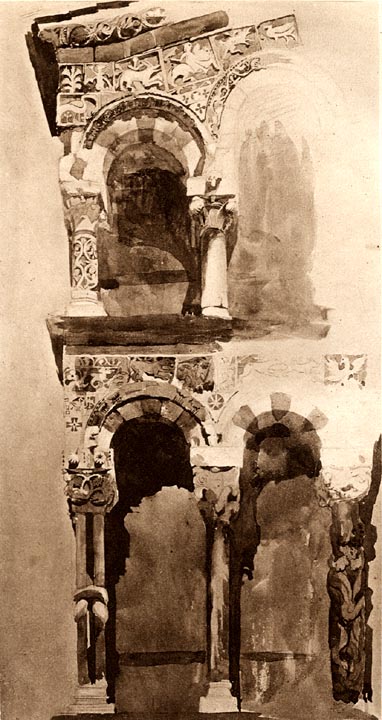 Part of the Façade of the Destroyed Church of San Michele in Lucca, as it Appeared in 1845
John Ruskin
1845
Watercolour and bodycolour over graphite on grey wove paper
[Another study of San Michele]
Scanned image and formatting by George P. Landow
[This image may be used without prior permission for any scholarly or educational purpose.]
In the catalogue entry for a closely related watercolor of this church included in "John Ruskin Artist and Observer" — his 2014 Exhibition at the National Gallery of Canada, Ottawa — Christopher Newall explained that the works Ruskin created in Lucca during his 1845 visit mark a turning point in his architectural drawings and watercolors:
Ruskin's earlier architectural drawings, such as those he made in Rome and Naples in 1840 and 1841, show decrepit buildings but without apparent awareness that their condition was inflicted upon them by human agency. As time went by, however, he was seized with a sense of bewildered outrage that so much damage should be wrought upon an architectural heritage as a result of ignorance and indifference. In May 1845, writing to his father from Lucca, he listed the threats — both natural and the result of feckless administration — that seemed to place that city's Romanesque churches in such peril. . . . Here, for the first time, he set about drawing particular buildings, not for the sake of producing pleasing sketches that might be admired by friends and family, but to provide a systematic record of their historic fabric. . . .
In Praeterita he called the impact that the study of the Romanesque churches of Lucca had made upon him:
Hitherto, all architecture, except fairy- finished Milan, had depended with me for its delight on being partly in decay. I revered the sentiment of its age, and I was accustomed to look for the signs of age in the mouldering of its traceries, and in the interstices deepening between the stones of its masonry... Here in Lucca [however] I found myself suddenly in the presence of twelfth-century buildings, originally set in such balance of masonry that they could all stand without mortar; and in material so incorruptible, that after six hundred years of sunshine and rain, a lancet could not be put between their joints. Absolutely for the first time I now saw what mediaeval builders were, and what they meant [XXXV.350] [120]
References
Newall, Christopher (with contributions by Christopher Baker, Conal Shields, and Ian Jeffrey. John Ruskin Artist and Observer. Ottawa: National Gallery of Canada; London Paul Holberton Publishing, 2014.
Ruskin, John. Works, "The Library Edition." eds. E. T. Cook and Alexander Wedderburn. 39 vols. London: George Allen, 1903-1912.
---

Victorian
Web

Artists

John
Ruskin

Watercolors
Last modified 19 February 2014