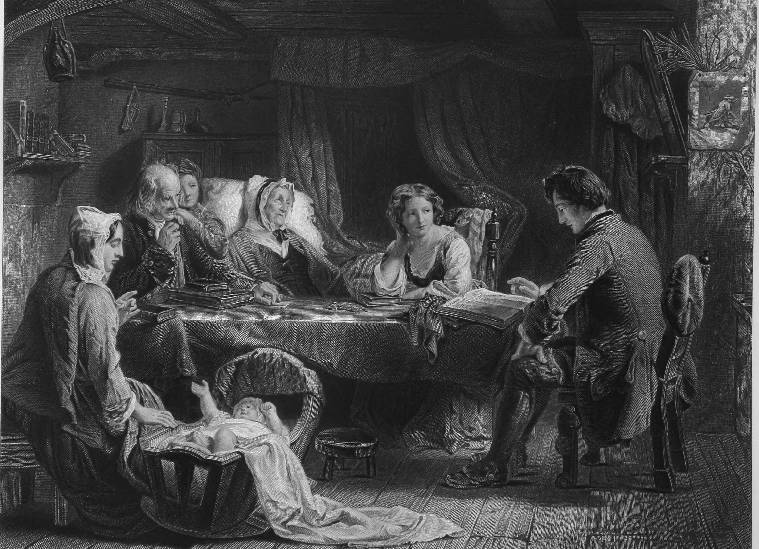 The Sabbath Eve. A. Johnston., Painter. P. Lightfoot, Engraver. 43 x 32 inches. Exhibited at the Royal Academy 1851. Source: 1862 The Art-Journal [Click on image to enlarge it.] Image capture, text transcription, and formatting by George P. Landow. [You may use this image without prior permission for any scholarly or educational purpose as long as you (1) credit the Hathi Trust Digital Library and the University of Michigan and (2) link your document to this URL in a web document or cite the Victorian Web in a print one.it
Details
Commentary by
The Art-Journal
Certain pictures there are which, like certain melodies, one can never altogether forget; it may not be, perhaps, the sweetness of the strain, nor the beauty of the painting, by which it lives in memory; associations of time, place, and circumstance may do much to keep it in the mind; it remains there with more or less vividness, often unseen or unheard, till the notes, at some distant day, are re-awakened, or the picture again comes before the eye; then we recognise them as "old familiar friends," whom we rejoice to meet again. Such a cordial welcomewe give to Mr. Johnston's 'Sabbath Eve.' It was exhibited at the Royal Academy, in 1851, under the title of 'Family Worship,' to which was appended the following quotation from Burns:—
"From scenes like these old Scotia/s grandeur springs,
That makes her loved at home, revered abroad."
The poet's love of his native country has led him. to assme, imperceptibly, that such scenes are limited to Scotland: perhaps if, when he Wrote the passage, he had known more of the southerners, he would have allowed us some share, at least, in his proper eulogy of the practice of domestic worship
Burns's lines afford no introduction to the scene here represented, there is in the composition enough to signify its Scottish-origin; in fact, it might almost stand for an illustration of a passage in Burns's "Cotter's Saturday Night," were it not that the family group is evidently dressed in the best of the wardrobe, while there is nothing to intimate that any worldly business has been carried on during the preceding hours of the day,——one, unquestionably, of rest and hallowing worship in the public assembly; and now the inmates of the peaceful cottage have assembled for private'devotion as the closing hour of day draws near. The home-circle includes three generations: there are the aged patriarch and his wife, the latter, apparently an invalid, and fast approaching the night of death; their son, the stalwart man in the prime of life, is reading, and perhaps expounding—for these Scottish peasants of the better class are frequently found "apt to teach"—-a chapter in the Bible
"The priest-like father reads the sacred page,
How Abram was the friend of God on high;
Or Moses bade eternal warfare wage
With Amalck's ungracious progeny;
Or how the royal Bard did groaning lie
Beneath the stroke of Heaven's avenging ire;
Or Job's pathetic plaint and wailing cry;
Or rapt Isaiah's wild, seraphic fire,
Or other holy Seers that tune the sacred lyre."
Who knows what words of hope and comfort may reach the heart of the sick mother out of that, sacred volume! His younger Wife sits. by, endeavouring to hush into silence a wakeful and rather refractory bairn, whose elder brother is leaning on his grandsire's shoulder. The handsome, bonnie lass may be a young daughter of the old couple, for she looks rather too old to stand in this relation to the younger man and woman, These figures are well arranged, both pictorially and with reference to the subject it is intended to illustrate; each "one shows careful study of character and circumstance, and the whole are brought forward in a manner at once effective and agreeable. In colour the picture is true and forcible; while the broad and judicious arrangement of flight and shade makes it an excellent subject for engraving.
Such themes are admirably suited for Art: they both gratify and teach, suggesting thought and inducing gratitude. The artist has generally selected subjects for his pencil which exhibit reading and reflection, and are never commonplace. Hw occupies a prominent station in his profession, obtained and maintained by the exercise of mind as well as skill in his productions. [108]
Bibliography
"Selected Pictures from the Collection of William Renshaw, Esq., at Salford: The Sabbath Eve." Art Journal (18562): 108-09. Hathi Trust Digital Library version of a copy in the University of Michigan Library. Web. 5 April 2014.
---
Last modified 5 April 2014