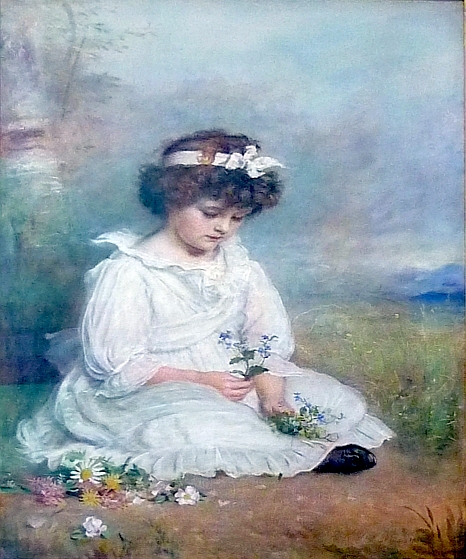 Little Speedwell's Darling Blue
Sir John Everett Millais Bt PRA (1829-96)
1891-92
Oil on canvas
Courtesy of the Lady Lever Art Gallery, Port Sunlight, Wirral
Photograph, caption and commentary by Jacqueline Banerjee
As Lionel Lambourne observes, "After the intense years of his early Pre-Raphaelite phase, John Everett Millais frequently painted childhood scenes" (178). This late work is one of his "fancy pictures," a type of painting that developed in the previous century and has been defined as "genre painting where the sentiment takes precedence over evolved narrative" ("Room 5: Fancy Pictures"). Millais had first begun painting such pictures with his own children as subjects, taking his cue from past masters like Reynolds and Gainsborough, but giving his compositions a new depth and poignancy with hints of transience, very much in keeping with Victorian feelings about the precariousness of the child's life. This later painting, for which he used his little granddaughter Phyllis as a model (see Millais II: 289), even takes its title from Tennyson's In Memoriam, though from section LXXXIII, in which the poet longs for the coming of spring and its hope of revival. The very name of early-flowering speedwell evokes this hope. Nevertheless, the plant with its tiny blue flowers, painted in Pre-Raphaelite detail, has concomitant suggestions of fragility.
Not surprisingly, the children's book illustrator Kate Greenaway was a huge admirer or Millais. Later in the same decade, she wrote to her friend John Ruskin, "People quarrel with me because I think him greater than Watts, but, is it conceited to say? — I know he is" ( qtd. in Spielmann and Layard 240).
References
Lambourne, Lionel. Victorian Painting. New York & London: Phaidon (paperback), 2003.
Millais, John Guile. The Life and Letters of John Everett Millais, President of the Royal Academy. 2 vols. Vol. 2. New York: Frederick A. Stokes, 1899. Internet Archive. Web. 1 June 2011.
"Room 5: Fancy Pictures" (Tate Britain site). Web. 1 June 2011.
Spielmann, M. H., and G. S. Layard. Kate Greenaway. London: Adam & Charles Black, 1905. Internet Archive. Web. 1 June2011.
---
Last modified 1 June 2011.