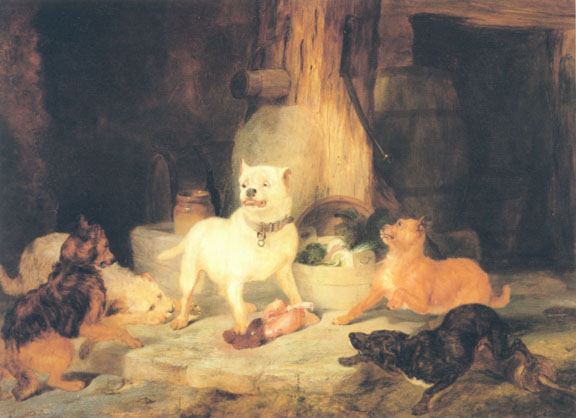 The King of the Castle by Sir Edwin Landseer, RA 1802-1873. c.1833-1834. Oil on panel, signed with monogram. dimension: 19 5/8 X 26 1/2 inches, 50 X 67.5 centimetres.
Commentary by Hilary Morgan
As Richard Ormond wrote: 'Landseer's dog paintings of the 1830s constitute one of the high points of his art 'and form a coherent group of work, by virtue of their subject matter and the narrative and the imaginative ideas that are common to them'. The present painting relates thematically to A Jack in Office (1833, Victoria and Albert Museum, London), in which a terrier guards a meat barrow. In the present work the terrier seems to have stolen the meat.from the pail in the background, rather than acting as a substitute for human authority. Nevertheless he is the only one of the five dogs in the picture to wear a collar, suggesting a difference of status. Landseer produced a small number of pictures of dogs in the years around 1830 which dramatise the conflict between 'haves' and 'have nots'. It is tempting to relate these paintings to contemporary debates within British society related to the introduction of the first Reform Bill and early manifestations of concern about the social effects of the industrial revolution.
References
Morgan, Hilary and Nahum, Peter. Burne-Jones, The Pre-Raphaelites and Their Century. London: Peter Nahum, 1989. Catalogue number 7.
Ormond, R. Sir Edwin Landseer. London: Thames and Hudson, 1981.
Peter Nahum Ltd, London has most generously given its permission to use in the Victorian Web information, images, and text from its catalogues, and this generosity has led to the creation of hundreds of the site's most valuable documents on painting, drawing, and sculpture. The copyright on text and images from their catalogues remains, of course, with Peter Nahum Ltd.
Readers should consult the website of Peter Nahum at the Leicester Galleries to obtain information about recent exhibitions and to order their catalogues. [GPL]
---
Last modified 21 December 2001