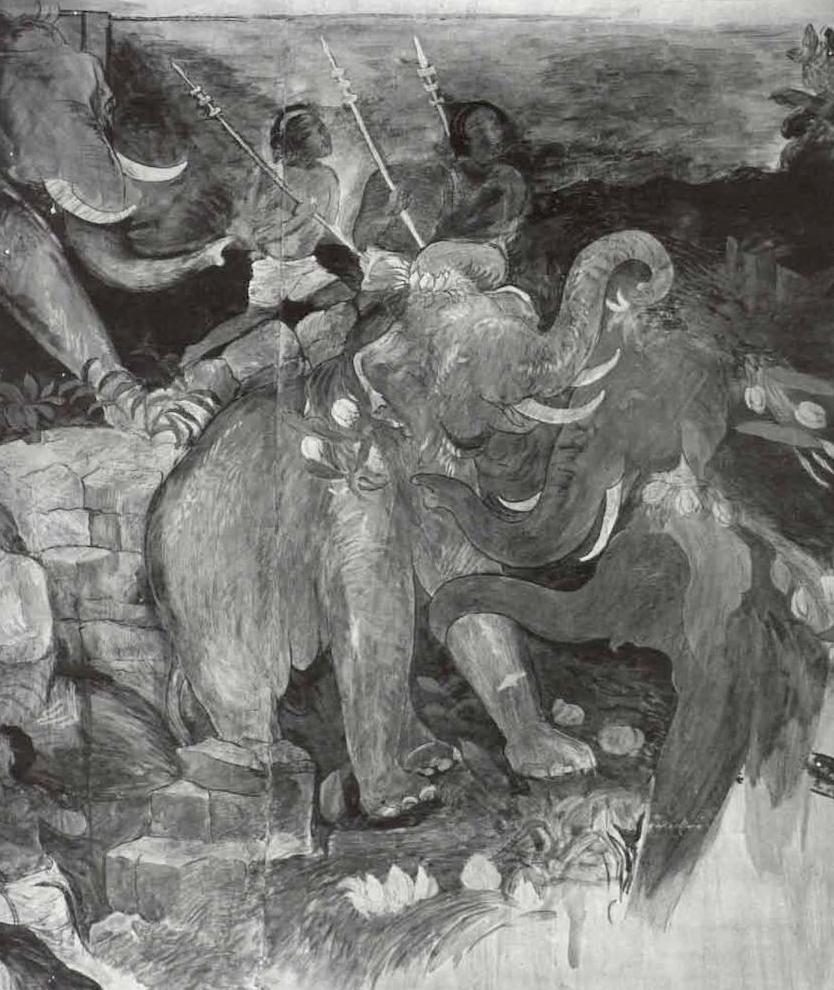 Matriposhaka Jātaka: The Elephant Rejoins His Mother and Kindred in the Jungle (from the story of the savage elephant tamed by Buddha)
Copy by Christiana Jane Herringham (1852-1929)
1909-11
Tempera
Source: Herringham, Plate XXI (23)
[Excerpt from] the Jātakas, or Birth-Stories of the Buddha, referred to in the Table of Plates
MATRIPOSHKA-JAKATA. No. 455 (see plates XVII-XXI).
Once upon a time, when Brahmadatta reigned in Benares, the Bodhisattva was born as an elephant in the Himālaya region, a magnificent white beast: hut his mother was blind, and the other elephants did not give her the sweet food he sent; so he took her away to Mount Chandorana, and there he cherished her. One day he saved a forester, who for seven days had lost his way, and carried him out of the forest on his back. The man, however, marked the trees and hills, and then made his way to Benares. At that time the King's State Elephant had just died, and there was a proclamation for another fit for the King's riding. The forester betrayed the friendly elephant, and showed the King's hunters the way. The Bodhisattva, in spite of his great strength, refused to destroy them, lest his virtue should be marred; so he was caught in the lotus-lake and taken to the King's stable, decked with festoons and garlands. The King took all manner of fine food and gave it him; but not a bit would he eat: "Without my mother I will eat nothing," he said. When the King heard the story, he gave him freedom; and the elephant went back to the hills and to his mother, and, drawing water from a limpid pool, sprinkled it over her, and at last she knew him and blessed the King's goodness, and the King did continual honour to the Bodhisattva, and made a stone image of him.
There the inhabitants of all India, year by year, gathered to perform what was called the Elephant Festival. [Herringham 13]
Scanned image and text by Jacqueline Banerjee. You may use the image without prior permission for any scholarly or educational purpose as long as you (1) credit the person who scanned it and (2) link your document to this URL in a web document or cite the Victorian Web in a print one. Click on the image to enlarge it.]
Related Material
Bibliography
Herringham, Lady. Ajanta Frescoes. 1914-15. New Delhi: Aryan Books International, 1998. Internet Archive. Contributed by the Central Archaeological Library, New Delhi. Web. 9 November 2019.
---

Victorian
Web

Artists

Christiana
Herringham

Copies

Next
Created 9 November 2019