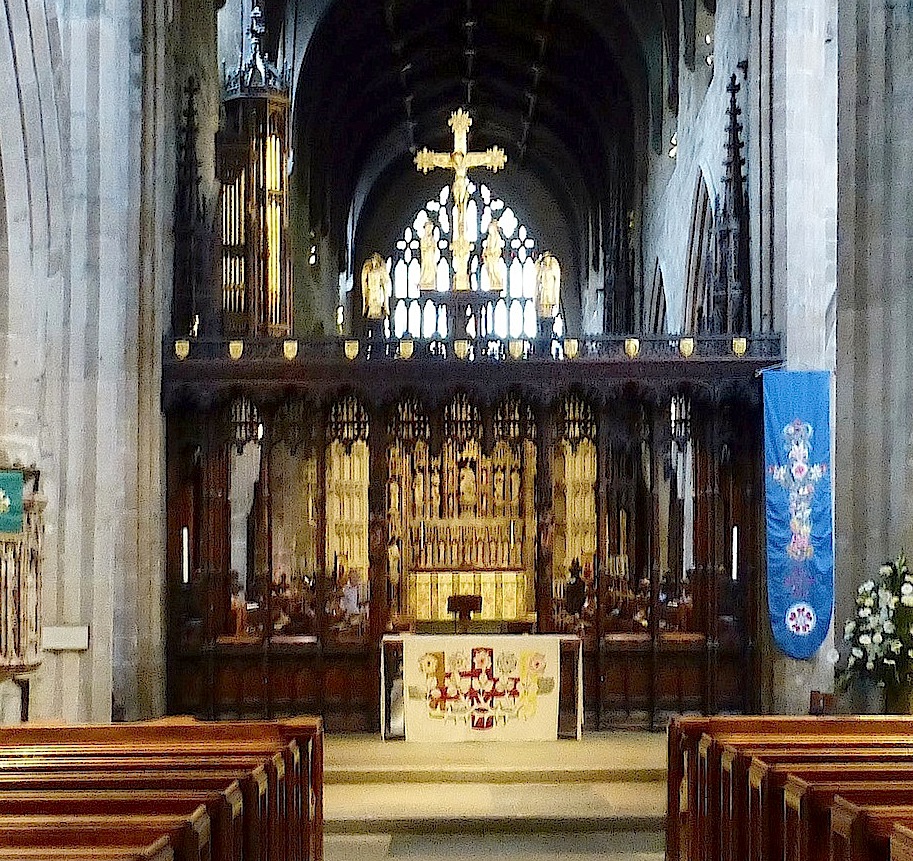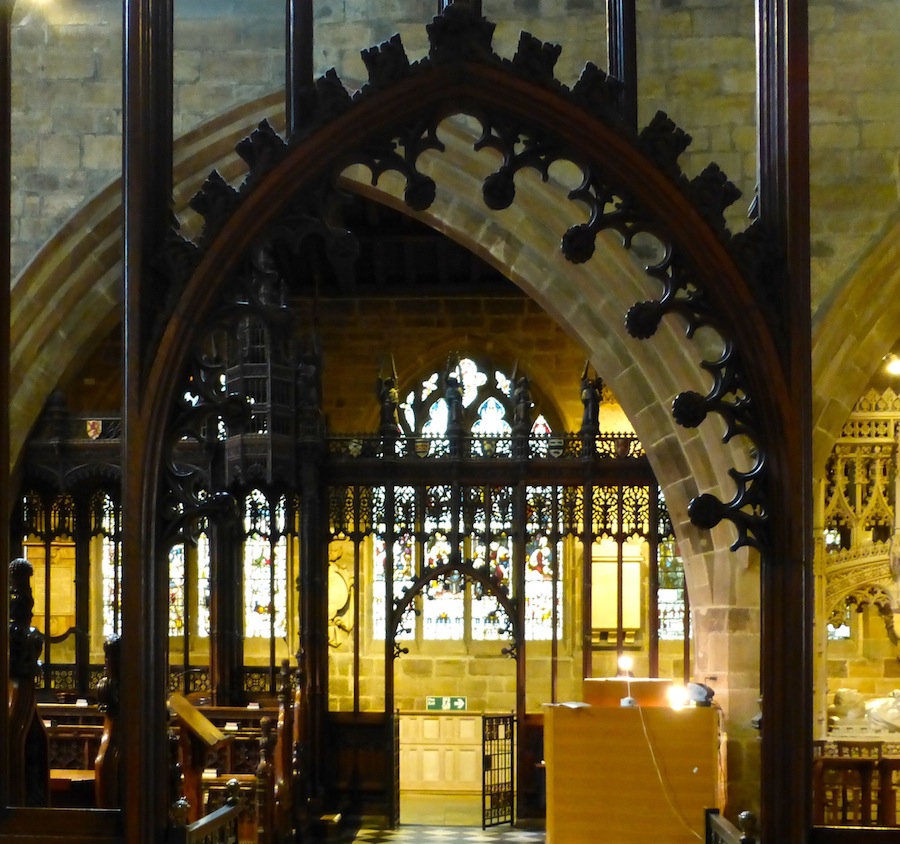 Left: Rood Screen. Right: Wooden archway complementing the stone arch at the side of the choir.
The Rood Screen and other structural carving by Ralph Hedley (1848-1913) in St Nicholas Cathedral, Newcastle, to designs by the architect Robert James Johnson (1832-1900). Later 1880s. As "Surveyor to the Archdeaconry of Northumberland" since 1871 (see Brown), Johnson planned a choir that harmonises well with the cathedral as a whole: for example, the style is recognisably that of the tall fifteenth-century Gothic font cover, with its elaborate tracery and crockets. Nevertheless, in its completeness, the choir also serves as a showpiece for his Victorian wood-carver. [Click on the images to enlarge them.]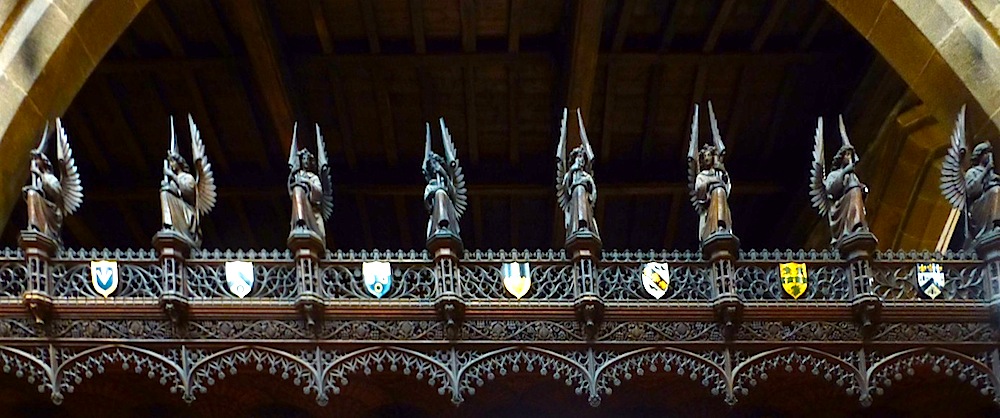 The creation of almost a separate space at the newly designated cathedral vividly expressed ideas of the time about the ritual progression from west to east, leading at last to the High Altar. Narrow compared to the nave, the choir seems quite distinct from it, and thus from the congregation.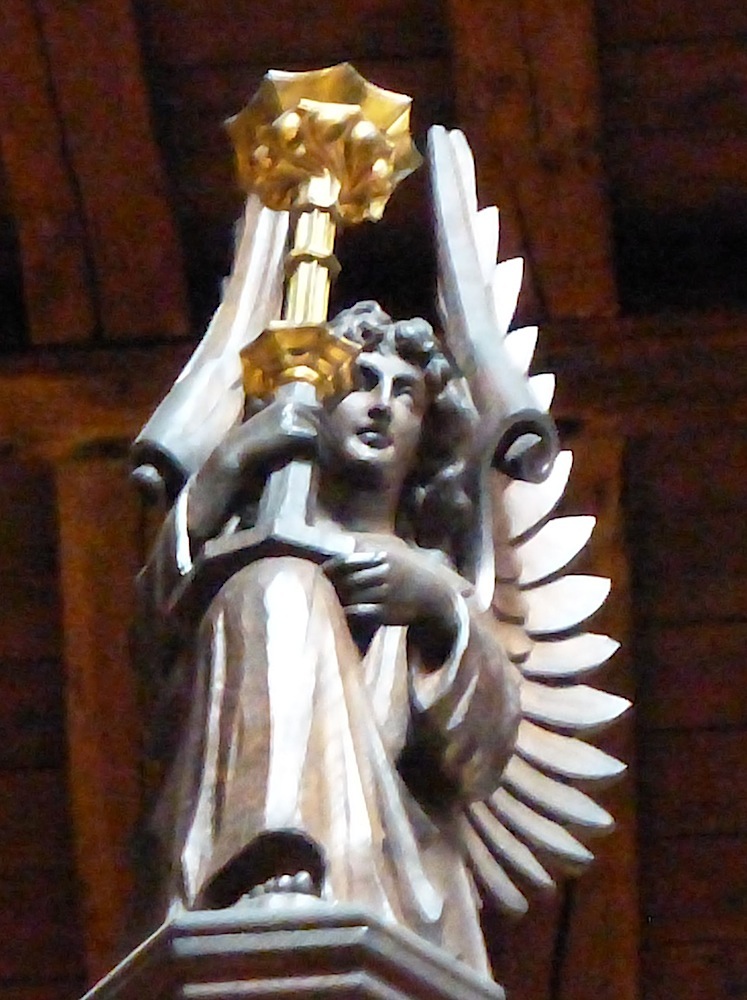 Like fixed pews, Rood Screens have fared badly in recent times, as visibility has become an issue, with participation now being considered more important than observance. This is a dilemma for those who are guardians of beautiful, even spectacular pieces of craftsmanship like this. Moreover, when retained, the screens are vulnerable to decay, vandalism and even theft. According to a report of 2013, the screen for St Margaret's Chapel here was vandalised and had to be removed ("A Liturgical Framework"). Fortunately, Hedley's angels still keep guard over his work in the choir, with its details suggesting that he added many flourishes of his own to the architect's plans.
Photographs, captions, and commentary by Jacqueline Banerjee. You may use these images without prior permission for any scholarly or educational purpose as long as you (1) credit the photographer and (2) link your document to this URL in a web document or cite it in a print one.
Reference
Brown, Clodagh. "Ralph Hedley (1848-1913), Wood-Carver and Painter." In Cathedral in the Making. Leaflet of 2013, kindly sent in by the author, Ralph Hedley's great grand-daughter.
"A Liturgical Framework for Newcastle Cathedral — 2013." Downloaded as a pdf from Google Search. Web. 25 July 2015.
---
Created 25 July 2015