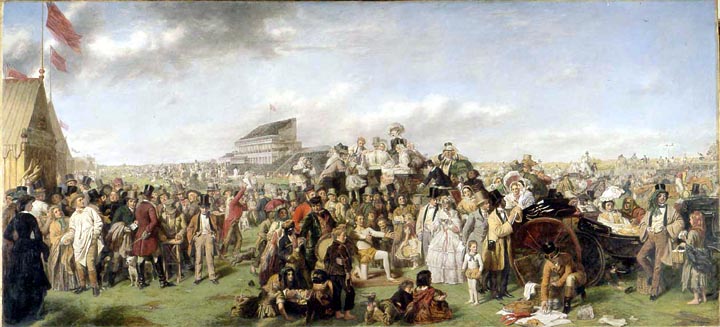 Derby Day by William Powell Frith, RA. [Original 1858 in Tate Gallery, London] Signed and dated 1893-94. 102.3 x 234.4 cm. City Art Galleries, Manchester. According to the museum site, "This version replicates a Royal Academy exhibit of 1858. It was commissioned by James Gresham of Stretford and was thought by Frith to be better than his original." The museum's entry further explains:
Derby Day was an established day out by the 1850s. The crowds of thousands came from all social classes for the colourful entertainments as much as the race. Frith's first visit to Epsom Downs was in 1856, when he was taken in by a thimble-rigging gang. A team of these con-men can be seen on the left. The Victorians were fascinated by phrenology, the reflection of social types in facial characteristics. This partly accounts for the success of and other crowd scenes by Frith and his followers.
Related Material
References
Bills, Mark, and Vivien Knight, eds. William Powell Frith: Painting the Victorian Age. New Haven & London: Yale Univ. Press, 2006. 180 + xi pp. Hardback, £40.00. Paperback, £20.00. ISBN 0-300-12190-3.
---
Last modified 5 February 2008