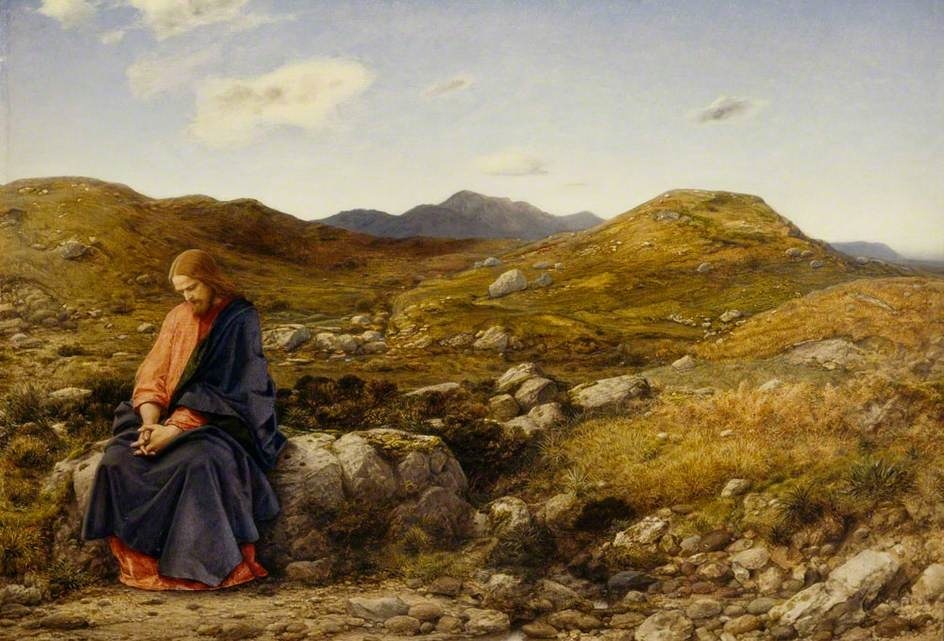 Man of Sorrows (or The Man of Sorrows) by William Dyce. c.1860. Oil on millboard, 34.30 x 49.50 cm (framed: 66.70 x 82.20 x 10.60 cm). National Galleries of Scotland, Edinburgh. Accession No. 2410. Purchased with the aid of the National Heritage Purchase Grant (Scotland) in 1981, and photographed by Antonia Reeve. Shared here by kind permission of National Galleries Scotland, under a personal (non-commercial) use agreement. Image downloaded by Jacqueline Banerjee, and commentary by George P. Landow and Banerjee.
Dyce was interested in geology, and Tim Barringer feels that, as in Pegwell Bay, the artist "deployed a rocky landscape to suggest challenges to a Christian interpretation of creation presented by the new, scientific understanding of geological time" (113). Dyce has, however, painted the figure of Jesus, withdrawn from the world and engaged in spiritual preparation for his coming trials, with evident sympathy.
As often pointed out, the wilderness here is that of the Scottish Highlands rather than than that of the Holy Land. Born in Aberdeen, Dyce may have wanted to make it easier for people to relate to Jesus by depicting him in a familiar British context. It should also be remembered that the painting is one of a pair: it is the New Testament complement to Dyce's David in the Wilderness, showing how Jesus's suffering, as recorded in the fourth chapters of both Matthew and Luke, was prefigured by David's in 1 Samuel, ch.23. This too has a markedly Scottish flavour.
Also noteworthy, as the gallery's own comment points out, is the influence of the Nazarenes, with whose work Dyce was familiar, and with whom he certainly had an affinity. Lionel Lambourne explains this affinity well — "their Christian primitivism appealed to his Scottish pietism" (45).
Related Material
Bibliography
"About This Artwork.". National Galleries Scotland. Web. 15 February 2018.
Barringer, Tim. Reading the Pre-Raphaelites. New Haven, CT: Yale University Press, 1999.
Lambourne, Lionel. Victorian Painting. London and New York: Phaidon, 1999.
---
Last modified 15 February 2018