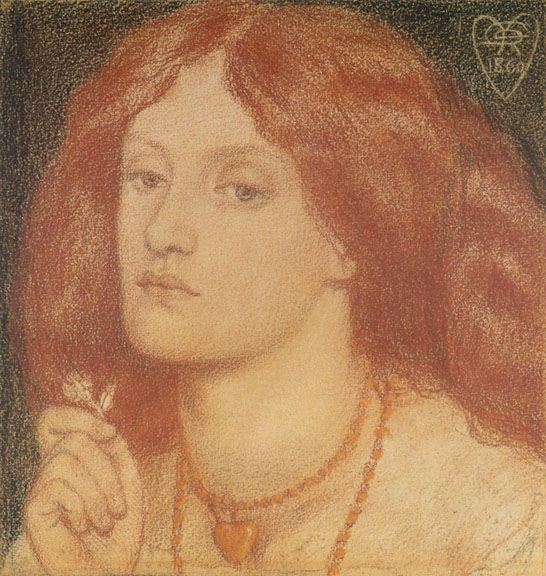 Regina Cordium or The Queen of Hearts
Dante Gabriel Rossetti (1828-1882)
1860
Red and black chalk on paper, and signed with a monogram
7 3/4 x 7 1/2 inches, 19.5 x 18.5 cm.
Provenance: Probably Val Prinsep Captain C E Loseby Sothebys, 31 July 1946, lot 93 Kerrison Preston to 1974 Private collection
Commentary by Hilary Morgan
This wedding portrait was made soon after Rossetti's marriage to Elizabeth Eleanor "Lizzie" Siddal, in May 1860 and is an image of the final, tragic stage of that great love affair. In marrying her in 1860, Rossetti was probably motivated more by compassion and duty than a revival of their old great love and the events following the production of the drawing suggest that it was a genuine attempt to recreate a feeling that was slowly slipping away. Certainly this drawing has a greater directness and intensity than the oil painting that derives from it. As Virginia Surtees observes the '...likeness to the sitter is closer.'
The drawing almost certainly predates the painting, which was complete by the end of 1860, when George Price Boyce recorded in his diary for December 14th that Rossetti had 'painted a fine head of his wife as "Regina Cordium."' This reference and the date on the painting emphasise that it was completed in 1860 and not 1861, as Marillier states. It was underway in the Summer, when Rossetti wrote to Ford Madox Brown: 'Lizzie is here now, and I am painting her as the Queen of Hearts.' Several facts suggest the earlier date of the drawing which must come from the first months of Rossetti's marriage. There is the closer likeness to the sitter which has already been mentioned. The drawing is simpler, omitting the parapet which distances us from the sitter in the painting. Finally, in the drawing Lizzie carries a conventionalised flower, rather than the symbolic pansy or heartease which she carries in the final painting. This last detail in particular would almost certainly have been transferred to a drawing that postdated the painting. However the degree of finish of the drawing, its decorative signature within a heart shaped medallion and the fact that it passed out of Rossetti's possession in his lifetime all show that it was conceived as a work of art in its own right and not merely as a study for the painting.
The probable first owner of this drawing, Val Prinsep, was very close to Rossetti at the time of his marriage. He is almost the only person to have left a record of the tensions that marred it. although he believed that Rossetti remained faithful to Lizzie, he observed her destructive jealousy of him: 'She threw studies of "stunners" out of the window and they floated down the Thames and were lost.' Certainly Rossetti continued to use Fanny Cornforth, his mistress, as a model during the period of his marriage. The present drawing could even be seen as a very ambivalent tribute to Elizabeth Siddal, for Rossetti has represented her with the sensuality and flowing hair he first used in pictures of Fanny. The 'Regina Cordium' image, which must have been a comfort to Lizzie at the beginning of the marriage, probably contributed to her self-destructive unhappiness at its end. In November 186 1, some three months before Lizzie's presumed suicide, Rossetti painted another woman, Mrs. Heaton, wife of a patron, as 'Regina Cordium' in exactly the same format as the drawing and painting of Lizzie. It is not that he was in love with Mrs Heaton, but rather that the re-use of the image seems to undermine its value as a statement of love for his wife.
For this drawing should not be seen solely as a document of Rossetti's relationship with Elizabeth Siddal. It is also significant in terms of the development of Rossetti's art. It is almost the first example of the sensuous studies of women and flowers which would dominate his work for the next twenty years and which he began to produce only in 1859. It is also decorative in intent. The pose of the head and hand, the conventional flower, the monogram in place of the pip and the flat background, all recall a playing card, which is, of course, the alternative meaning of 'Regina Cordium' or the 'Queen of Hearts'. The Rossetti drawing, in combination with its title, is one of the earliest examples of an artist drawing attention to the two dimensional qualities of a picture and giving them an importance equal to its narrative and emotional aspect. Concern with the picture surface distinguished the European avant-garde throughout the second half of the nineteenth century. Rossetti was at the centre of the British avant-garde: Manet, with a radically different art, was at the centre of the French. In a significant coincidence Courbet, in 1865, saw Manet's famous 'Olympia' in terms of a playing card: 'it's flat, it's not modelled, it's the Queen of Spades stepping out of her bath'.
Thus this small drawing has a double importance: it is a stepping stone in the development of nineteenth century painting, standing at the transition in Rossetti's art between Pre-Raphaelitism and aestheticism, and it is also a telling human document of a tragic personal relationship.
References
Holman Hunt borrowed Rossetti's idea for his child portrait the '

King of Hearts

' (1862-1863, Private collection), exhibited London, Tate Gallery, 1984,

The Pre-Raphaelites

, number 121
Maria Teresa Benedetti,

Dante Gabriel Rossetti

, (G. C. Sansom, Firenzi 1984), catalogue number 158, illustrated.
Morgan, Hilary, and Peter Nahum.

Burne-Jones, the Pre-Raphaelites, and Their Century

. London: Peter Nahum, 1989. Catalogue number 22.
O. Doughty and J. R. Wahl, editors,

Letters of Dante Gabriel Rossetti

, (four volumes, Oxford University Press, Oxford 1965 and 1967), volume 1, page 374, letter 341
Quoted in T. Reff,

Manet 'Oympia'

, (George Allen, London 1976), page 30
'

Regina Cordium

', dated 1860, Johannesburg Art Gallery. Surtees,

op. cit.

, catalogue number 120, reproduced
Richard Jefferies, personal communication on the identification and symbolism of flowers
Rosalie Glynn Grylls,

Portrait of Rossetti

, (Macdonald & Co., London 1964), reproduced facing page 33
Surtees,

op. cit.

, catalogue number 129 (Forbes Magazine Collection, London & New York).
The first example is '

Bocca Baciata

', Surtees catalogue number 114 (the Boston Museum of Fine Arts)
V C Prinsep,

A Chapter from a Painter's Reminiscences, Magazine of Art

, April 1904, page 284
Virginia Surtees,

Dante Gabriel Rossetti, a Catalogue Raisonne

, (2 volumes, Oxford University Press, Oxford 1971), volume 2, catalogue number 120a, page 75: 'This study shows very slight differences from the book; the likeness to the sitter is closer, the fall of the hair freer, and the hand a flower is slightly more upright; the shoulders are covered.'
V. Surtees, editor,

The Diaries of George Price Boyce

, (Real World, Norwich 1980), page 31
William Sharp,

Dante Gabriel Rossetti, a Record and Study

, (London, Macmillan 1882), chronological list number 345
References
Doughty, O. and Wahl, J.R. (eds.). Letters of Dante Gabriel Rossetti. Oxford: Oxford University Press, 1965.
Grieve, Alastair. The Art of Dante Gabriel Rossetti, 1. Found. 2. The Pre-Raphaelite Modern Life Subject. Norwich: Real World Publications, 1976.
Hunt, W. Holman. Pre-Raphaelitism and the Pre-Raphaelite Brotherhood London: Chapman and Hall, 1913. Volume 2.
Morgan, Hilary, and Peter Nahum. Burne-Jones, the Pre-Raphaelites, and Their Century. London: Peter Nahum, 1989. Catalogue number 20.
Surtees, Virginia. The Paintings and Drawings of Dante Gabriel Rossetti (1822-1882). A Catalogue Raisonné. Oxford: Oxford University Press, 1971. Catalogue number 64H.
Peter Nahum Ltd, London has most generously given its permission to use in the Victorian Web information, images, and text from its catalogues. The copyright on text and images from their catalogues remains, of course, with Peter Nahum Ltd.
Readers should consult the website of Peter Nahum at the Leicester Galleries to obtain information about recent exhibitions and to order their catalogues. [GPL]
---

Victorian
Web

Artists

D. G.
Rossetti

Drawings &
Watercolors

Next
Last modified 23 May 2006