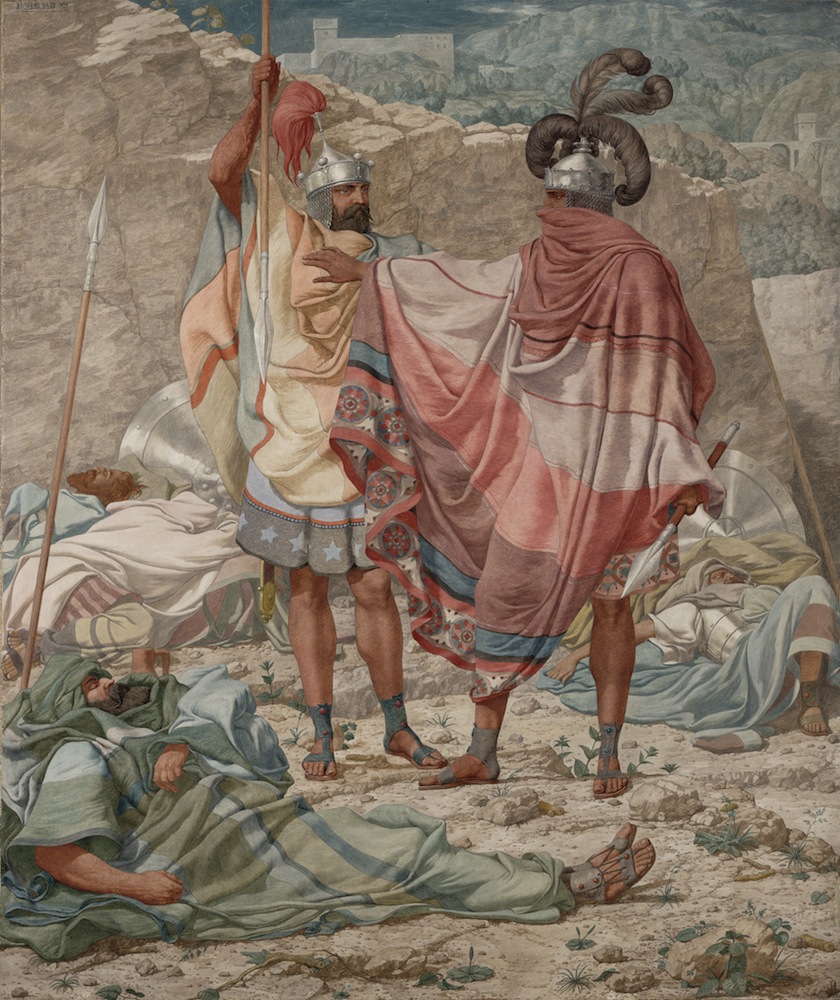 Mercy: David Spareth Saul's Life
Richard Dadd (1817-86)
1854
Oil on canvas
61 x 50.8 cm (24 x 20 in.)
J. Paul Getty Museum Collection
Click on image to enlarge it, and mouse over the text for links.
Image made available under Getty's Open Content Program
Commentary by Jacqueline Banerjee.
When King David (right) and Abishai (standing left) come across Saul sleeping in the enemy trench, Abishai wants to kill him, but David reaches out to restrain him: "For who can stretch forth his hand against the LORD'S anointed, and be guiltless?" (26,9). The J. Paul Getty commentary suggests, very plausibly, that the unusual subject was suggested to Dadd by the enlightened doctor in Bedlam, who may have hoped it would help him to rein in his own murderous impulses. Certainly the doctor seems to have understood the therapeutic value of his art (see Arnold 205). The commentary continues:
The simple, dramatic composition and statuesque main figures give this small, slightly eerie, moonlit scene a monumental quality. Yet the rhythm from the flowing movement and patterns of the garments enlivens the rocky desert setting and prevents the composition from being purely static.
Richard Dadd's lightened palette, fascination with detail, and interest in decorative patterning typify mid-1800s English painting. For authenticity, Dadd selected motifs from Egyptian wall reliefs, Roman sculpture, his own memories, and possibly his own travel sketches of the desert and cliffs near the Dead Sea.
The details of the rocky ground and tiny desert plants do suggest the latter. In that case, Dadd was indeed mixing seamlessly "historical events, modern passions, and perhaps personal associations." Though muted, the whole production is impressive. Recalling the time when he and Dadd lived next door to each other in Charlotte Street, William Powell Frith noted, "Dadd was my superior in all respects; he drew infinitely better than I did" (178).
References
Arnold, Catherine. Bedlam: London and Its Mad. London: Simon & Schuster (Pocket Books ed.), 2009.
Frith, William Powell. My Autobiography and Reminiscences. Vol. III. London: Richard Bentley, 1888. Internet Archive. Web. 25 March 2015.
Mercy: David Spareth Saul's Life. The J. Paul Getty Museum. Web. 25 March 2015.
---

Victorian
Web

Artists

Artists

Richard
Dadd

Paintings

Next
Created 25 March 2015