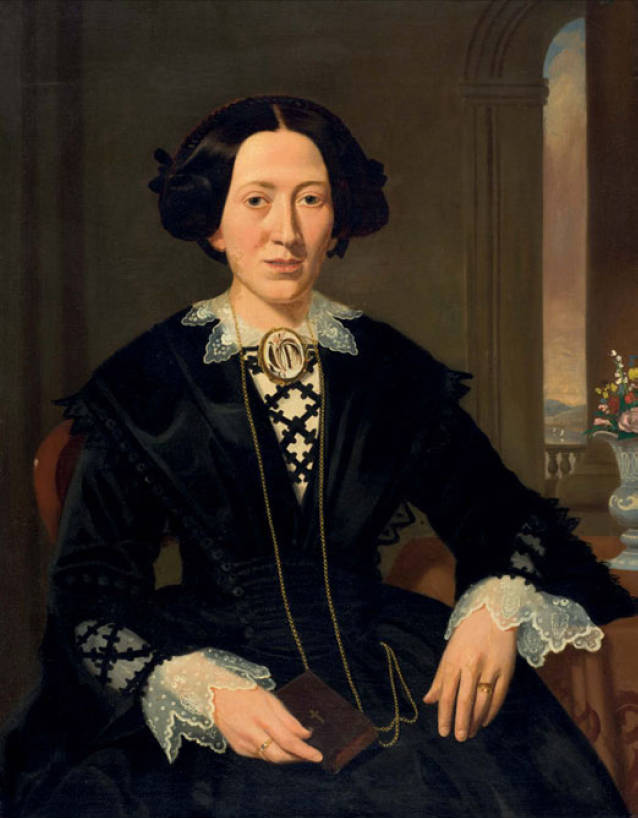 A Half-Length Portrait of a Woman Dressed in Black, Holding a Bible and Seated in a Chair (attributed)
James Collinson (1825–1881)
Oil on canvas
92 x 71 cm (36 1/4 x 28 inches)
The Crowther-Oblak Collection of Victorian Art
See commentary below
[Click on image to enlarge it.]
You may use this image without prior permission for any scholarly or educational purpose as long as you (1) credit the Crowther-Oblak Collection of Victorian Art and and the National Gallery of Slovenia and the Moore Institute, National University of Ireland, Galway (2) and link your document to this URL in a web document or cite the Victorian Web in a print one
Commentary by Paul Crowther
The woman appears to be in mourning. She wears a characteristic brooch containing decorative features made from human hair, and is carrying a book – possibly a prayer book, or (more likely, given its size) a New Testament. Women in mourning are a common motif in Victorian art. Her clothing, and the fact that she is not in mainly black clothes suggests that the picture pre-dates the obsessive fashion for total black mourning-wear that developed after the death of Prince Albert in 1861. Indeed, her hairstyle is very much that of the late 1840s–early 1850s. [In e-mail correspondence with the author, Rosemary Harden of the Fashion Museum (Bath, UK) suggests that the sitter's hairstyle, dress, and jewellery is consistent with mid-1840s style.] The brooch also carries implications for dating the picture. The use of hair in jewellery goes back centuries, but became especially fashionable from the 1830s. By the late 1850s, it had declined in importance due to the widespread use of small photographs in memorial jewellery (See Gere and Rudoe, 164-70).
The possibility of the painting not being British has been considered by us, and rejected. The woman is wearing her wedding and engagement ring on the left hand. In most of Scandinavia, the Netherlands, Austria, and Germany it is customary to wear these on the right. Images of women holding prayer books or bibles are a feature of Protestant rather than Catholic culture – which would tend to rule out the work being French or Italian. The vase on the table appears to be Wedgewood jasperware – a British ceramic.
We attribute the work (speculatively) to Collinson on stylistic grounds, such as the emphatic frontal presentation of the figure and the particular attentiveness to minutiae of detail which is so consistent with features found in Collinson's other works of the late 1840s and 1850s. This style is not found in other artists of that time (with the possible exception of Richard Burchett).
However, there is a further extraordinary coincidental factor suggestive of a connection to Collinson. As noted earlier, he was engaged to D.G. Rossetti's sister Christina – an engagement that she broke off in 1850 when Collinson became a Catholic again. However, in 1849, whilst Collinson was in the Isle-of-Wight, Christina visited his family in Mansfield. In a letter to Amelia Barnard Heimann of 28th August 1849 she remarks of Collinson's sister Mary (1817–1881) that 'it is impossible to pronounce whether she would have been good looking, as her face is much disfigured by an eruption' (Rossetti Archive [off-site]).
The implication here is that the 'eruption' was not some transient skin affliction, but of more enduring character – such as a birthmark. Interestingly, the woman in the present painting has extensive birthmarks all over her face and neck. However, official records show that Mary Collinson never married – so she could not be the woman represented in the present picture; or could she? Perhaps Collinson did a portrait of his sister, but she did not find it acceptable. If that were the case, Collinson may have modified the work (by adding the trappings of mourning) turning it, thereby, into an enigma study – though not one he ever exhibited. In this respect, some collateral information may be relevant. On Friday 18th May, 1849, Collinson returned to visit his family at Mansfield. On Wednesday 30th May he wrote to W.M. Rossetti mentioning that he was working on a portrait (PRB Journal 8). It is not clear whether the portrait being worked on is in London or Mansfield. If the latter, it may have been of his sister – with the consequences just described. (No other portrait by him from 1849 is known.)
It is also interesting that Mary Collinson was an extremely pious evangelical Protestant last Will and Testament was heavily influenced by religious considerations – including a substantial bequest for a Scripture Readership at her local church (Cox 12-13). The religious features in the portrait are entirely consistent with the expression of such devoutness. And the facial features of the woman have some similarity to those of Collinson himself (as presented in the only known image of the artist – a self-portrait from around 1858, now in Bourne Hall Museum, Epsom and Ewell, UK).
Finally, it is interesting that when Collinson's widow died in 1894, the remaining works by him from her estate were auctioned by Christie's. One of these – never traced or described in the literature – was entitled The Companion Picture. It sold for £4 to 'Davis'. It may be that this was the portrait of his sister re-made into an allegory of the companionship between widow and lost partner, an allegory underlined by the fact that in the distant bay, two boats are sailing away together.
Provenance: bought as 'Nineteenth-Century British School' Lot 137 at Anderson and Garland, Newcastle, 13th September 2011.
References
Crowther, Paul. Awakening Beauty: The Crowther-Oblak Collection of Victorian Art. Exhibition catalogue. Ljubljana: National Gallery of Slovenia; Galway: Moore Institute, National University of Ireland, 2014.
Gere, Charlotte, and Judy Rudoe. Jewellery in the age of Queen Victoria. A Mirror to the World. London: British Museum Press, 2010.
---

Victorian
Web

Artists

James
Collinson

Paintings

Crowther-Oblak
Collection

Next
Last modified 26 November 2014