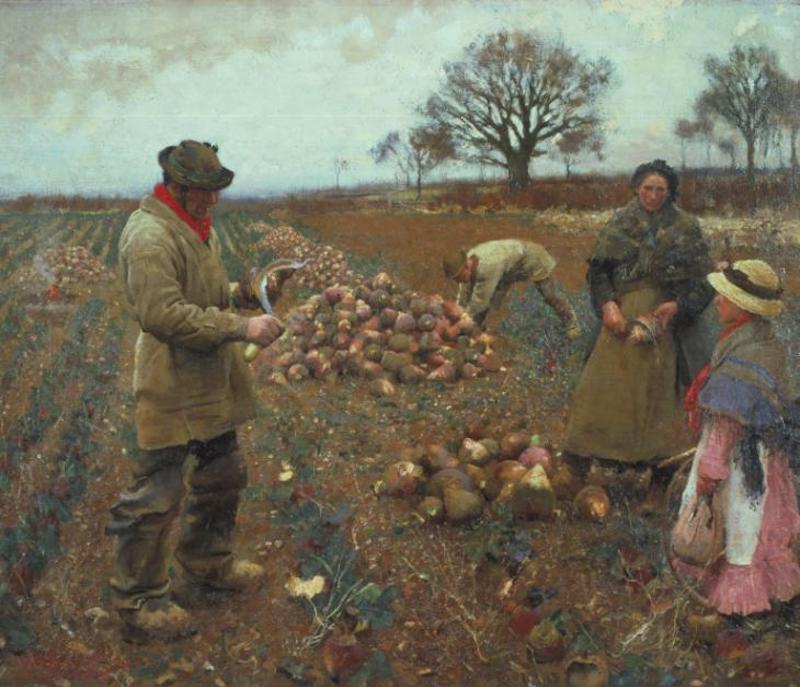 Winter Work. Sir George Clausen (1852-1944). 1883-84. Oil on canvas. Size: Support: 775 x 921 mm; frame: 1075 x 1212 x 115 mm. Collection: Tate. Acquisition: Purchased with assistance from the Friends of the Tate Gallery, 1983. Reference: T03666. Image kindly released by the Tate under Creative Commons CC-BY-NC-ND (3.0 Unported) licence. Image download, text and formatting by Jacqueline Banerjee. [Click on the image to enlarge it.]
The gallery label of September 2004 describes this as one of the "realistic scenes of rural work" that Clausen painted in the 1880s under the influence of pictures of similar scenes by the French artist Jules Bastien-Lepage (1848-84):
In this picture he shows a family of field workers topping and tailing swedes for sheep fodder. It was painted at Chilwick Green near St Albans, where the artist had moved in 1881. He uses subdued colouring to capture the dull light and cold of winter, and manages to convey the hard reality of country work. Such unromanticised scenes of country life were often rejected by the selectors of the Royal Academy annual exhibitions.
Winter Work is certainly a good example of the kind of unsparing naturalism that he admired in Bastien-Lepage, with only the bright colours of the the red scarves, and, to a lesser extent, the girl's pink skirt, to relieve the dreariness of the scene. But Clausen told his students that he admired not only Bastien-Lepage but other artists of earlier times, such as the elder Breughel, who "painted for the sake of their subjects, and not as accessories" (104-05). That seems to be exactly this own aim here.
How did Clausen capture the mood of the "winter work" so well? Kenneth McConkey suggests that a much smaller picture, December, provided the basis for it, and also points out that the artist began using a camera around this time, although only as an "additional source" — since he preferred quick, on-the-spot sketching (20).
Related material
Bibliography
Clausen, George. Six Lectures on Painting Delivered to the Students of the Royal Academy of Arts in London, January, 1904. 3rd ed. London: Methuen, 1904. Internet Archive. Contributed by Reese Library, University of California. Web. 1 September 2019.
McConkey, Kenneth. "George Clausen: The Rustic Image" (online exhibition catalogue). The Fine Art Society. Web. 1 September 2019.
"Sir George Clausen Winter Work, 1883-4." Tate. Web. 1 September 2019.
---
Created 1 September 2019.