Biography
Eleanor Vere Boyle (née Gordon), by Louisa Anne Beresford. [Click on this and the following images to enlarge them and for information about them.]
Born in 1825 in Auchlunies, Aberdeenshire, Eleanor Gordon was the youngest of the nine children of a very good family: her father was the son of the 3rd Earl of Aberdeen, and her mother, an amateur painter, was the granddaughter of the 3rd Earl of Buckinghamshire. The family moved to Hampton Wick in 1833, near her maternal grandmother, who had been Maid of Honour to Queen Charlotte, and had an apartment at the Hampton Court Palace. In 1845, Eleanor married the Rev. Richard Boyle, Vicar of Marston Bigot in Somerset, and soon to be Chaplain-in-Ordinary to the Queen.
She had five children between 1846 and 1854, and began honing her artistic gifts "under the influence of the works of Albrecht Dürer, the Pre-Raphaelites, and John Ruskin's Modern Painters, and with the benefit of informal advice from William Boxall, Charles Eastlake, and Thomas Landseer; the latter taught her to etch" (Yeldham). From 1852 onwards, with her illustrations for Child's Play, she made a name for herself with her pioneering work on nursery rhymes and other children's books, specialising in "detailed, narrative magic realist images" (Addison 43); like Louisa Beresford, Marchioness of Waterford, who provided the portrait of her shown above, she was to be a member of the sketching club planned by John Millais in 1854, a project that failed to materiaise. Her illustrations for works by Hans Christian Andersen and others were brought out in special editions.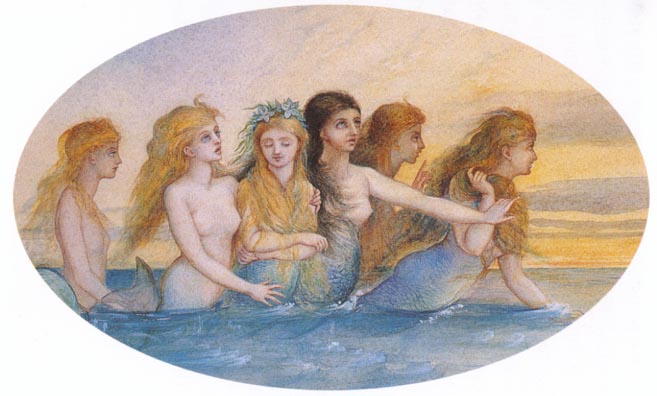 She illustrated poetry as well, including Tennyson's "May Queen" of 1861, and exhibited her work at the Society of Lady Artists, the Dudley Gallery and the Grosvenor Gallery. A good friend and correspondent of Beresford and many others, including the Queen and members of the royal family, she moved in the very highest circles, and in 1902 had an exhibition at Leighton House.
Whilst in Somerset, Eleanor was a patron of the Frome School of Art and an important local benefactor. When her husband retired, the couple moved to Huntercombe Manor, Taplow, Berkshire (then in Buckinghamshire) where, from the early 1870s, she focussed her energies on developing the large historic gardens that had once been owned by George Evelyn, cousin of the seventeenth-century diarist and horticulturalist John Evelyn. She added her own contemporary touches, such as a "framework of topiary and ornamental trees" (List Entry), and now wrote about gardening for periodicals and in a number of books on the subject, some of which she illustrated with attractive vignettes. The most popular was Days and Hours in a Garden (1884), dedicated to her late husband "whose love for nature and for art / years had not chilled." This ran to ten editions up to 1898. Unfortunately, her financial situation was compromised in widowhood by her banker son-in-law's unwise investments on her behalf.
Eleanor Vere Boyle was a kindly woman. Her friend Louisa Beresford is reported to have described her as "a calm seeker after good, in whatever way she may find it" (qtd. in Hare 235). She was also "a fine watercolourist and book illustrator.... her children's book illustrations ... have considerable period charm and are now much appreciated by collectors." (Nahum). — Jacqueline Banerjee, with thanks to Peter Nahum
Works
Sources
Addison, Rosie. In The Biographical Dictionary of Scottish Women: From the Earliest Times to 2004. Eds. Elizabeth Ewan, Sue Innes and Sian Reynolds. Oxford: Oxford University Press, 2004. 43.
Boyle, E. V. B. Days and Hours in a Garden 9th ed. London: Elliot Stock, 1896. Internet Archive. Contributed by the University of California Libraries. Web. 16 August 2015.
_____. A Garden of Pleasure London: Elliot Stock, 1895. Internet Archive. Contributed by the University of California Libraries. Web. 16 August 2015.
Hare, Augustus J. C. The Story of Two Noble Lives, Being Memorials of Charlotte, Countess Canning, and Louisa, Marchioness of Waterford. Vol. III. London: George Allen, 1893. Internet Archive. Contributed by Harvard University. Web. 16 August 2015.
List Entry: Huntercombe Manor. Historic England. Web. 16 August 2015.
Nahum, Peter. Fairy Folk in Fairy Land. London: Peter Naham at Leicester Galleries, 1997.
Yeldham, Charlotte. "Boyle [née Gordon], Eleanor Vere (1825–1916), illustrator and author." Oxford Dictionary of National Biography. Online ed. Web. 16 August 2015.
---
Last modified 16 August 2015