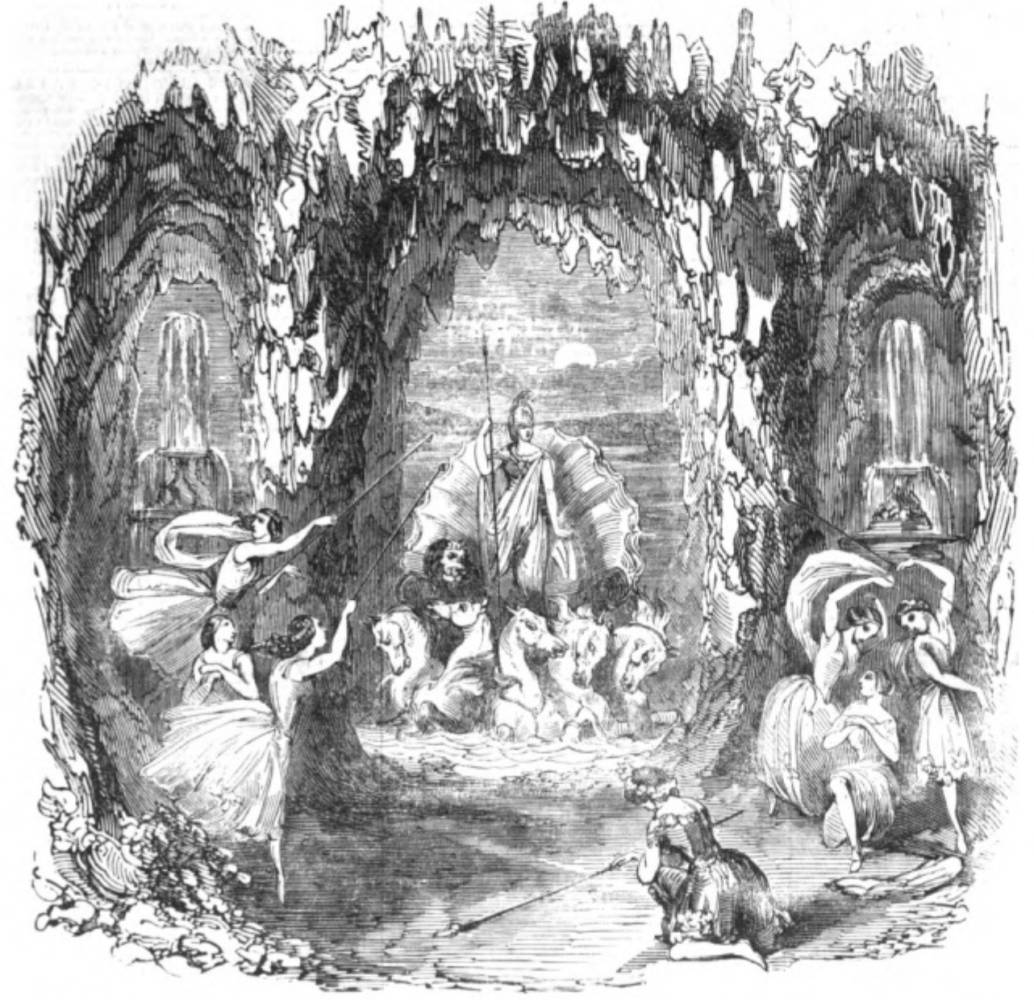 Scene from the Christmas pantomime of "Yankee Doodle on his little pony," at Astley's
1849
Engraving
Source: Illustrated London News
You may use this image without prior permission for any scholarly or educational purpose as long as you (1) credit the Hathi Trust Digital Library and The University of Michigan Library and (2) link your document to this URL in a web document or cite the Victorian Web in a print one.
The Pantomime at this theatre is by Mr. Nelson Lee; it Is entitled "Yankee Doodle on his Pretty Little Pony, or, Harlequin how many Horses has your Father got in his Stable?" The following is a Sketch of the opening incidents: —
Scene 1 commences with fairy hall of Plenty. The Fairy Peace requires the presence of Plenty, and calls to his aid Mirth and Sport (two sprites), who discover her retreat. It being the fairy Queen Britannia's intention to hold a Court, they suddenly change the scene, when all the fays are assembled to do homage to their Queen with their fairy palfreys and emblematic cars, &c. Hope, too. Joins them; and Britannia arriving, and being at a loss for a hero for her Christmas sports, she is informed that Yankee Doodle would entrap Miss Dinah from Young England, who is discovered in a desponding state by one of the dairies ; and being brought before Britannia, she bids him be of good cheer, and seek out Old Sambo. He thanks her, and departs.
Scene 2.— Old Sambo's House at Bow.—Young England obtains an interview with Dinah, but is interrupted by Old Sambo, who thrusts his daughter in the house, and England from the door. Young England throws hlmselfdown in despair, Hope appears, and presents him with a silver pipe to aid him; he departs delighted. Yankee Doodle arrives upon his little pony with a letter of introduction from the President to Old Sambo. Sam Slick follows, who is ordered by Yankee Doodle to dispose of the pony, and he takes him away for that purpose. Yankee Doodle and Sambo meet under unfortunate circumstances; Sambo apologizes, and introduces him to Miss Lucy Long (his other daughter) as his intended son-in-law—"The marriage shall take place this very day."
Scene 3.—Tattersall's: Horse Sale, &c. going on.—Yankee Doodle and Sam Slick arrive to sell the pony, and get sold in buying a horse.
Scene 4.—Near Hyde-park Corner.—The purchase proves still more unsatisfactory.
Scene 5.—Sambo's House, with preparations for the wedding.—Yankee Doodle 's horse having bolted, gallops in and throws him; the horse is disposed of by Sam Slick. Miss Dinah is most reluctant to become the bride of Yankee Doodle. All are ready for the dance, but the village piper falls dead drunk. What's to be done? Fortunately, one is found near at band, and is brought in. It is Young England, who has disguited himself; and, playing upon his magic pipe, all begin dancing involuntarily. During this he manages to discover himself to Dinah: other sports are determined upon, among which is blindman's-buff. Yankee Doodle is blindfolded; and, as the came proceed;, Young England and Dinah escape together. Yankee Doodle catches Miss Lucy Long, thinking it Dinah. Finding his mistake, a search is made for her; when Dinah and Young England return from the church married. Yankee Doodle, Sambo, and Lucy Long's rage knows no bounds—the bride and bridegroom are seized. At this moment the entire scene changes: Britannia appears and settles the dispute for the present, by changing Yankee Doodle to Clown, England to Harlequin, Old Sambo to Pantaloon, and Miss Dinah to Columbine. Then follows the harlequinade, with bits at past and passing events, &c.
There appears to be a good deal of drollery in this pantomime—equine and otherwise.
Bibliography
"Christmas Pantomimes and Extravaganzas." Illustrated London News. 15 (22 December 1849): 416. Hathi Trust Digital Library version of a copy in the University of Michigan Library. Web. 26 December 2015. The text above was created from the Hathi page images with ABBYY FineReader. — George P. Landow
---

Victorian
Web

Music &
Theatre

Panto-
mime

Next
Last modified 26 December 2015w