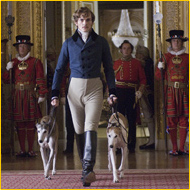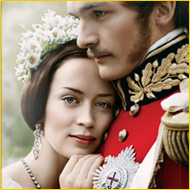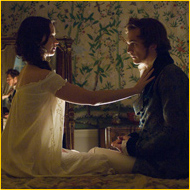 Left to right: Prince Albert's entrance. The Loving Couple (used as official moview poster). Victoria and Albert in the bedroom.
Brian Gross, who's promoting The Young Victoria, writes to tell us about a film that "your readers would love":
Starring Emily Blunt, directed by Jean-Marc VallŽe, written by Academy Award Winner Julian Fellowes (Gosford Park), and produced by a team including Graham King (The Departed), Martin Scorsese, Tim Headington and Sarah Ferguson, Duchess of York. The film has already received international acclaim.
In The Young Victoria, Emily Blunt (The Devil Wears Prada) delivers an incredibly compelling performance as Queen Victoria in the turbulent first years of her reign. Rupert Friend (Pride & Prejudice) portrays Prince Albert, the suitor who wins her heart and becomes her partner in one of history's greatest romances. This love story, set amongst all the intrigue of the court, also features Paul Bettany (Iron Man, The Da Vinci Code), Miranda Richardson (Harry Potter and the Goblet of Fire), Jim Broadbent (The Damned United, The Chronicles of Narnia, Thomas Kretschmann (Valkyrie), and Mark Strong (Sherlock Holmes, Tristan & Isolde).
The extremely elegant official site for the movie (details below) contains the trailer, clips, photos, press and interviews. Take a look!
One thing is clear: The film's emphasis upon the passionate romance of Victoria and Albert serves as the twenty-first century's revsionist response to Lytton Strachey's Queen Victoria (1921), which now appears to be the same kind of maliciously distorted, amusing caricature that Wyndham Lewis made of Strachey himself in The Self Condemned. What about the Victorians now makes them open to positive reinterpretaions? What about us now makes us want to reinterpret them at all? Why did modernists need to create their caricatures — that is, what braader cultural purpose did such partial understandings serve?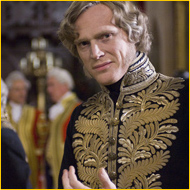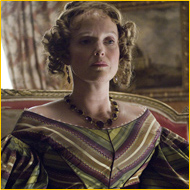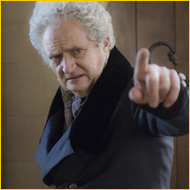 Left to right: Lord Melbourne. The Duchess of Kent. King William IV.
Related Material
References
Young Victoria. Official Movie site. Viewed 2 December 2009.
---
Last modified 2 December 2009