Sadly, Anglo-Irish novelist Charles Lever is remembered today as the cause of Charles Dickens's prematurely publishing Great Expectations in All the Year Round because Lever's A Day's Ride was driving down sales of Dickens's weekly journal and only a serial by Dickens himself could salvage the situation. In fact, as Buchanan-Brown notes,
Charles Lever was an exceedingly prolific writer who enjoyed a wide popularity in his own day, the pink covers opf the monthly parts of his novels rivaling the yellows of Thackeray and the greens of Dickens. He was an Irishman who wrote about his countrymen, and his readers thoroughly relished the wealth of incident with which his books were packed and the inexhaustible fund of stories with which they were filled. [p. 12]
The Irish-born Lever (1806-72) was raised in Dublin by English parents. After graduating from Trinity College, Dublin, in 1827, he went to Göttingen to study medicine; his popular novel,Charles O'Malley is based on his own college days in Ireland. Arthur O'Leary (1844) and Con Cregan (1849) reflect some of Lever's own adventures in the Canadian backwoods in 1829. Lever's first few novels appeared in installments in the Dublin University Magazine, for which he later served as editor (1842 to 1845), the journal's annual stipend being £1,250. Qualifying as a physician in 1831, and after working in various Irish county towns, Lever took up practice in the Northern Ireland seaside resort of Portstewart, where he displayed remarkable courage and skill in putting down a cholera epidemic in 1832. After five years of marriage, however, Lever needed a greater income than the little practice could provide, and so, in 1837, he took up the post of physician to the British ambassador in Brussels. Before moving to Belgium, he had started his first novel, Harry Lorrequer, which like so many of the novels to follow was illustrated by the incomparable London artist Hablot Knight Brown, the "Phiz" of Dickens fame. Between 1839 and 1865, Browne etched almost 500 plates for fifteen Lever novels, as well as drawing numerous vignettes on wood-blocks, his work for Harry Lorrequer being among his best for Lever.
The difficulties of communicating at a distance are underlined by the fact that not even the diplomatic bag, which Lever as physician to the British Ambassador used to send copy of his publisher, was safe. In January/February 1839 the last instalment of Harry Lorrequer went astray, with the result, as Lever wrote to M'Glashan [his Dublin publisher] on 16 February, that 'The scenes for illustration are not so good, of course, in the concluding No.' [Buchanan-Brown 18]
Despite these early set-backs, by the early 1840s Lever had achieved great popularity in England because the early Victorian reading-public was eager to be entertained by his rollicking narratives. Notes S. P. Haddelsey, "he also enjoyed an abundance of laudatory critical notices which compared him favourably with his chief rival, Charles Dickens" ("The Lost Victorian," p. 1). Determining to abandon medicine for journalism, Lever returned to Dublin in 1843 as editor of The Dublin University Magazine, in which he published the first in the series Our Mess, Jack Hinton The Guardsman. In 1845, he went to Brussels, Bonn, and Karlsruhe, where he published The Knight of Gwynne (1847, but begun in 1845, before Lever resigned his editorship), and to the Tyrol, Como, and Florence in 1848; here he wrote the last of his rollicking, relatively unstructured novels, Roland Cashel (1850).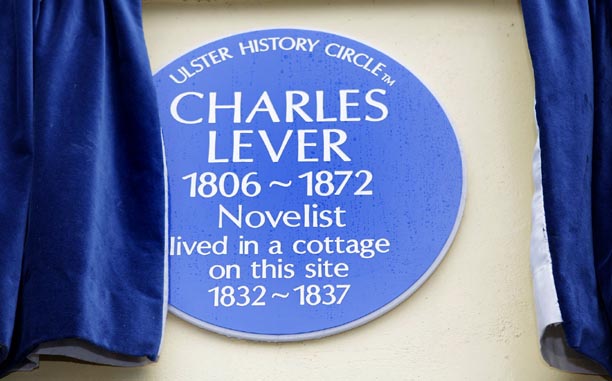 A prolific writer much influenced in his early years by Maria Edgeworth and Sir Walter Scott, Lever produced thirty novels and five volumes of short stories and essays; he is best remembered for his farcical, lighthearted picaresque novels of Irish military life, notably Charles O'Malley (1841), Jack Hinton (1843), and Tom Burke (1844). These early novels also reveal the marked influence of sporting and military novelist William Hamilton Maxwell, a Peninsular Campaign and Waterloo veteran with whom Lever became friends while fighting a cholera outbreak in County Clare, Ireland. Lever had established himself as a popular novelist of the third rank with his Confessions of Harry Lorrequer, which had run serially in the Dublin University Magazine in 1839. After 1845, as Lever's popularity began to decline, his work became more serious in tone and more carefully constructed. The turning point in his fortunes may well have been as early as William Carleton's vicious attack in The Nation (October 1843) on Lever's novels for fostering through caricature rather than realistic character study common English misconceptions about Irish "quaintness." In this new, more serious style (influenced by French novelist Honoré de Balzac) he wrote The Daltons (1852) and the Fortunes of Glencore (1857).
Clearly by 1860 Lever's popularity had shrunk considerably, despite the fact that he was moving out of the "horse-racious and pugnacious" historical narrative into more challenging topics, such as the psychology of an unhappy marriage in Davenport Dunn (1859), written after he was appointed to the British consulate in Spezia, Italy, and was spending much of his time in Florence. Although the serial version of the novel first appeared in the fall of 1860, just after Wilkie Collins's sensational The Woman in White concluded its serial run in All the year Round and Harper's Weekly in the United States, Lever's A Day's Ride did not appear in volume form under the Chapman and Hall imprint until 1864. In fact, its publication caused sales of the Dickens weekly to plummet, and Dickens felt compelled to intervene after the appearance of the fifteenth chapter of the Lever novel by publishing Great Expectations, also narrated in the first person.
Reading this chapter in the November number of Harper's, one can easily understand how Lever had lost his grip on the popular pulse. The passage illustrated in "'No More Tea — None!' Cried I," by the Harper's house artist is this:
"No more tea — none!" cried I, with an energy that nearly made the footman let the tray fall, and so far startled the old lady that she dropped her knitting with a faint cry. As for his excellency, he had covered his face with the Globe, and I believe was fast asleep. [Ch. 15, p. 701]
The scene is the drawing-room of the elderly aristocrat (left) in the German spa town of Kalbbratenstadt, the narrator being the novel's protagonist, the Anglo-Irish Algernon Sydney Potts, like Charles Lever himself a former Trinity College, Dublin, student roaming the Continent, just as Lever did in his youth.
His next major novel, Barrington (1862-63) Lever wrote at Spezia, where he had been British vice-consul since 1858. He was in fact able to transmit his drafts to his publisher, London's Chapman and Hall, through diplomatic pouches. Subsequently he produced Luttrel of Arran (1865), three other novels, and some racy essays for Blackwood's Edinburgh Magazine under the nom de plume "Cornelius O'Dowd." In 1867 he moved to Trieste to take up the the post of consul. Here, serving at his final diplomatic post, he died in 1872.
Resources
Buchanan-Brown, John. Phiz! The Book Illustrations of Hablot Knight Browne. London, Newton Abbot, and Vancouver: David and Charles, 1978.
Cambridge Biographical Dictionary, ed. Magnus Magnusson and Rosemary Goring. Cambridge: Cambridge University Press, 1990.
"Charles Lever: The Lost Victorian." http://members.lycos,co.uk/charleslever/summary.htm
Lever, Charles. A Day's Ride. Ch. 15. Harper's Weekly. New York, 3 November 1860.
Muir, Percy. Victorian Illustrated Books. London: B. T. Batsford, 1971.
See also S. P. Haddelsey's Charles Lever: The Lost Victorian — A Critical Vindication. London: Colin Smythe, 2000.
---
Last modified 6 April 2011