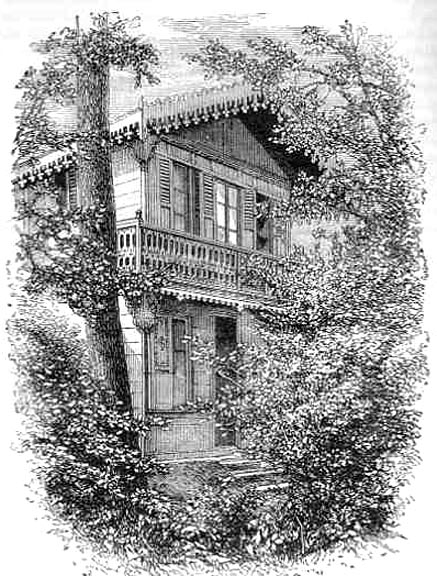 The Chalet at Gadshill
Rochester, Kent
Other views of Gadshill
Scanned image and text by Philip V. Allingham.
[This image may be used without prior permission for any scholarly or educational purpose.]
Dickens suffered what proved to be a fatal attack after leaving here for the main house on the afternoon of 9 June 1870. The Swiss Chalet was presented to him by his friend the French actor Charles Fechter at Christmas, 1864, in fifty-eight boxes, and was eventually constructed with the aid of the Lyceum Theatre's French carpenter, M. Godin. Dickens so arranged the building that the second floor afforded him a view of the Thames, whose shipping he sometimes inspected with the aid of a telescope that he had placed in his study.
Belonging to the house, but unfortunately placed on the other side of the high road, was a shrubbery, well wooded though in desolate condition, in which stood two magnificent cedars; and having obtained, in 1859, the consent of the local authorities for the necessary underground work, Dickens constructed a passage beneath the road from his front lawn; and in the shrubbery thus rendered accessible, and which he then laid out very rettily, he placed afterwards a Swiss châlet presented to him by Mr. Fechter, which arrived from Paris in ninety-four pieces fitting like the joints of a puzzle, but which proved to be somewhat costly in setting on its legs by means of a foundation brickwork. "It will really be a very pretty thing," he wrote (January 1865), "and in the summer (supposing it not to be blown away in the spring), the upper room will make a charming study. It is much higher than we supposed." Once up, it did really become a great resource in the summer months, and much of Dickens's work was done there. [Forster, II, 151-52]
Dickens's last few days at Gads Hill were entirely given over to the writing of The Mystery of Edwin Drood, during which time he began to look unusually fatigued. On the 8th he spent the entire day in the Chalet, except to have lunch in the main building. At ten minutes past six in the late afternoon, expiring on the sofa, he cried, "On the ground." These were the last words he uttered.
References
Forster, John. The Life of Charles Dickens. The "Charles Dickens Edition." 2 vols. London: Chapman and Hall, [n. d.]
---

Last modified 19 July 2007