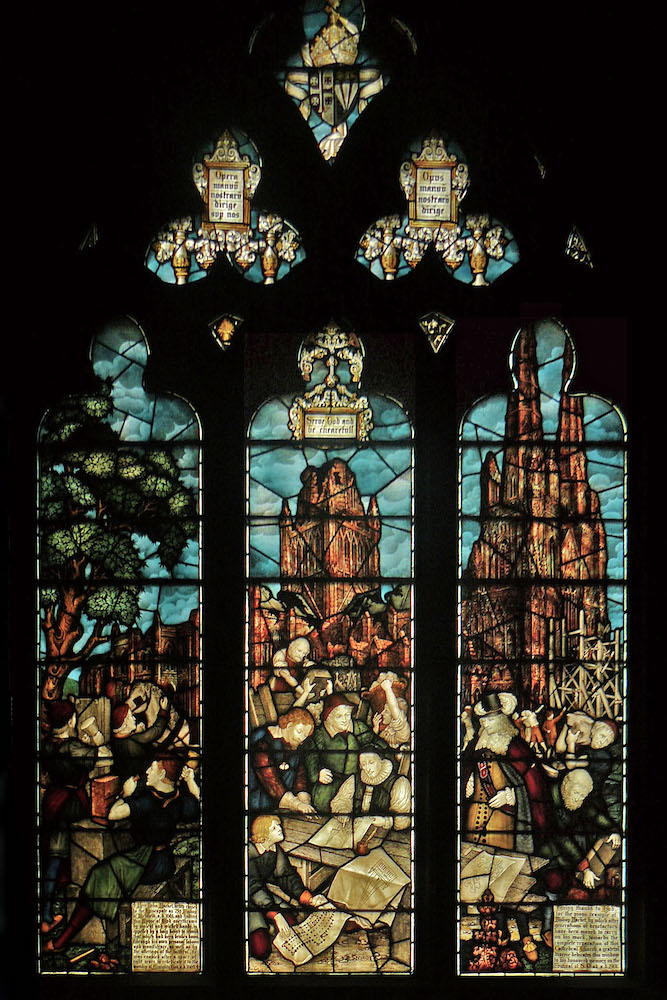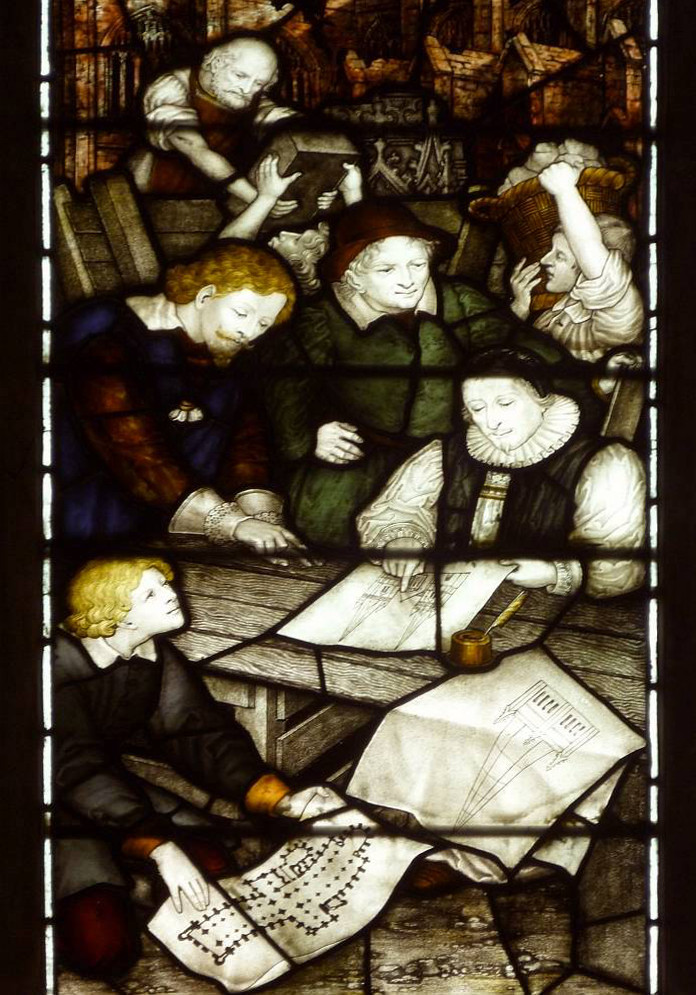 Left: The Hacket Window, by Charles Eamer Kempe. 1901. South Quire Aisle, Lichfield Cathedral, Staffordshire. Right: Bishop Hacket looks at the plans of the Cathedral. Photographs and text by Jacqueline Banerjee, with useful information from Pat Scaife (see "Further Reading"). These photographs are reproduced here by kind permission of the Chapter of Lichfield Cathedral. Click on the images for larger pictures.
There are many wonderful windows in Lichfield Cathedral, including the famous Herkenrode painted glass in the Lady Chapel, currently being restored, and a number of other windows by Kempe. These include all those in the Chapel of the Head of St Chad — Kempe also designed the reredos in the chapel. But this is one of his most striking contributions to the cathedral, because it depicts in graphic detail and in period costume Bishop Hacket and and those working on its restoration after the Civil War. It had been (as it says in some text on the window itself) "overthrown by violent and wicked hands," and was now almost in ruins.
John Hacket (1590-1670) was appointed to the see by Charles II in 1661. Previously the see had been that of "Coventry and Lichfield," but the king changed it to "Lichfield and Coventry," perhaps because Lichfield had stayed loyal to the crown under Cromwell, while Coventry had not — perhaps too because the big task required of the new bishop was to restore the fabric here and reorganise the diocese. Bishop Hacket succeeded in the former partly by paying for it out of his own pocket, and partly by fund-raising. Despite his age, he was clearly as personally involved with the rebuilding programme as he appears to be here.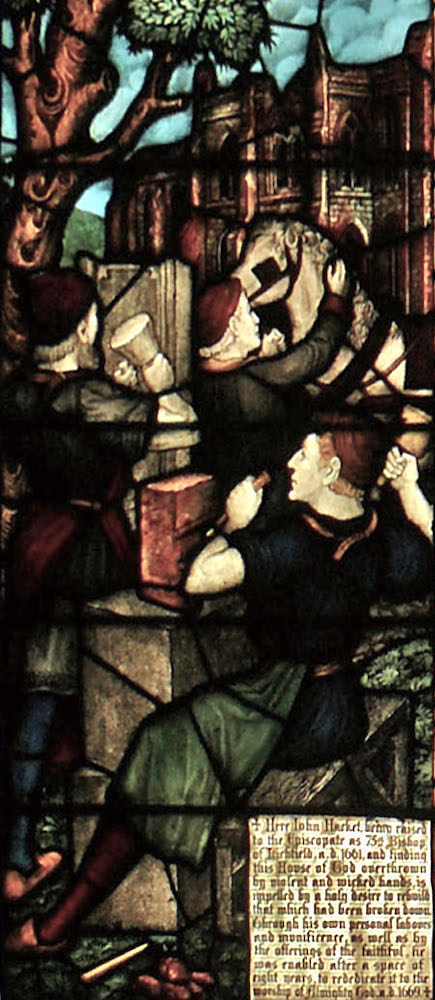 Kempe's detailed work on the faces is visible in the close-up of Bishop Hacket with the cathedral's plans. The whole window is equally detailed, when seen under the right conditions. His clear colours, including the yellow tones of the tree in the background of the workmen's activities, are also visible. In the tracery is a tiny wheatsheaf, which Kempe adopted from his family coat-of-arms as his signature emblem.
Material related to Lichfield Cathedral and its stained glass
Source
Clifton, A. B. The Cathedral Church of Lichfield: A Description of Its Fabric and a Brief History of the Episcopal See. London: George Bell, 1900. Project Gutenberg. 17 May 2013.
Further Reading
Scaife, Pat. The Stained Glass of Lichfield Cathedral. Much Wenlock, Shrops.: R. J. L. Smith, 2009.
---
Last modified 23 May 2013