he name Paolo Priolo (1820–1890 or 1892) is barely known outside the pages of general reference books, yet in his own time he was regarded as an important artist who made a small but interesting contribution to mid-Victorian book-design. Known sometimes as Francesco Priolo but usually signing his work 'PP', he illustrated or co-illustrated half a dozen books and published other work in periodicals such as The Sunday at Home and The Churchman's Family Magazine. Essentially a jobbing designer who supplemented his earnings from painting with commissions for the page, Priolo was an able technician who produced drawings on wood, etchings, and lithographs; like John Franklin and A. W. Bayes, he turned his hand to many diverse projects and was always driven forward by economic need.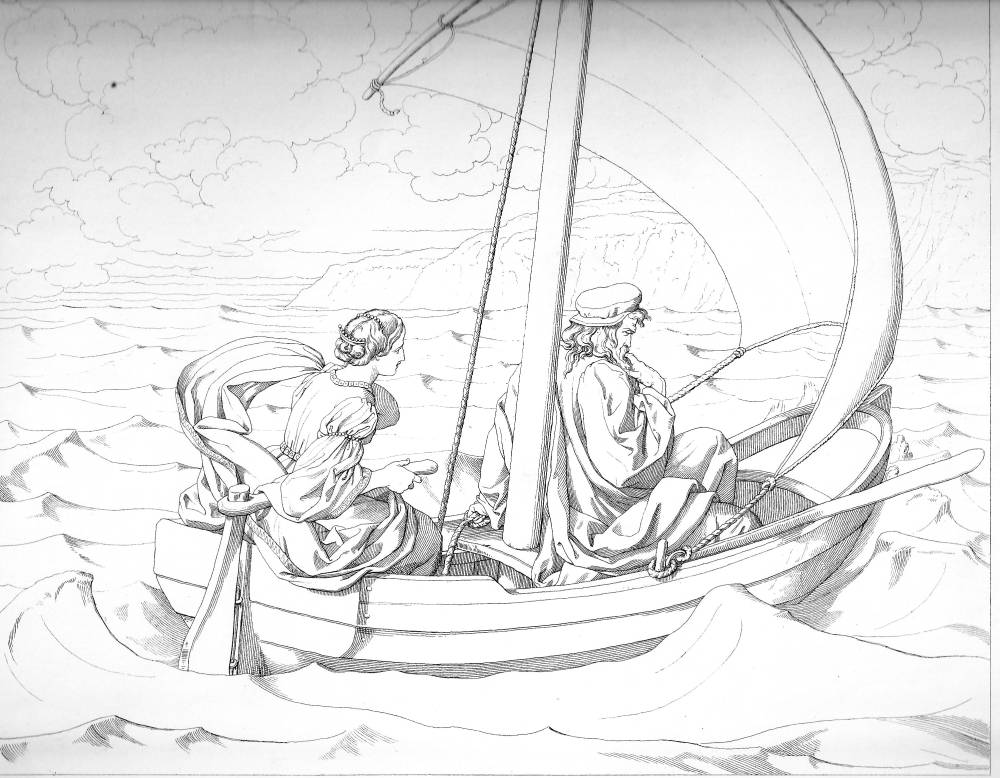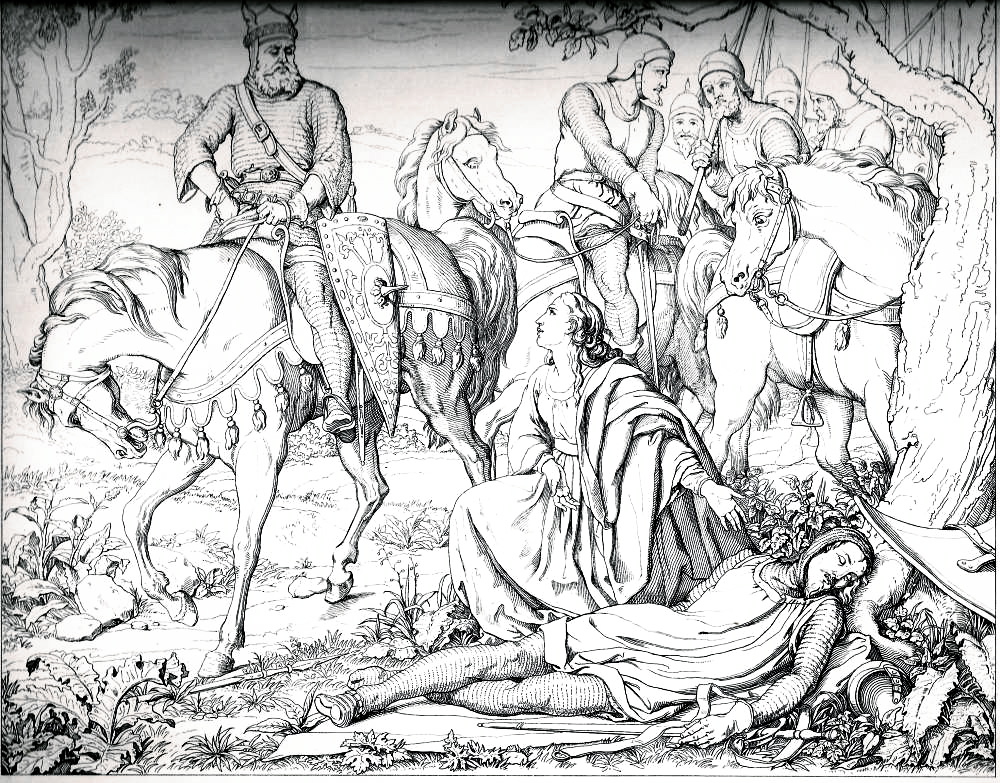 Left" She took the helm and he the sail Right: Would some of your kind people take him up?. [Click on these images to enlarge them.]
Priolo was born in Palermo, Sicily, in either 1820 or 1821, and died around 1890. Nothing is known of his training; this could have been in the studio of a local master, although no records survive. He emigrated to Britain in the 1850s, probably in pursuit of new opportunities and perhaps to escape the political situation in Italy. His early years appear to have been restless. In the frontispiece to his version of Alfred Tennyson's Idylls of the King he is identified as an 'Edinburgh printer and engraver' (1863), but most of his life was lived in London. The census returns indicate he was resident in respectable neighbourhoods, with an address at 64 Stockwell Park Road (1878) and another, slightly less prestigious, in Lambeth (1881). However, unlike some ex-patriots Priolo maintained an active link with his home country and returned to Italy on several occasions. His wife was Italian and his two children, though Londoners, were born in Sicily and in Rome, where he maintained an address.
Priolo's output was diverse, working across a range of genres. An industrious practitioner in the manner of so many of his contemporaries, he exhibited 43 paintings between 1857 and 1880, showing his work at The Royal Academy, Suffolk Street and elsewhere, although he was never an ARA or an associate of any of the prime organizations. He is listed in the census as an 'historical' artist, and produced Biblical, mythological, portrait and genre paintings too. A single watercolour of Cimabue and the Young Giotto survives in The Ashmolean Museum, Oxford, U.K. There is no trace of his other painted works, which, if they survive, must remain in private hands.
Whatever successes he might have achieved as a painter in watercolour and oil, he reached his widest audience as an illustrator. He practised most effectively in the heroic idiom of Germanic illustration, working in the outline style of F. A. M. Retzsch while also deploying the rusticity of Alfred Rethel. Priolo was one of a large group of artists who responded to the public craze for all things German. His work can be linked to the imagery of Daniel Maclise and E.H. Wehnert, and his illustrations are quite similar to those of H. C. Selous, a Germanic artist with whom he collaborated on a version of The Pilgrim's Progress.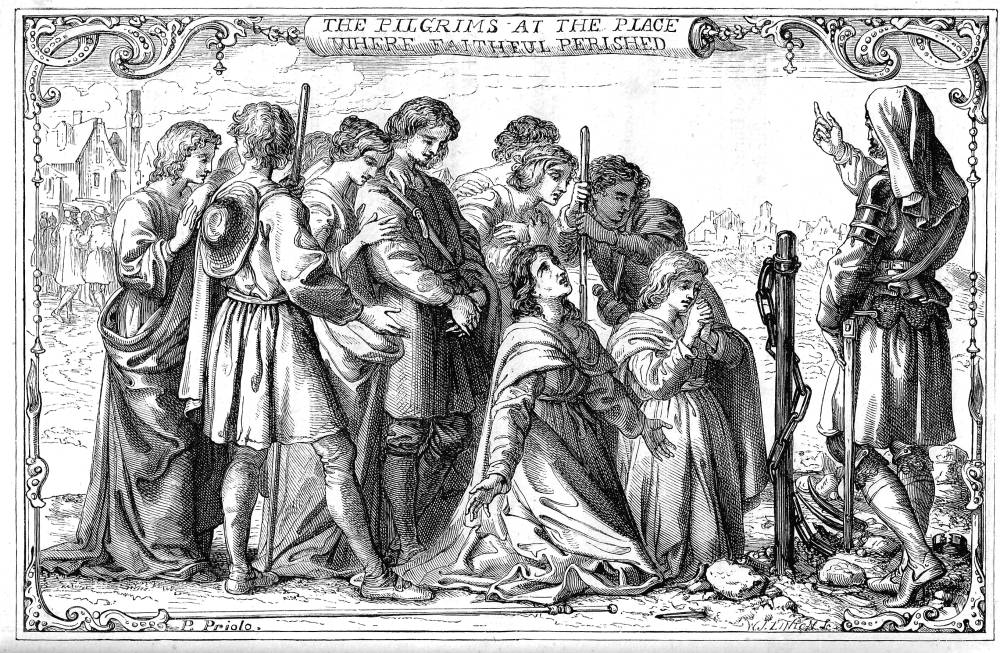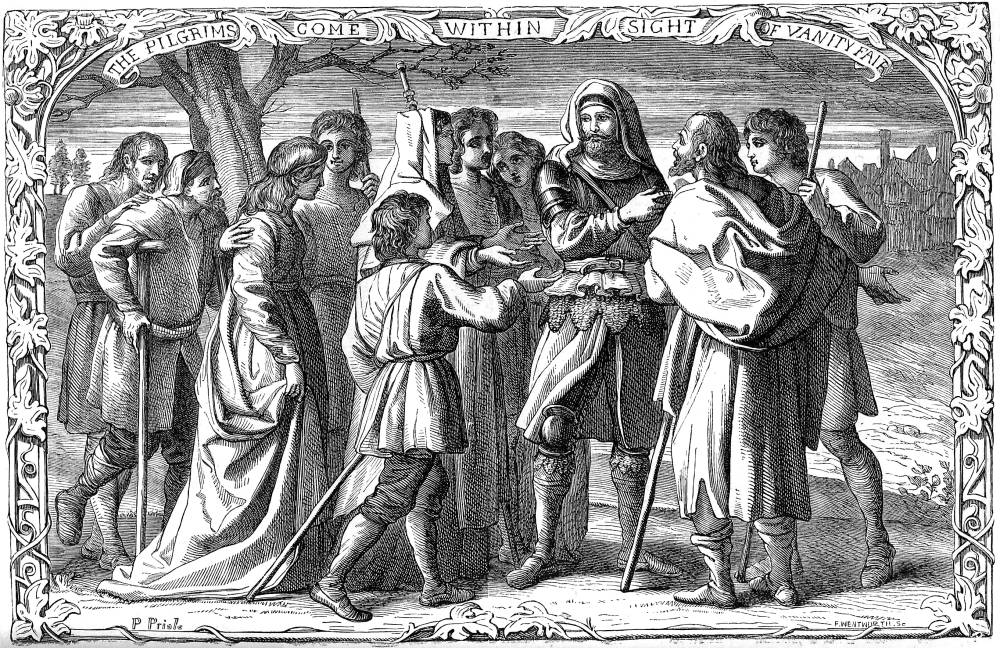 Left" The Pilgrims at the Place Where Faithful Perished Right: The Pilgrims Within Sight of Vanity Fair. [Click on these images to enlarge them.]
The Pilgrim's Progress (1865) exemplifies Priolo's capacity for dramatic story telling combined with intricate ornamentation. His most striking images are elaborate tableaux with characters grouped in melodramatic attitudes in the manner of historical paintings; good examples are 'The Pilgrims at the Place Where Faithful Perished' and 'The Pilgrims Come Within Sight of Vanity Fair'. Both are effectively neo-classical paintings in black and white, deploying an heroic imagery which is reminiscent of both Raphael and Retzsch, but seems slightly at odds with the tone of Bunyan's homespun writing. His capacity to represent the epic and uplifting is similarly displayed in his sixteen lithographic outlines for Tennyson's Idylls of the King. This elaborate plate book was a prize-winning commission, issued by The Art Union to its subscribers. Now extremely rare, it is probably his finest work and one of the best of the Union's series of 'outlines'.
Priolo's work was appreciated by a wide audience, and his name was used by publishers as a selling point, affording, as one advertisement put it, a 'guarantee of the artistic and finished style' of their books. His illustrations were always regarded as 'able' and 'suggestive', and at very least were 'graceful, picturesque, and well produced' ('Literature', p.46). Almost entirely forgotten by modern audiences, his book designs are still worthy of note. As Gleeson White remarks, Priolo was an artist who always maintained 'a certain level of respectability' (p.84).
---
Last modified 16 June 2014