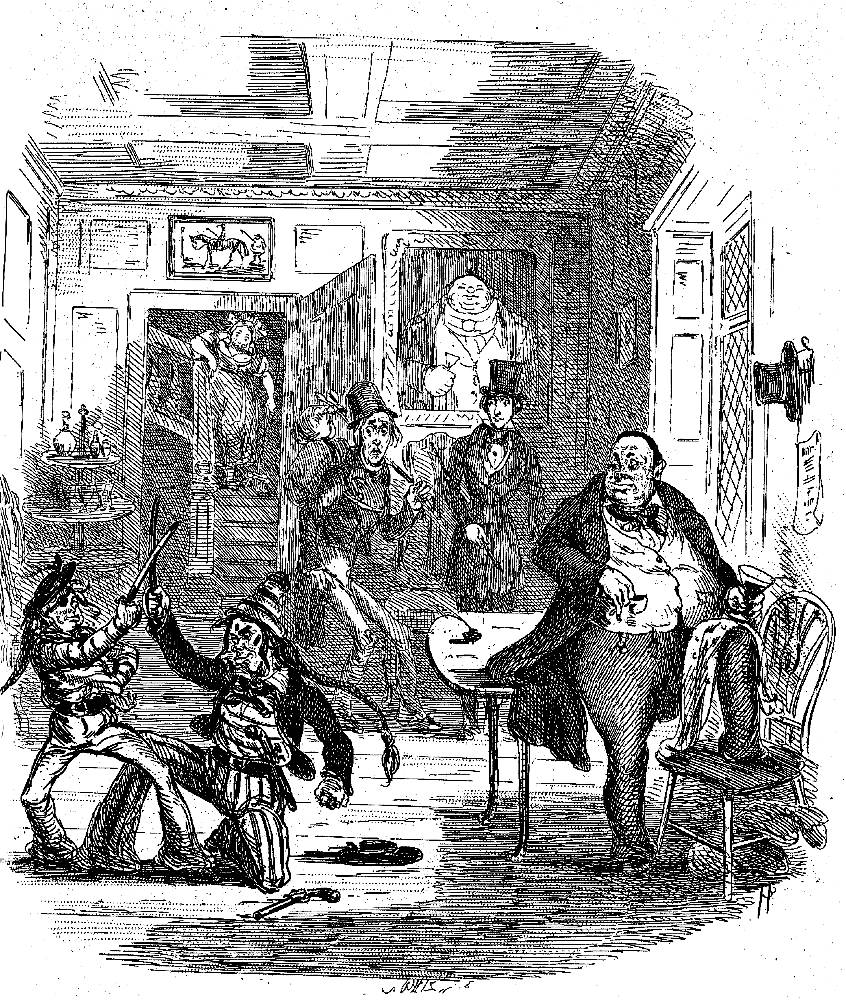 The Country Manager Rehearses a Combat
Phiz (Hablot K. Browne)
Dickens's Nicholas Nickleby, chapter 22
Source: Hammerton, p. 56
Image scan and text by Philip V. Allingham.
[You may use this image without prior permission for any scholarly or educational purpose as long as you (1) credit the person who scanned the image and (2) link your document to this URL.]
The seedy theatrical company which shelters Nicholas (under the pseudonym "Mr. Johnson") as resident playwright, adapter, and translator of French farces is the subject of considerable satire in Nicholas Nickleby, based in part on the young writer's aspirations to be a thespian and in part on his close personal relationships with such figures of nineteenth-century theatre as the great actor-manager of Drury Lane, William C. Macready (1793-1873), whose restoration of the original text of Shakespeare's King Lear he praised in a theatrical review in The Examiner for 4 February 1838. The core of the company, the Crummles family, Dickens describes in some detail in chapter 22, "Nicholas, accompanied by Smike, sallies forth to seek his Fortune. He encounters Mr. Vincent Crummles; and who he was, is herein made manifest," and chapter 23. According to Nicholas Bentley et al. in The Dickens Index, Dickens based Crummles and his daughter Ninetta, "The Infant Phenomenon," on actor-manager T. D. Davenport (1792-1851) and his daughter Jean Margaret (1829-1903), one of the most celebrated juvenile actresses of the period. Undoubtedly the sequence involving the Crummles family is loosely based on Davenport's leasing the Portsmouth Theatre the year before to showcase the precocious talents of eight-year-old Jean, whom Dickens had seen make her stage debut at The Richmond Theatre, Surrey, in 1836. Nicholas and Smike stumble upon Crummles quite by accident at a road-side inn, where the manager is rehearsing a pair of juvenile actors in a duelling scene from a transpontine drama of the type popular in the period:
Nicholas was prepared for something odd, but not for something quite so odd as the sight he encountered. At the upper end of the room [the back parlour at an inn twelve miles from Portsmouth] , were a couple of boys, one of them very tall and the other very short, both dressed as sailors — or at least as theatrical sailors, with belts, buckles, pigtails, and pistols complete — fighting what is called in play-bills a terrific combat, with two of those short broad-swords with basket hilts which are commonly used at our minor theatres [i. e., theatres, in London principally, that did not play legitimate drama, and were not subject to regulation by the Lord Chamberlain's Office]. The short boy had gained a great advantage over the tall boy, who was reduced to mortal strait, and both were overlooked by a large heavy man, perched against the corner of a table, who emphatically adjured them to strike a little more fire out of the swords, and they couldn't fail to bring the house down, on the very first night.
'Mr. Vincent Crummles,' said the landlord with an air of great deference. 'This is the young gentleman.'
Mr. Vincent Crummles received Nicholas with an inclination of the head, something between the courtesy of a Roman emperor and the nod of a pot companion; and bade the landlord shut the door and begone. . . .
The two combatants went to work afresh, and chopped away until the swords emitted a shower of sparks: to the great satisfaction of Mr. Crummles, who appeared to consider this a very great point indeed. [ch. 22]
In Phiz's October 1838 steel engraving Smike is notably startled by the violence of the cutlass duel by the mismatched "sailors," whereas Nicholas in respectable beaver and frockcoat (rear, centre right) is only moderately interested for he perceives, as his companion does not, that this is merely theatre and not reality.
Just as Nicholas and Smike had intended to do, after Portsmouth the "strolling" Crummleses took ship for America, where Jean was presented to audiences as "an infant phenomenon." Later on the London stage she starred as Dot in an adaptation of Dickens's third Christmas Book, The Cricket on the Hearth (opening 21 December 1846) in Colchester and again at The Royal Theatre, Lynn (opening 27 February 1847) under her father's management and direction.
References
Bentley, Nicholas; Michael Slater, and Nina Burgis. The Dickens Index. Oxford, New York, and Toronto: Oxford U. P., 1988/
Bolton, H. Philip. Dickens Dramatized. Boston: G. K. Hall., 1987.
Davis, Paul. Charles Dickens A to Z. New York: Facts On File, 1998.
Hammerton, J. A. The Dickens Picture-Book. London: Educational Book Co., [1910].
---

Victorian
Web

Nicholas
Nickelby

Illus-
tration

Phiz

Next
Last modified 13 April 2009