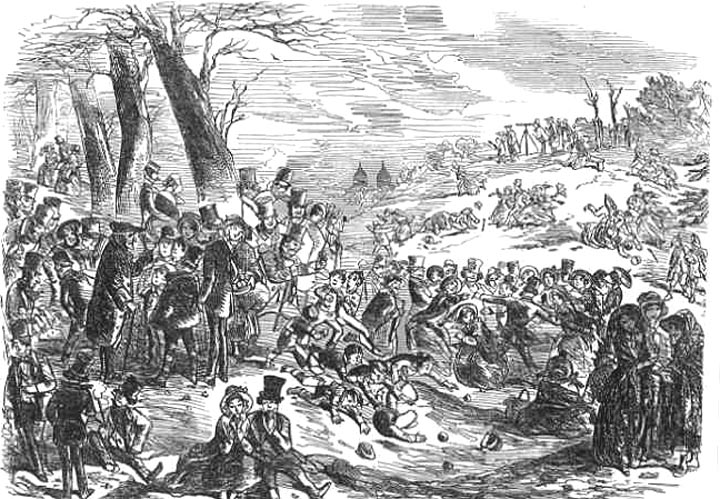 Whitsuntide in Greenwich Park by Phiz (Hablot K. Browne). From The Illustrated London News. 21 May 1853: 408. [Click on the image to enlarge it.]
Scanned image and text by Philip V. Allingham. [You may use this image without prior permission for any scholarly or educational purpose as long as you (1) credit the person who scanned the image and (2) link your document to this URL.]
Passage Illustrated
The chief place of resort in the daytime, after the public-houses, is the park, in which the principal amusement is to drag young ladies up the steep hill which leads to the Observatory, and then drag them down again, at the very top of their speed, greatly to the derangement of their curls and bonnet-caps, and much to the edification of lookers-on from below. "Kiss in the Ring," and "Threading my Grandmother's Needle," too, are sports which receive their full share of patronage. Love-sick swains, under the influence of gin-and-water, and the tender passion, become violently affectionate: and the fair objects of their regard enhance the value of stolen kisses, by a vast deal of struggling, and holding down of heads, and cries of "Oh! Ha' done, then, George — Oh, do tickle him for me, Mary — Well, I never!" and similar Lucretian ejaculations. Little old men and women, with a small basket under one arm, and a wine-glass, without a foot, in the other hand, tender "a drop o' the right sort" to the different groups; and young ladies, who are persuaded to indulge in a drop of the aforesaid right sort, display a pleasing degree of reluctance to taste it, and cough afterwards with great propriety.
The old pensioners, who, for the moderate charge of a penny, exhibit the mast-house, the Thames and shipping, the place where the men used to hang in chains, and other interesting sights, through a telescope, are asked questions about objects within the range of the glass, which it would puzzle a Solomon to answer; and requested to find out particular houses in particular streets, which it would have been a task of some difficulty for Mr. Horner (not the young gentleman who ate mince-pies with his thumb, but the man of Colosseum notoriety) to discover. Here and there, where some three or four couple are sitting on the grass together, you will see a sun-burnt woman in a red cloak "telling fortunes" and prophesying husbands, which it requires no extraordinary observation to describe, for the originals are before her. Thereupon, the lady concerned laughs and blushes, and ultimately buries her face in an imitation cambric handkerchief, and the gentleman described looks extremely foolish, and squeezes her hand, and fees the gipsy liberally; and the gipsy goes away, perfectly satisfied herself, and leaving those behind her perfectly satisfied also: and the prophecy, like many other prophecies of greater importance, fulfils itself in time. — Charles Dickens, "Greenwich Fair," the twelfth chapter of "Scenes" in Sketches by Boz.
Commentary
The Cruikshank illustration, which is comparable in its specificity if not to its subject matter to that which appeared in the Illustrated London News, seventeen years later, suggests that Dickens's original illustrator had actually studied Greenwich Fair on the spot one Easter, although the date of publication preceded Whitsun in 1836, suggesting that the graphic "sketch" (stimulated by Dickens's essay) is either of an earlier date or done from vivid memory — whereas that Phiz was certainly done "on the spot" in April 1853. Since the fair in the evenings was something of a bacchanal, in his younger days Cruikshank may have even been a participant, but would as a thorough Londoner have known of the "night side" of the fair as well as its more "family friendly" afternoon scenes captured by Phiz in 1853 and Barnard in 1876.
The 21 May 1853 Illustrated London News wood-engraving by Phiz, who replaced George Cruikshank, illustrator of both Sketches by Boz and Oliver Twist as Dickens's chief illustrator, gives a panoramic impression of the innocuous afternoon entertainments also seen "close up" in the 1876 Fred Barnard wood-engraving for "Greenwich Fair" (the twelfth chapter in "Scenes" in the Sketches), The gentleman described looks extremely foolish, and squeezes her hand, and fees the Gipsy liberally (1876). Phiz's panorma has adjusted The scene so that one old Greenwich Pensioner is recounting a tale in the foreground, left, perhaps offering to conduct a guided tour of lurid local scenes in Whitsuntide at Greenwich Park while on the hilltop (upper right) another such retiree offers to show "interesting sights" through a telescope.
By May 1853 at thirty-eight years of age Phiz was no longer a young man without a family, and therefore probably did not attend the less savoury events of the Whitsuntide Fair. However, he probably took his young sons (Edgar, b. 1842; Charles, b. 1843; Walter, b. 1845) and his wife, Susannah, to such wholesome pastimes as Richardson's itinerant theatre, a wild animal show, and several food booths before returning to Thornton Heath near Croydon, where he was hard at work on the last sequence of illustrations for Dickens's Bleak House, which would conclude in the following September. Th Home Secretary abolished the annual fair in 1857, but it has recently reappeared as an annual affair, albeit without the "tumbling" of young couples down the hills of Greenwich.
Pertinent illustrations from 1836, 1853 (detail), and 1876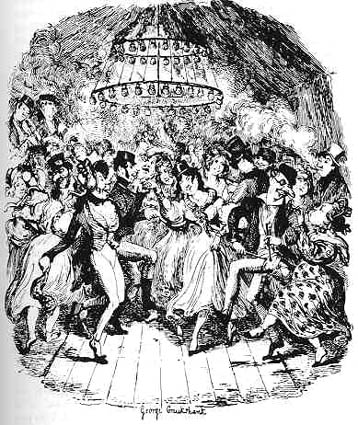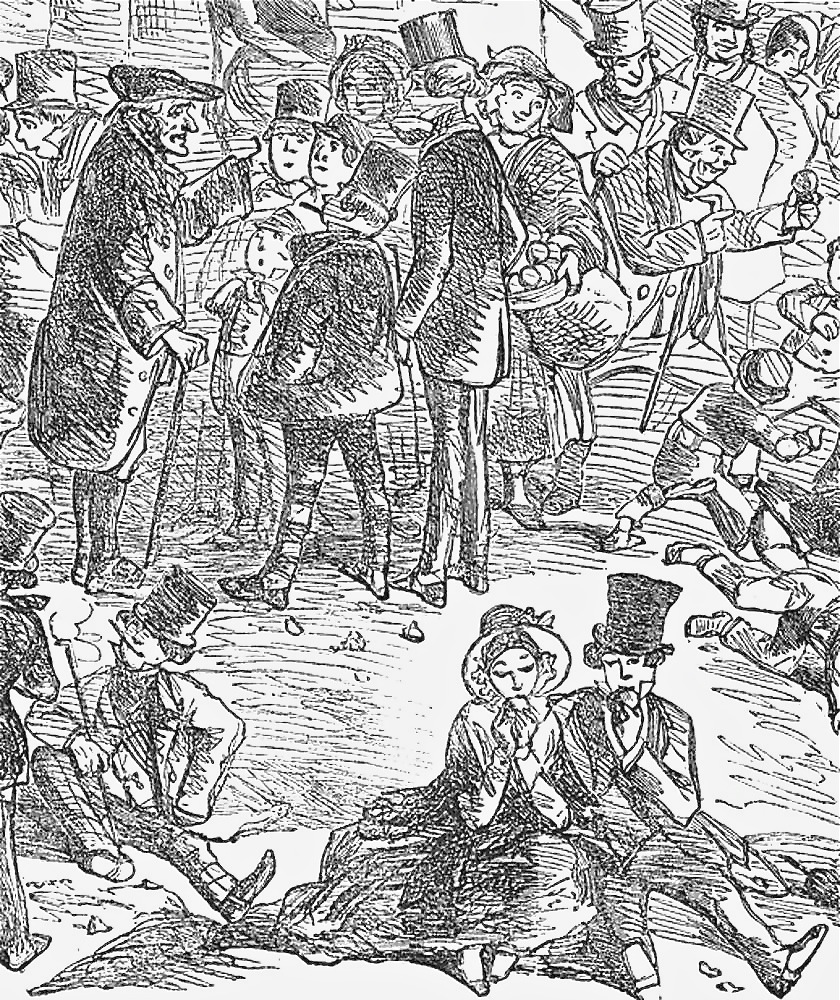 Left: George Cruikshank's original illustration for the same sketch, with a scene quite different in its character from the charming fete champetre of Barnard, namely the riotous evening dancing at The Crown and Anchor Pavillion in Greenwich Fair (1836). Right: A detail of Hablot Knight Browne's Illustrated London News illustration of the afternoon's family entertainments with a Greenwich Pensioner offering a tour of the mast-house in Witsuntide at Greenwich Park (13 May 1853). [Click on the images to enlarge them.]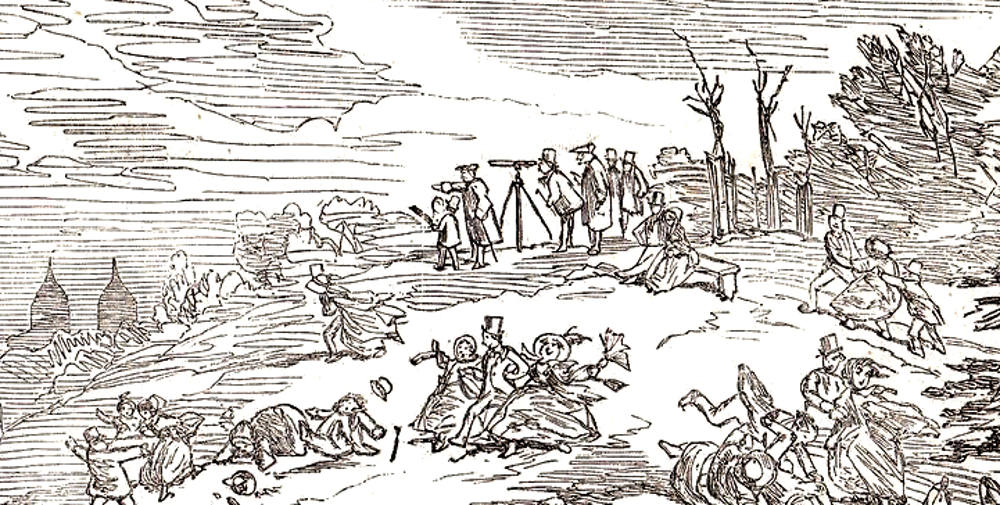 Above: Detail of the upper-right corner of Phiz's Whitsuntide in Greenwich Park showing the telescope set up by the Pensioners of the Naval Hospital (1853). [Click on the image to enlarge it.]
Above: Fred Barnard's realistic wood-engraving of an impromptu picnic on the hill beneath the Greenwich Observatory in The gentleman described looks extremely foolish, and squeezes her hand, and fees the Gipsy liberally (1876). [Click on the image to enlarge it.]
References
Ackroyd, Peter. Dickens: A Biography. London: Sinclair-Stevenson, 1990.
Bentley, Nicholas, Michael Slater, and Nina Burgis. The Dickens: Index. Oxford: Oxford U. P., 1990.
Cavendish, Dominic. "Greenwich Fair: Where Dickens let his hair down." The Daily Telegraph. 18 June 2011. Accessed 13 April 2017. http://www.telegraph.co.uk/culture/theatre/8581929/Greenwich-Fair-Where-Dickens-let-his-hair-down.html
Cohen, Jane Rabb. Part One, "Dickens and His Early Illustrators: 1. George Cruikshank. Charles Dickens and His Original Illustrators. Columbus: Ohio University Press, 1980. Pp. 15-38.
Davis, Paul. Charles Dickens A to Z. The Essential Reference to His Life and Work. New York: Checkmark and Facts On File, 1998.
Dickens, Charles. "Greenwich Fair," Chapter 12 in "Scenes," Sketches by Boz. Illustrated by George Cruikshank. London: Chapman and Hall, 1839; rpt., 1890. Pp. 81-87.
Dickens, Charles. "Greenwich Fair," Chapter 12 in "Scenes," Sketches by Boz. Illustrated by Fred Barnard. The Household Edition. London: Chapman and Hall, 1876. Pp. 115-56.
Dickens, Charles. "Greenwich Fair," Chapter 12 in "Scenes," Sketches by Boz. Illustrated by Harry Furniss. The Charles Dickens Library Edition. London: Educational Book Company, 1910. Vol. 1. Pp. 104-112.
"Greenwich Fair." The Greenwich Phantom — An Intimate Guide to Life in Greenwich.​Accessed 13 April 2017.​ http://www.thegreenwichphantom.co.uk/2008/05/greenwich-fair/.
Hawksley, Lucinda Dickens. Chapter 3, "Sketches by Boz." Dickens Bicentenary 1812-2012: Charles Dickens. San Rafael, California: Insight, 2011. Pp. 12-15.
Lester, Valerie Browne. Phiz: The Man Who Drew Dickens. London: Chatto and Windus, 2004.
Phiz (Hablot Knight Browne). "Whitsuntide in Greenwich Park." Illustrated London News. 21 May 1853. P. 408.
Schlicke, Paul. "Sketches by Boz." Oxford Reader's Companion to Dickens. Oxford: Oxford U. P., 1999. Pp. 530-535.
Slater, Michael. Charles Dickens: A Life Defined by Writing. New Haven and London: Yale U. P., 2009.
---
Last modified 29 August 2006