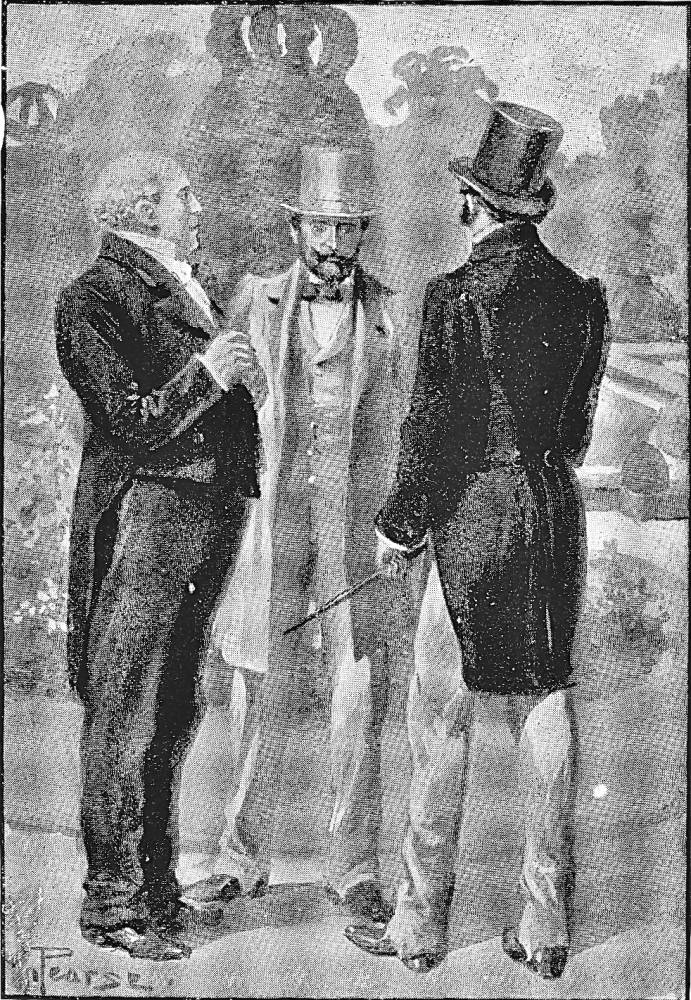 "I suppose you know that you are treading on dangerous ground?"
Alfred S. Pearse
Half-tone lithograph
11.9 x 8.3 cm
[Click on image to enlarge it.]
Scanned image and text by Philip V. Allingham.
[You may use these images without prior permission for any scholarly or educational purpose as long as you (1) credit the photographer and (2) link your document to this URL in a web document or cite the Victorian Web in a print one.]
Passage Illustrated
We both turned about, and found ourselves face to face with Sergeant Cuff.
"Why not just yet?" asked Mr. Franklin.
"Because, sir, if you tell her ladyship, her ladyship will tell Miss Verinder."
"Suppose she does. What then?" Mr. Franklin said those words with a sudden heat and vehemence, as if the Sergeant had mortally offended him.
"Do you think it's wise, sir," said Sergeant Cuff, quietly, "to put such a question as that to me​—​at such a time as this?"
​
There was a moment's silence between them: Mr. Franklin walked close up to the Sergeant. The two looked each other straight in the face. Mr. Franklin spoke first, dropping his voice as suddenly as he had raised it.
"I suppose you know, Mr. Cuff," he said, "that you are treading on delicate ground?"
"It isn't the first time, by a good many hundreds, that I find myself treading on delicate ground," answered the other, as immovable as ever.
"I am to understand that you forbid me to tell my aunt what has happened?"
"You are to understand, if you please, sir, that I throw up the case, if you tell Lady Verinder, or tell anybody, what has happened, until I give you leave."
That settled it. Mr. Franklin had no choice but to submit. He turned away in anger — and left us. — Chapter 14, in "The Loss of the Diamond (1848)." Narrative by Gabriel Betteredge. Chapter 14, p. 173.
Commentary
After the "Prologue," outlining violent events at Seringapatam, India, in 1799, when Herncastle stole the Moonstone from the Moghul armoury, Collins advances the story of the next theft of the yellow diamond by describing events at the Verinder mansion in Yorkshire on 21 June 1848 — Rachel Verinder's birthday. The perspective is once again that of trusted family retainer and amused observer of human nature Gabriel Betteredge. The action now moves to the arrival of England's greatest detective, Sergeant Cuff from the Metropolitan London Police, who has replaced the local head of the constabulary, Superintendent Seegrave, on the investigation of the theft of the diamond. This version of Sergeant Cuff does not correspond to the casually dressed, elderly detective seen in other series. Nevertheless, this is Cuff's first appearance in Pearse's program.
The figures who meet in the garden of the Verinder estate to discuss developments in the case are (left,) Betteredge, the butler and steward, in formal dress; centre, Franklin Blake in fashionable clothing of the period, including frock-coat; right, back towards the viewer, Sergeant Cuff in the uniform of the Metropolitan London Police. Cuff has correctly deduced that Rosanna Spearman has taken a paint-smeared garment to the fishing village of Cobb's Hole in order to hide or destroy it. However, he refuses to permit Blake to reveal this line of enquiry to Lady Verinder since she would likely tell her daughter, who so far has tried to obstruct the investigation and will probably (for whatever motive) do so again. Blake is naturally upset, but Cuff demands his compliance or he will drop the investigation. Grudgingly Blake agrees, feeling that Cuff has slighted the woman whom he loves.
Related Materials
References
Collins, Wilkie. The Moonstone: A Romance. All the Year Round. 1 January-8 August 1868.
_________. The Moonstone: A Romance. Harper's Weekly: A Journal of Civilization. With 66 illustrations. Vol. 12 (1 January-8 August 1868), pp. 5-503.
_________. The Moonstone: A Romance. Illustrated by George Du Maurier and F. A. Fraser. London: Chatto and Windus, 1890.
_________. The Moonstone: A Romance. Illustrated by A. S. Pearse. London & Glasgow: Collins, 1910, rpt. 1930.
Leighton, Mary Elizabeth, and Lisa Surridge. "The Transatlantic Moonstone: A Study of the Illustrated Serial in Harper's Weekly." Victorian Periodicals Review Volume 42, Number 3 (Fall 2009): pp. 207-243. Accessed 1 July 2016. http://englishnovel2.qwriting.qc.cuny.edu/files/2014/01/42.3.leighton-moonstone-serializatation.pdf
Vann, J. Don. "The Moonstone in All the Year Round, 4 January-8 1868." Victorian Novels in Serial. New York: Modern Language Association, 1985. Pp. 48-50.
---

Victorian
Web

Wilkie
Collins

Illustra-
tion

Alfred
Pearse

Next
Last updated 16 August 2016