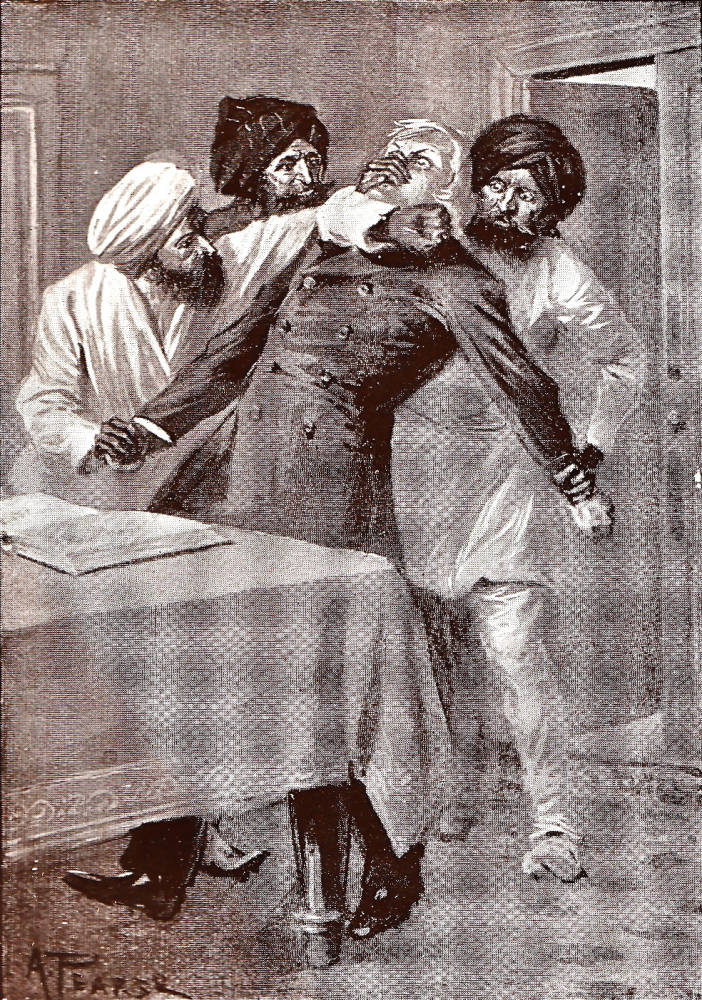 He felt himself suddenly seized round the neck (frontispiece)
A. Pearse
Half-tone lithograph
12 x 8.4 cm
[Click on image to enlarge it.]
Scanned image and text by Philip V. Allingham.
[You may use these images without prior permission for any scholarly or educational purpose as long as you (1) credit the photographer and (2) link your document to this URL in a web document or cite the Victorian Web in a print one.]
Passage Illustrated
Ordinary people might have hesitated before setting aside their own engagements to suit the convenience of a stranger. The Christian Hero never hesitates where good is to be done. Mr. Godfrey instantly turned back, and proceeded to the house in Northumberland Street. A most respectable though somewhat corpulent man answered the door, and, on hearing Mr. Godfrey's name, immediately conducted him into an empty apartment at the back, on the drawing-room floor. He noticed two unusual things on entering the room. One of them was a faint odor of musk and camphor. The other was an ancient Oriental manuscript, richly illuminated with Indian figures and devices, that lay open to inspection on a table.
He was looking at the book, the position of which caused him to stand with his back turned towards the closed folding doors communicating with the front room, when, without the slightest previous noise to warn him, he felt himself suddenly seized round the neck from behind. He had just time to notice that the arm round his neck was naked and of a tawny-brown colour, before his eyes were bandaged, his mouth was gagged, and he was thrown helpless on the floor by (as he judged) two men. A third rifled his pockets, and — if, as a lady, I may venture to use such an expression — searched him, without ceremony, through and through to his skin. — "Second Period. First Narrative," I, p. 279.
Commentary
Even though the story opens at the conclusion of the siege of Seringapatam, India, in 1799, and Collins's initial illustrators in 1868 and 1890 focussed on the theft by the arrogant English aristocrat Colonel John Herncastle, Pearse in this later edition transports the reader well into the narrative, when Miss Drusilla Clack has succeeded a Herncastle cousin and Gabriel Betteredge as the narrator. Whereas the previous editions, therefore, have shown Herncastle to be a thief and the three Brahmins to be acting out of religious devotion rather than personal greed, Pearse in this early twentieth century edition's frontispiece depicts the three Indians as thugs, attempting to rob a respectably dressed Englishman. An experience of the text reveals a very different situation, as the three foreigners are guardians of the sacred jewel and the European, Godfrey Ablewhite, can be regarded as both a hypocrite and a thief. Perhaps Pearse's point is that, in order to read the novel correctly, one must judge the facts of the case as presented by the eight narrators, and not give way to conventional European prejudices. Rather than set the keynote with Herncastle's brutal conduct in Benares in 1799, this later British edition (1910, rpt. 1930) merely depicts in its frontispiece the forcible but not unjustified seizure of Godfrey Ablewhite by the mid-nineteenth-century trio of Brahamins: muted violence without bloodshed for Edwardian readers. It is entirely possible that the artist's characterisation of the Indians as threatening violence has been conditioned by memories of the Indian or Sepoy Mutiny of 1857.
Related Materials
References
Collins, Wilkie. The Moonstone: A Romance. All the Year Round. 1 January-8 August 1868.
_________. The Moonstone: A Romance. Harper's Weekly: A Journal of Civilization. With 66 illustrations. Vol. 12 (1 January-8 August 1868), pp. 5-503.
_________. The Moonstone: A Romance. Illustrated by George Du Maurier and F. A. Fraser. London: Chatto and Windus, 1890.
_________. The Moonstone: A Romance. Illustrated by A. S. Pearse. London & Glasgow: Collins, 1910, rpt. 1930.
Leighton, Mary Elizabeth, and Lisa Surridge. "The Transatlantic Moonstone: A Study of the Illustrated Serial in Harper's Weekly." Victorian Periodicals Review Volume 42, Number 3 (Fall 2009): pp. 207-243. Accessed 1 July 2016. http://englishnovel2.qwriting.qc.cuny.edu/files/2014/01/42.3.leighton-moonstone-serializatation.pdf
Vann, J. Don. "The Moonstone in All the Year Round, 4 January-8 1868." Victorian Novels in Serial. New York: Modern Language Association, 1985. Pp. 48-50.
---

Victorian
Web

Wilkie
Collins

Illustra-
tion

Alfred
Pearse

Next
Last updated 3 August 2016