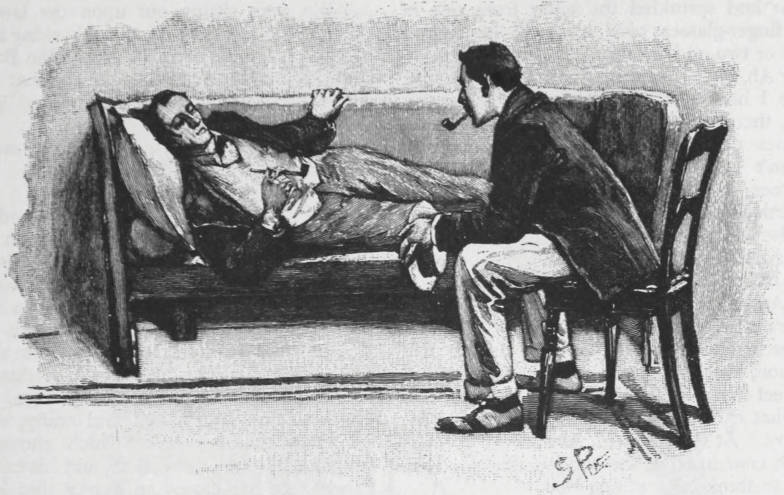 Trevor used to come in and inquire after me — an illustration (1892) by Sidney Paget for Arthur Conan Doyle's "The Adventure of the 'Gloria Scott'," p. 237. Photographic reproduction of watercolor. Click on image to enlarge it. Formatting and text by George P. Landow [You may use this image without prior permission for any scholarly or educational purpose as long as you (1) credit the Internet Archive and (2) link your document to this URL in a web document or cite the Victorian Web in a print one.]
Passage illustrated
"You never heard me talk of Victor Trevor?" he asked. "He was the only friend I made during the two years I was at college. I was never a very sociable fellow, Watson, always rather fond of moping in my rooms and working out my own little methods of thought, so that I never mixed much with the men of my year. Bar fencing and boxing I had few athletic tastes, and then my line of study was quite distinct from that of the other fellows, so that we had no points of contact at all. Trevor was the only man I knew, and that only through the accident of his bull terrier freezing on to my ankle one morning as I went down to chapel.
"It was a prosaic way of forming a friendship, but it was effective. I was laid by the heels for ten days, but Trevor used to come in to inquire after me. At first it was only a minute's chat, but soon his visits lengthened, and before the end of the term we were close friends. He was a hearty, full-blooded fellow, full of spirits and energy, the very opposite to me in most respects, but we had some subjects in common, and it was a bond of union when I found that he was as friendless as I. Finally, he invited me down to his father's place at Donnithorpe, in Norfolk, and I accepted his hospitality for a month of the long vacation.
References
Doyle, Arthur Conan. The Original Illustrated Sherlock Holmes. "Reproduced from the original publication in The Strand Magazine with the classic illustrations by Sidney Paget." Edison, New Jersey: Castle Books, [after 1954]. Internet Archive version of a copy donated by Friends of the San Francisco Library. Web.
---
Last modified 2 December 2013