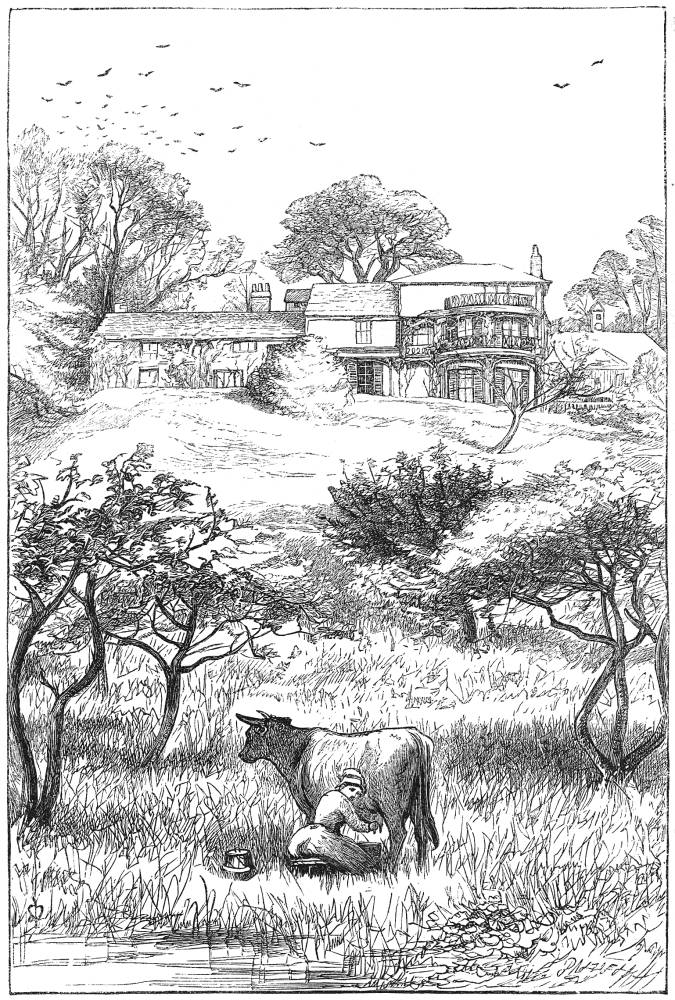 Orley Farm
John Everett Millais
Wood engraving by the Dalziels
6¼ x 4¼ inches
Anthony Trollope,Orley Farm, Vol 1. Pictorial frontispiece.
The passage illustrated
Then there was the farm-house and the land attached to it. This was the residence in which Sir Joseph had lived, keeping in his own hands this portion of the property. When first inhabited by him the house was not fitted for more than the requirements of an ordinary farmer, but he had gradually added to it and ornamented it till it was commodious, irregular, picturesque, and straggling. When he died, and during the occupation of his widow, it consisted of three buildings of various heights, attached to each other, and standing in a row. The lower contained a large kitchen, which had been the living-room of the farm-house, and was surrounded by bake-house, laundry, dairy, and servants' room, all of fair dimensions. It was two stories high, but the rooms were low, and the roof steep and covered with tiles. The next portion had been added by Sir Joseph, then Mr. Mason, when he first thought of living at the place. This also was tiled, and the rooms were nearly as low; but there were three stories, and the building therefore was considerably higher. For five-and-twenty years the farm-house, so arranged, had sufficed for the common wants of Sir Joseph and his family; but when he determined to give up his establishment in the City, he added on another step to the house at Orley Farm. On this occasion he built a good dining-room, with a drawing-room over it, and bed-room over that; and this portion of the edifice was slated.
The whole stood in one line fronting on to a large lawn which fell steeply away from the house into an orchard at the bottom. This lawn was cut in terraces, and here and there upon it there stood apple-trees of ancient growth; for here had been the garden of the old farm-house. They were large, straggling trees, such as do not delight the eyes of modern gardeners; but they produced fruit by the bushel, very sweet to the palate, though probably not so perfectly round, and large, and handsome as those which the horticultural skill of the present day requires. The face of the house from one end to the other was covered with vines and passion-flowers, for the aspect was due south; and as the whole of the later addition was faced by a verandah, which also, as regarded the ground-floor, ran along the middle building, the place in summer was pretty enough. As I have said before, it was irregular and straggling, but at the same time roomy and picturesque. Such was Orley Farm-house. [Ch 1. Pp. 7-8
Scanned image and text by Simon Cooke.
[You may use this image, which has been reproduced with permission of Professor Julia Thomas, DMVI, Cardiff University, Wales, UK, without prior permission for any scholarly or educational purpose as long as you (1) credit the person who scanned the image and (2) link your document to this URL in a web document or cite the Victorian Web in a print one.]