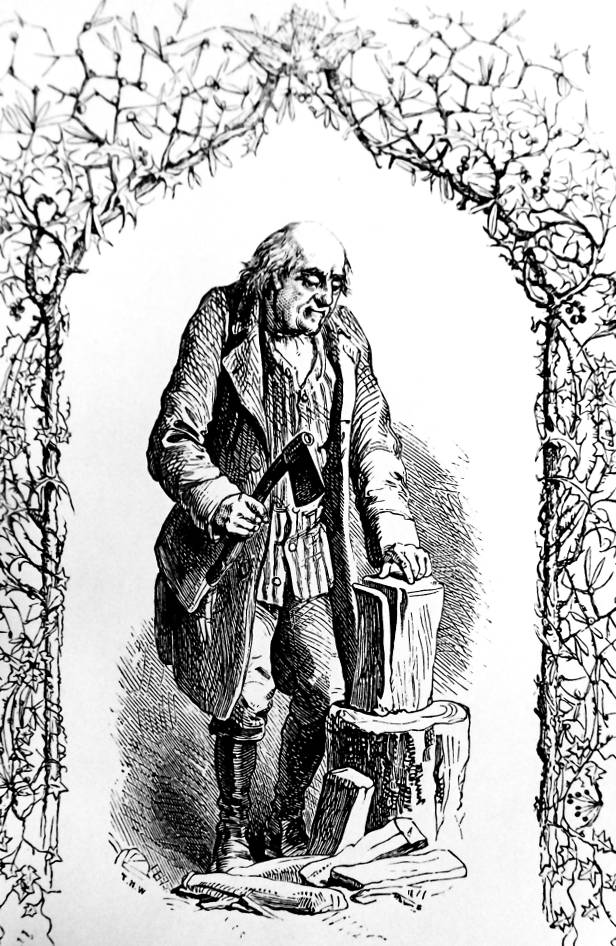 Grandfather William
R. Knight
1878
Wood engraving
16 cm high by 10 cm wide
Seventh illustration for Hardy's Under the Greenwood Tree, facing page 120 (recto)
Photograph, caption, and commentary by Philip V. Allingham
[You may use this image without prior permission for any scholarly or educational purpose as long as you (1) credit the person who scanned the image and (2) link your document to this URL in a web document or cite the Victorian Web in a print one. ]
Passage Illustrated
William Dewy — otherwise grandfather William — was now about seventy; yet an ardent vitality still preserved a warm and roughened bloom upon his face, which reminded gardeners of the sunny side of a ripe ribstone-pippin; though a narrow strip of forehead, that was protected from the weather by lying above the line of his hat-brim, seemed to belong to some town man, so gentlemanly was its whiteness. His was a humorous and kindly nature, not unmixed with a frequent melancholy; and he had a firm religious faith. But to his neighbours he had no character in particular. [Part the First, "Winter," Chapter 3, "The Assembled Quire," first paragraph, p. 16]
Commentary
Winchcombe in her preface to the Macmillan paperback edition​ of 1975 articulates the relationship between the worthiest of the village worthies, Grandfather William Dewy, and the woodland environment of Mellstock:
Perhaps the most rugged of them all is Grandfather William, likened to the greenwood tree itself as Hardy describes him standing nobly in the light of the setting sun 'which gave him a Titanic shadow at least thirty feet in length, stretching away to the east in outlines of imposing magnitude, his head finally terminating upon the trunk of a grand old oak tree'. [23]
As Dick's grandfather, old William represents family tradition and a close kinship with the natural environment. As the oldest of the "quire," he represents the continuity of the generations and the old usages of his people, the slowly changing social environment. He is the spirit of the traditional music-makers of the region, who double as adjuncts to the church service (the"quire"), but are primarily players of jigs and reels at non-church community social functions.
To old William, music meant more than life itself. To Fancy's father, 'her musical notes' were primarily a social asset, qualifying her to catch a 'gentleman' husband. To Fancy herself, music was a form of sexual display, which duly made the vicar fall in love with. [Turner, 29]
Rather than depict Grandfather William making his simple, time-honoured music, the illustrator has elected to show him chopping wood, thereby associating him with the woodland which sustains the local population. Knight captures the old man's dignity and his ability to complete manual labour still, but has not effectively conveyed the "roughened bloom upon his face."
Bibliography
Hardy, Thomas. Under The Greenwood Tree. A Rural Painting of the Dutch School (1870). Il. R. Knight. London: Chatto and Windus, 1878.
All citations from the 1878 Chatto and Windus edition have been checked against the following readily available paperback edition:
Hardy, Thomas. Under The Greenwood Tree, or, The Mellstock Quire — A Rural Painting of the Dutch School (1872). Ed. Anna Winchcombe. Houndmills, Basingstoke, and London: Macmillan Education, 1978.
Purdy, Richard Little. Thomas Hardy: A Bibliographical Study. Oxford: Oxford U. P., 1954, rpt., 1968.
Turner, Paul. Thomas Hardy: A Critical Biography. Oxford: Blackwell, 1998.
​
---

Victorian
Web

Last modified 26 June 2014