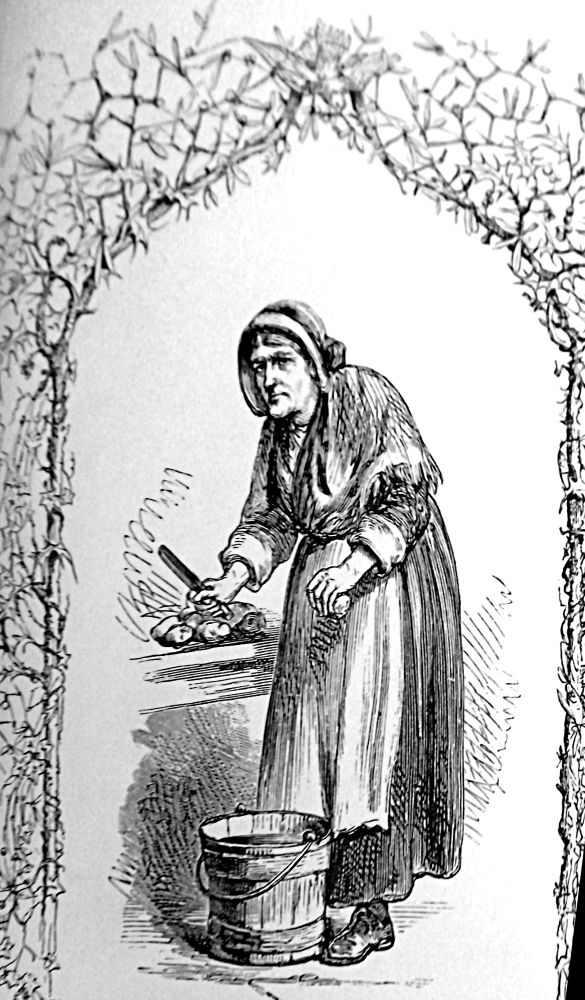 Elizabeth Endorfield
R. Knight
1878
Wood engraving
14 cm high by 10 cm wide
Thirteenth illustration for Hardy's Under the Greenwood Tree, facing page 268 (recto).
Photograph, caption, and commentary by Philip V. Allingham
[You may use this image without prior permission for any scholarly or educational purpose as long as you (1) credit the person who scanned the image and (2) link your document to this URL in a web document or cite the Victorian Web in a print one. ]
Passage Illustrated
Elizabeth Endorfield had a repute among women which was in its nature something between distinction and notoriety. It was founded on the following items of character. She was shrewd and penetrating; her house stood in a lonely place; she never went to church; she always retained her bonnet indoors; and she had a pointed chin. Thus far her attributes were distinctly Satanic; and those who looked no further called her, in plain terms, a witch. But she was not gaunt, nor ugly in the upper part of her face, nor particularly strange in manner; so that, when her more intimate acquaintances spoke of her the term was softened, and she became simply a Deep Body, who was as long-headed as she was high. It maybe stated that Elizabeth belonged to a class of people who were gradually losing their mysterious characteristics under the administration of the young vicar; though during the long reign of Mr. Grinham the parish of Mellstock had proved extremely favourable to the growth of witches. [Part the Fourth, "Autumn," Chapter 3, "Fancy in the Rain," p. 267]
Commentary
From a numerological perspective, it is an interesting coincidence that the portrait of the local witch is the thirteenth illustration. The enigmatic "wise woman" is not, however, the typical witch of folklore and popular superstition, despite her "pointed chin." No cats are conspicuous in her residence, and she has a husband — but neither warts nor excessive facial hair. In this instance, the text precedes the graphic portrait, which reader construes analeptically, having to revert to the text a page earlier to construe the image. The scene anticipates that in the 27 March 1886 instalment of The Mayor of Casterbridge in the Graphic of Michael Henchard's visit in chapter 26 to the local "prophet" or weather-diviner as highlighted in the twelfth headnote illustration In answer to the knock Fall came to the door, candle in hand (p. 317). Although Barnes's Wide-oh is in his nightshirt, as if he were not expecting visitors, in Hardy's text he has a place laid at the table in anticipation of Henchard's visit. Similarly, Elizabeth Endorfield invites Fancy to enter the cottage before her visitor has even knocked, suggesting supernatural prescience — although Fancy reasons that her host is "an exceedingly and exceptionally sharp woman in the use of her eyes and ears" (267).
Fancy, having taken refuge from the storm at one of Mellstock's outer cottages, avails herself of the opportunity take counsel — and perhaps acquire a spell in order to bring her father around to the notion of having Dick Dewy as a son-in-law — from the local witch, whose name suggests both natural magic and herbal charms ("field") and her biblical antecedent in 1 Samuel 28: 3-5 in the Old Testament. Whereas her biblical analogue is a medium with the power to conjure up the spirits of the dead for her surreptitious clients (including a disguised King Saul), as Hardy's next chapter reveals, Elizabeth's only "power" is a penchant for intuitive psychological insight as she advises Fancy to appear to be pining away as a result of her father's rejection of Dick as an eligible husband for his daughter. In Knight's illustration as in the text, Elizabeth Endorfield peels potatoes for supper as she shrewdly studies the viewer, so that the illustrator places the reader in Fancy Day's position. As Elizabeth's riddling verse goes,
This fear of Liz — whatever 'tis — By great and small [i. e., those of both high and low estate in the region], She makes pretence to common sense, And that's all.
The sophisticated use of "pretence" betrays Elizabeth Endorfield's literary origins, as it is hardly congruent with a speaker of Dorset dialect. Hardy periodically makes use of such enigmatic figures who include Wide-oh (Conjurer Fall) in The Mayor of Casterbridge, and such fetishistic practices as Susan Nonsuch's burning a wax effigy of her adversary, the supposed witch Eustacia Vye, in The Return of the Native. Despite his veneer of urban sophistication, Hardy generally shows that their interlocutors should accept rather than reject the advice that such "knowing" people offer. Here, Elizabeth Endorfield's strategy in dealing with the obstinate Geoffrey Day proves wholly successful because Fancy follows the witch's advice in every particular, so that the villagers are convinced that she is starving herself. As a good story-teller, Hardy keeps the reader in suspense by witholding the precise nature of the wise woman's instructions until the next chapter, "The Spell."
Bibliography
Hardy, Thomas. Under The Greenwood Tree. A Rural Painting of the Dutch School (1870). Il. R. Knight. London: Chatto and Windus, 1878.
Hardy, Thomas. Under The Greenwood Tree, or, The Mellstock Quire — A Rural Painting of the Dutch School (1872). Ed. Anna Winchcombe. Houndmills, Basingstoke, and London: Macmillan Education, 1978. [All citations from the 1878 Chatto and Windus edition have been checked against this following readily available paperback edition.]
Kay-Robinson, Denys. ​The Landscape of Thomas Hardy. Exeter: Webb and Bower, 1984.
Pinion, F. B. ​A Hardy Companion: A Guide to the Works of Thomas Hardy and Their Background. Trowbridge, Wiltshire, and Basingstoke: Macmillan, 1968, rpt. 1984.
Wright, Sarah Bird. Thomas Hardy A to Z: The Essential Reference to His Life and Work. New York: Facts On File, 2002.
​
---

Victorian
Web

Last modified 13 July 2014